Defense in Penn State frat pledge death argues for dismissal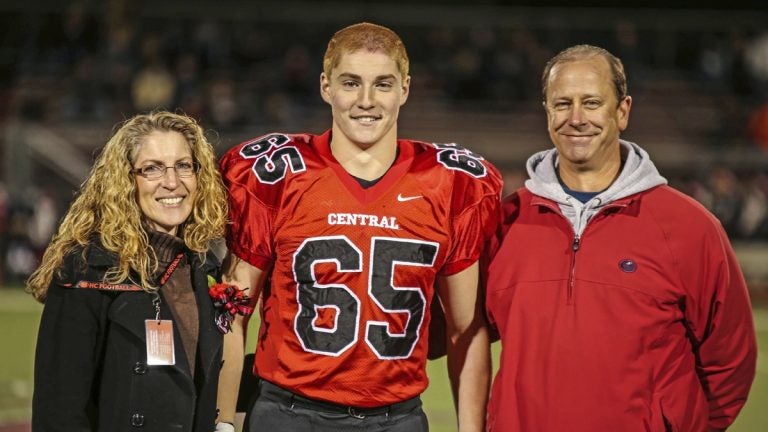 Attorneys for Penn State fraternity members charged in the death of a pledge after a night of drinking and hazing argued Thursday that their clients' roles were minimal or did not amount to criminal behavior.
A preliminary hearing for 16 members of Beta Theta Pi continued for a seventh day, with lawyers arguing to District Judge Allen Sinclair they had little reason to anticipate that 19-year-old Tim Piazza, of Lebanon, New Jersey, would consume dangerous amounts of alcohol and fall several times.
"Yes, there's excessive drinking on college campuses," argued attorney Theodore Simon, who represents Luke Visser. "That does not transform it into criminal behavior."
Centre County District Attorney Stacy Parks Miller said many of the defense arguments are more suitable for a jury to consider, and she disputed a suggestion that the fraternity members wouldn't have known of the danger because no one had died previously during the fraternity chapter's long history.
"As far as this idea, 'Well, nobody died before,' do they really think they get a free death before someone is held responsible?" Parks Miller said to Sinclair.
The judge said he may decide by the weekend whether to forward charges to county court for trial. The fraternity is also a defendant, and two others waived the hearing.
Defense attorney Michael Engle argued that "the voluntariness of the drinking" is an important factor when considering Piazza's fate.
"What we have is evidence from this record that this tragic death was simply not foreseeable here," said Engle, who represents defendant Gary DiBileo.
He also challenged Parks Miller's approach to charging the men as accomplices, arguing that would require a principal actor and that was not established.
"You've heard over and over again, all of these individuals are accomplices, but as a matter of law, these individuals can't be accomplices with one another," he told the judge.
Parks Miller repeatedly said the actions of the fraternity brothers, who directed pledges to run through a series of drinking stations and then did not get help for Piazza until the next morning, showed the sort of recklessness required to support some of the allegations.
Surveillance video from the fraternity house showed Piazza endured a painful night, most of it on a first-floor couch, and members did not take effective steps to help him. The sophomore engineering student was later found to have suffered severe head and abdominal injuries, and he died at a hospital.
"People watching that video could barely continue to watch it, based upon how gruesome it is," Parks Miller said.
Former members of the now shuttered fraternity face charges ranging from involuntary manslaughter and aggravated assault to hazing and alcohol violations.
WHYY is your source for fact-based, in-depth journalism and information. As a nonprofit organization, we rely on financial support from readers like you. Please give today.