Debate leaves little doubt as to where Booker and Lonegan stand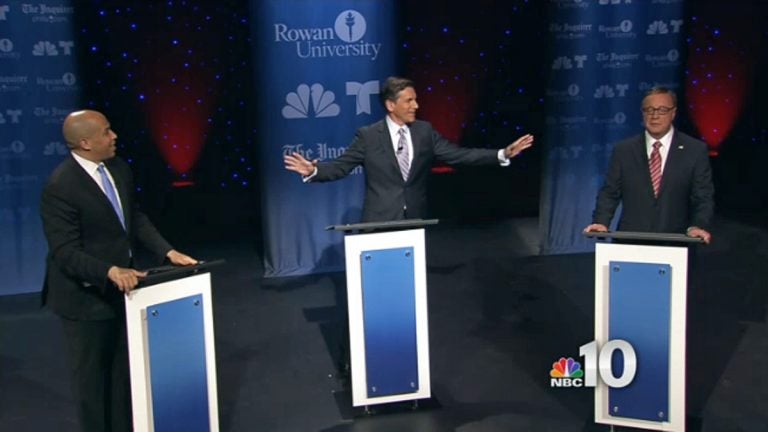 In the last week of the U.S. Senate race between Newark Mayor Cory Booker and Republican candidate Steve Lonegan, there isn't much question as to where each man stands.
Still, if there were any lingering doubts, last night's lively hour-long debate between the two at Rowan University couldn't have drawn clearer lines on a range of topics — federal and state.
On the government shutdown, Obamacare, abortion rights, and gun control, Booker and Lonegan were diametrically and unabashedly opposed.
In the end, there were likely no major overnight shifts in a race that has seen Booker with a strong double-digit lead over the former Bogota mayor, although there are some signs of that narrowing. The special election is next Wednesday, October 16.
Emotions were readily apparent, with Lonegan especially coming off as angry and Booker sometimes smug and patronizing.
Booker didn't hold back, either, taking offense at Lonegan's repeated — and unapologetic — descriptions of Newark as "a big black hole" with "all the bodies floating around" in the Passaic River.
"Oh my God, oh my God," Booker responded. "This is what you think of our cities, how insulting is that?"
But the mayor also stumbled when trying to fend off questions about whether he has embellished a story or two when giving speeches about his city, including his story of holding a man as he died. He called such questions "distractions."
It was the liveliest political joust yet in an election season that is seeing five televised debates in two weeks across the state, counting those in the governor and lieutenant governor races.
The Senate debate focused on domestic issues, coming out of the gate with questions about the federal government shutdown that is now in its ninth day.
Booker pounced.
"Do we want to send more Tea Party people down to Washington, who are so obsessed with Obamacare that they want to shut down the entire government?" he asked.
The shutdown would appear a dangerous issue for Lonegan given public sentiment against the impasse and against Congress as a whole, and he backed off of any talk of default on the nation's debt. But beyond that, he embraced the GOP's stand, and gave Congress overall a grade of B.
Even when Booker repeatedly called Lonegan out for what he called his "extremism" and "shutdown politics," Lonegan almost relished it as a compliment.
"Your idea is to call everybody extremists — well, there are a whole lot of extremists sitting in the audience today, sir, I can guarantee you that," he said, getting his share of applause.
Within a half hour of the debate's close, the Tea Party Express announced former vice presidential candidate Sarah Palin would campaign for Lonegan this weekend.
Drawing his own applause, Booker tried to paint himself as a bastion of bipartisan collaboration in leading Newark. He went so far as to name as his Senate role models two notably moderate Republicans, former U.S. Senators Richard Lugar and Olympia Snowe.
"We brought people together to drive down crime," Booker said. "We were creative, we were innovative to do more with less."
In one area of rare agreement, both men embraced Gov. Chris Christie, albeit for different reasons. But Lonegan took a strange turn when he chided Booker as almost being too cozy with the governor and, in turn, hurting Christie's Democratic challenger, state Sen. Barbara Buono.
"You have to wonder who's side he is on — how does Barbara Buono feel about being thrown under the bus?" Lonegan said.
Booker responded that they were not running mates: "She is running in November, I am running for election next Wednesday."
Hitting at another homegrown issue near to Christie, Lonegan didn't have much good to say about the federal recovery efforts after Hurricane Sandy, calling for more controls and transparency in what he said has become a "major spending spree."
An animated Booker interrupted: "Please, listen to what he's as saying: he would literally be a senator from New Jersey who would say [to the federal government] when people are in urgent need, 'Wait, wait, don't give our families or businesses money.'"
Lonegan was just getting started. He called for big cuts in the federal Department of Education, Commerce Department and Environmental Protection Agency, among others. "The EPA is crushing business in the United States, including Newark," he said.
At another point, he likened Social Security to a "pyramid scheme."
Appropriately enough, the debate ended on an argument, this one over abortion rights. Perhaps equally appropriately, it grew so heated and extended that it ate up all the time for closing statements.
______________________________________________________
NJ Spotlight, an independent online news service on issues critical to New Jersey, makes its in-depth reporting available to NewsWorks.