DEA launches '360 Strategy' in South Jersey to fight opioid, heroin use
The program looks beyond law enforcement to prevent opioid distribution.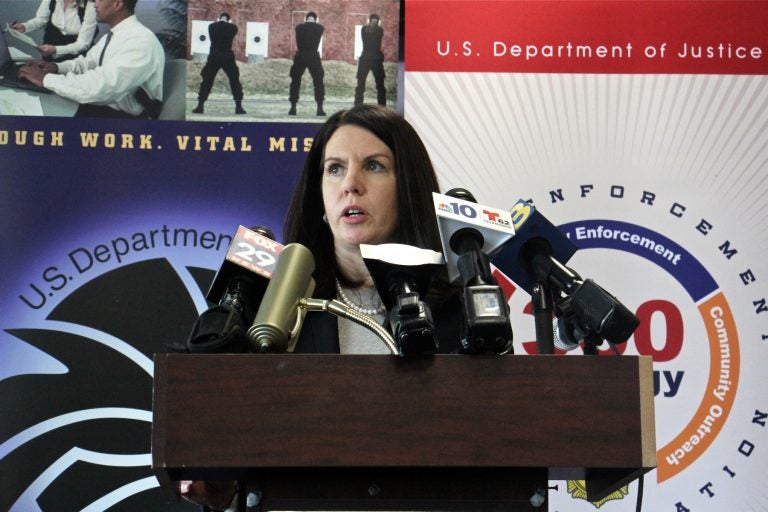 An initiative to address heroin and opioid abuse is underway in South Jersey. The New Jersey Division of the Drug Enforcement Agency's program, called 360 Strategy, looks beyond law enforcement to prevent opioid distribution, officials said. Also targeting medical practitioners, it works with schools, community groups and faith-based organizations already focused on the drug epidemic.
Valerie Nickerson, who heads the New Jersey DEA, said that while her organization is traditionally focused on law enforcement, it has recognized that a broader approach is necessary for this problem.
"Enforcement alone is not the solution," said Nickerson Tuesday in announcing the launch. "More importantly, we need a collaborative effort, preventing the use of prescription drugs by educating our young people, and educating the medical community."
The New Jersey DEA won't be adding enforcement agents through this program. Instead, with $500,000 in funding, it will create TV and radio ads, public education campaigns and youth programming to spread awareness about the risks of prescription opioid addiction.
Charlene Maycott of Monroe Township is doing the type of work the 360 Strategy will help support. In 2015, her daughter Monica nearly died from an opioid overdose. Maycott, who had been trained in CPR and Narcan administration, helped to revive Monica. Now, both of them work as recovery coaches and public educators.
"We go to high schools, to police stations, to hospitals," said Maycott. "We do whatever we can to talk to kids before they get to this point; to talk to parents who may be at this point."
DEA officials warn that naloxone, the opioid reversal agent, should not be relied on so heavily. The life-saving drug is often referred to as Narcan, a brand name for a device that delivers naloxone.
Dr. James Baird, assistant medical director in the emergency department at Washington Township Jefferson Health, said health workers there see anywhere from two to 12 overdoses a day.
"We are giving Narcan to the same person over and over again," said Baird, underscoring the point that the drug cannot be the only solution to the problem.
The 360 Strategy also aims to support existing DEA efforts to audit medical professionals, treatment centers and pharmaceutical companies, as well as continued law enforcement efforts. The initiative is also partnered with the U.S. attorney's office.
From 2016 to 2017 in New Jersey, fatal drug overdoses rose by 31 percent. In Camden, where the new strategy was announced, addiction resources are limited. The city's needle-exchange program, which many touted as a critical resource for an area with so many intravenous drug users, lost funding in 2016.
WHYY is your source for fact-based, in-depth journalism and information. As a nonprofit organization, we rely on financial support from readers like you. Please give today.