Councilman DiCicco amends Callowhill NID bill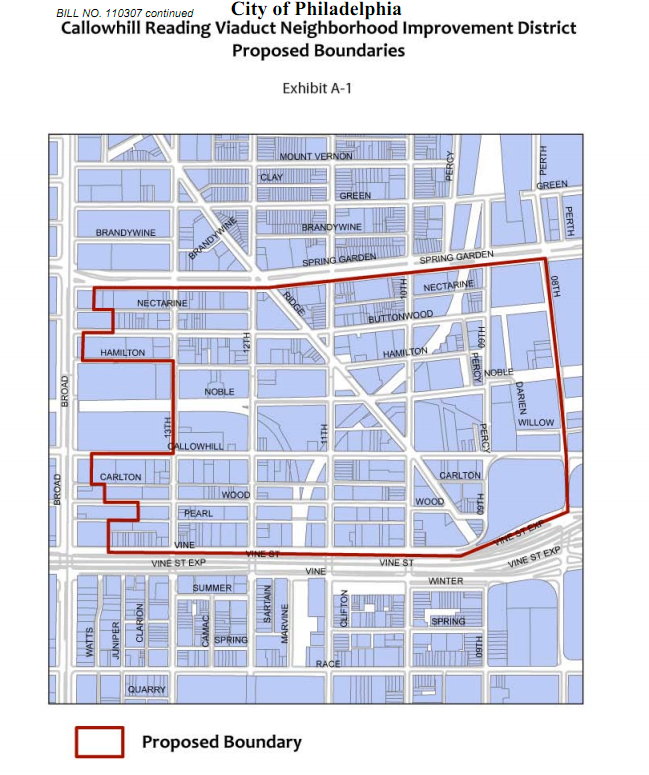 Facing opposition from dozens of Chinatown residents brandishing signs that read "Less Income = More Taxes" and "No NID!," Councilman Frank DiCicco began today's City Council Rules Committee hearing on his proprosed bill to create a Neighborhood Improvement District by announcing a startling compromise.
He had, he said, amended the bill so that it carved out a southeastern corner and thus excluded most of Chinatown.
Callowhill Reading Viaduct Neighborhood Improvement District website
The re-drawn boundaries are still to be determined, but a map indicated they would now be roughly, 8th to 10th Streets, from Callowhill to Spring Garden streets, and 10th to Broad streets from Vine to Spring Garden streets.
Any revenue that would be lost from that exclusion would not "impact negatively on the purpose of the NID," said DiCicco, before going on to admonish the naysayers that — in so many ways — the change was their loss, not the NID's.
Deputy Mayor Alan Greenberger, representing the City, was the first to address the Committee.
He offered the City's support, provided that the boundary changes were put into effect, and also that any language referring to the creation of a linear park out of Reading Viaduct was removed.
Tax monies collected, emphasized Greenberger, should be targeted at things like graffiti removal, elimination of short dumping, and planning actions such as improved lighting, signage, and street tree presnce.
A series of long-time residents and business owners — many of them activists who have fought hard to develop the area surrounding the Viaduct — next spoke.
Center City District executive director Paul Levy offered testimony, too, asking, "Can a neighborhood be successful if it's covered with litter and graffiti . . . and dark underpasses create a sense of danger?"
The neighborhood didn't belong just to Chinatown or just to Callowhill, just to businesses or just to residences, he added, "but to all of them."
His comments referred to the hearty contigent of Chinatown residents present who feel the NID is a ploy to further development of the Viaduct, and who have been clamoring instead for improvements like the addition of affordable housing.
One couple testified that they had collected signatures from residents who together own 53.9% of the assessed property value n the neighborhood, raising the question of whether Council would be obliged to dismiss the bill.
Contact the reporter at jgreco@planphilly.com and follow her on Twitter @joanngreco