Council Committee approves Land Bank, with amendments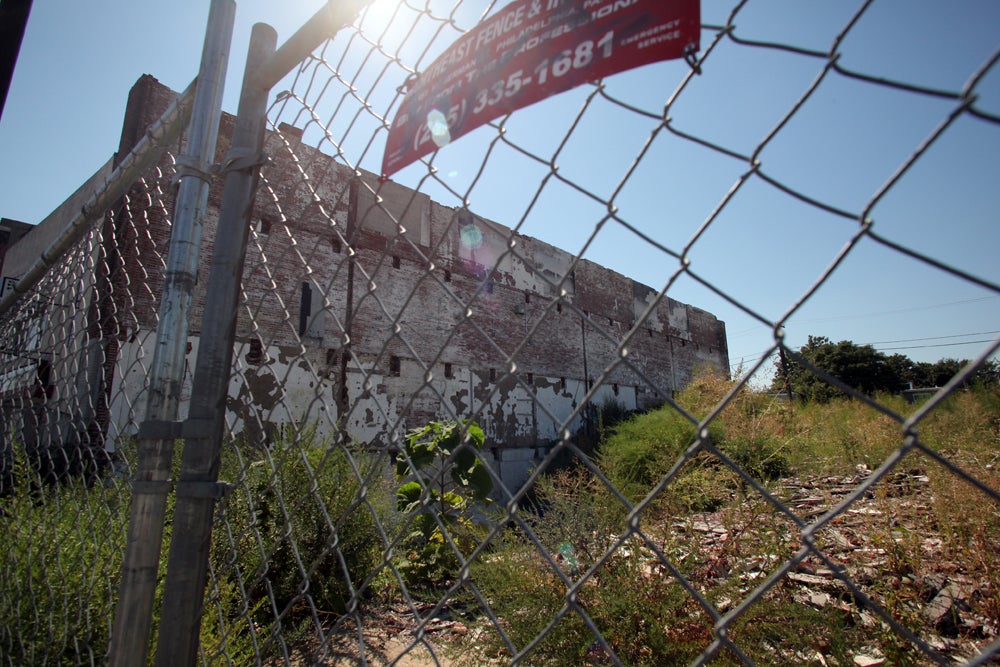 City Council's Committee on Public Property and Public Works recommended approval on Monday of a bill that would create a Land Bank, a central agency that could acquire and dispose of many of Philadelphia's thousands of vacant, blighted, and tax-delinquent properties.
The Committee approved the bill after a four-hour hearing during which dozens of advocates from an array of interest groups testified in its support. Councilwoman Jannie Blackwell was the only Committee member to vote in opposition.
The text of the bill was also being debated, behind the scenes, for all four of those hours.
The version that was finally approved requires decisions about the transfer of properties controlled by the Land Bank to be approved by both the Vacant Property Review Committee (VPRC) and by City Council. Under a version circulated Monday morning by Councilwoman María Quiñones-Sánchez, the bill's sponsor, the bill had not required the VPRC to approve transfers from the Land Bank. That provision was restored to the text prior to the vote at the behest of Council President Darrell Clarke, according to Sánchez.
If the Land Bank were created today under the regulations approved by the Committee on Public Property, it would be authorized to acquire surplus properties owned by the City, the Philadelphia Redevelopment Authority, and the Philadelphia Housing Authority. It would also be able to acquire property that is not publicly owned "through donation, gift, purchase, or any other legal means …"
The Land Bank could become the assignee of tax liens, could request that a tax-delinquent property be put up for upset sale or judicial sale, and would get dibs on deciding whether to pursue a property being sent to sheriff sale. It would be instructed to "maintain a preference" for keeping owner-occupants in their homes.
The Land Bank would then be authorized to transfer or sell properties it controls to developers or neighborhood groups, and its transfer decisions would be subject to the approval of the Vacant Property Review Committee and the City Council, by resolution. Council resolutions related to property are traditionally introduced by the District Council person who represents the area in question, and very rarely does the rest of the Council oppose the District Council member.
That's an institution known as Councilmanic Prerogative, and though it is not written into the city's code, it is very strong. Some advocates worry that prerogative could interfere with the efficiency and transparency of the Land Bank.
Another provision requires the Land Bank to develop a strategic plan for the acquisition, maintenance, and disposition of property. That plan would include neighborhood-specific market trends and an inventory of all the vacant and tax-delinquent properties in each census tract, a list of goals for the Land Bank, and recommendations for specific uses that would serve those goals.
The Land Bank will not be created today. The bill still needs to be approved by the full Council, and there will be an opportunity for Councilwoman Sánchez to offer amendments on the floor.
A few key provisions still need to be worked out, not least of which is the administrative flow of approval for acquisitions by and transfers from the Land Bank. Several members of Council asked to see a flowchart depicting how public-property transfers proceed through city agencies under current laws and under the proposed Land Bank.
According to several sources, Council President Clarke also favors a provision that would require Council approval of all acquisitions by the Land Bank in addition to transfers from it. There are questions, too, about what additional funding will be dedicated to maintaining vacant properties controlled by the Land Bank.
"As Council, I think we agree that this bill … will not get final approval until there are several assurances that have been highlighted today in the discussion," said Councilwoman Sánchez. "Assurances about the [city] employees, many of whom have not had a raise in ten years, insuring that they are being treated fairly and are protected. Assurances that as we develop the budget for 2015, that this Council is committed to providing more resources so that we can have an efficient and effective Land Bank."
Sánchez continued, "Many people thought we couldn't get through zoning reform, many people thought we couldn't get through AVI, and at some point today, many of us thought we couldn't get through this hearing, but I want to thank [Committee Chair Bobby Henon] for his leadership and due diligence in making sure that all of these questions be answered by final approval, and definitely as we prepare our budget."
Councilman Bill Green said he supports the public process the Land Bank would create, but questions the need for approval by the Vacant Property Review Committee, a group comprised of the heads of many city agencies and a representative of the President of City Council and the Chair of the Committee on Public Property.
"I don't understand the VPRC in the mix because you have the Land Bank public process, and then Council, by resolution, would have had to [approve a transfer], so even prerogative—which I'm not a fan of—is preserved in that process," Green said. "There's no need to keep the middle bureaucratic process of VPRC, in my view. But it's a better system than we have today, so we should be thankful for that."
The array of public comment in support of the Land Bank at Monday's hearing was impressive. Representatives of community groups, development groups, realtors associations, independent think-tanks, unions, city agencies, and environmental groups, to name a few, told Council that establishing a Land Bank would streamline and improve the process for getting blighted properties into the hands of communities or private developers. While many offered suggestions for how to improve the bill, none said that creating a Land Bank is a bad idea.
"The Land Bank bill has a lot of important things," said Rick Sauer, director of the Philadelphia Association of Community Development Corporations, after the hearing. Sauer, like many others, was still trying to sort out exactly what impact the amendments would have on the bill.
"Overall, it's a solid piece of legislation," he continued. "It has a lot of important components that we've been fighting for. In that respect, it's a huge step forward, and to get it out of Committee is important. We just need to resolve any final, outstanding issues so the final bill that's passed is going to give us the effective Land Bank we need."
WHYY is your source for fact-based, in-depth journalism and information. As a nonprofit organization, we rely on financial support from readers like you. Please give today.