City set to acquire Schuylkill River Swing Bridge from Conrail, clearing path for bike and ped trail river crossing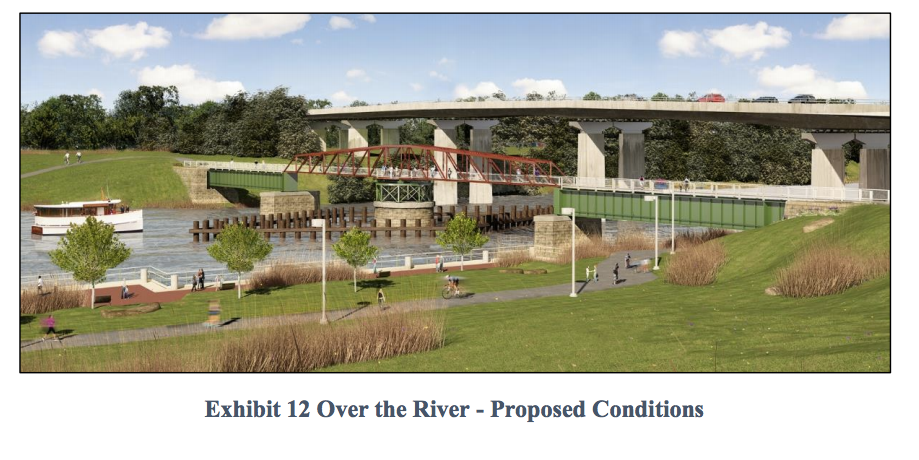 Councilman Kenyatta Johnson introduced a bill Thursday authorizing the City of Philadelphia to acquire an abandoned rail swing bridge crossing the Schuylkill River, which will clear a path for construction of a new bicycle and pedestrian bridge linking trails on both sides of the river.
Should this bill pass as expected, it will be the first step in a two-step process for acquiring the dilapidated bridge and nearby land from Conrail. Once authorized by Council, the city will be allowed to enter into a property transfer agreement. Conrail is expected to either dedicate the property to the city, meaning it would transfer it at no cost, or to sell it for a nominal sum, like $1.
The $13 million Schuylkill River Swing Bridge will connect the Grays Ferry Crescent Trail with Bartram's Mile, which extends from the bridge southward through Bartram's Garden. The Crescent Trail was built in 2013 and currently acts more like a neighborhood park than a trail, unconnected to any other trails at this time. On the western side of the Schuylkill, construction on the Bartram's Mile trail segment is set to finish this December.
The plan is to eventually link those trail segments to the Schuylkill River Trail. Construction on an extension from South Street to Christian Street is ongoing now. Once that is finished, a much more difficult hurdle to clear will remain: building a trail around the Veolia Energy plant that dominates Devil's Pocket.
"We have a jewel in Philadelphia and that's the Schuylkill River Trail," said Johnson. "A significant portion goes through the 2nd Councilmanic District, so the bill will allow us to continue extending that trail and I think, as an individual that utilizes the trial, I think it'll be a great asset in moving the trail forward."
Johnson also introduced the ordinance that cleared the way for the trail's extension to Christian Street.
Today's bill is more a formality than a breakthrough. Philadelphia had already won the federal TIGER grants and secured PennDOT multimodal funds needed to recreate the old rail swing bridge as a pedestrian and bicycle crossing. The city is working closely with the Schuylkill River Development Corporation (SRDC) on this extension. "This is one step closer to getting this project built," said SRDC Executive Director Joe Syrnick.
According to Syrnick, construction on the bridge could start by the spring of 2017, with bid advertising starting this fall. That's a bit later than earlier projections, but the federal money brought with it some federal bureaucratic hurdles, explained Syrnick, which have slowed the project down some.
In a statement, Sarah Clark Stuart of the Bicycle Coalition of Greater Philadelphia and the Circuit applauded Johnson, calling the project, "transformational to Southwest Philadelphia."
"By finally connecting Southwest Philadelphia to South Philly and Center City, the swing bridge will make the travel experience for bicyclists and pedestrians much more comfortable and inviting than the existing Gray's Ferry Bridge. It will make it possible for Circuit Trails to be used more frequently to explore cultural destinations such as Bartram's Garden, Cobbs Creek Park, Mt. Moriah Cemetery and the Heinz Wildlife Refuge and make bicycle commuting between Southwest Philly and Center City easier, safer and more efficient."
WHYY is your source for fact-based, in-depth journalism and information. As a nonprofit organization, we rely on financial support from readers like you. Please give today.