Philly sanitation workers demand PPE and hazard pay; vigil for justice held in Trevose
Over 100 Streets Dept. workers sanitation rallied near City Hall Tuesday morning to protest their treatment during the ongoing coronavirus pandemic.
Updated 9:53 p.m.
While George Floyd's funeral takes place in Houston, Philadelphians continue to take to the streets in protest of police brutality.
In West Philadelphia, protesters gathered in Clark Park to call for police reform. In Northeast Philadelphia, rallies were held outside a pair of local schools.  Meanwhile, outside City Hall, sanitation workers gathered to ask for more personal protective equipment and other measures to protect them against the coronavirus.
The National Guard remains in Philadelphia with no official indication of when it might depart. But there has been a marked decrease in violence and looting over the last few days, and recent rallies have largely been peaceful.
Sanitation workers want PPE, hazard pay
Over 100 sanitation workers rallied near City Hall Tuesday morning to protest their treatment during the ongoing coronavirus pandemic.
The workers want better personal protective equipment, testing sites for sanitation workers, temperature checks coming in and out of work, and hazard pay.
"We are on the front line," said Charles Carrington, a garbage collector and union leader. "I take nothing from no other department. But at the end of the day, we're the only department that services every house, every week."
The head of Philadelphia's Streets Department, Carlton Williams, said any workers who took an "unauthorized absence" to attend the rally would be penalized. That penalty could include termination, according to a letter penned by Williams.
"Streets Sanitation employees perform a vital role in keeping city streets and neighborhoods clean and free from unhealthy trash and refuse," wrote Williams. "As a result, we cannot and will not tolerate unauthorized employee absences."
The city has struggled to maintain its normal trash collection routine during the pandemic. Trash is still collected weekly, although there have been intermittent delays. Recycling is now being collected every other week.
Carrington, who is the president of AFSCME Local 427, believes his colleagues' demands are deeply connected to the ongoing rallies around structural racism.
"My department is predominantly, 90%, black," said Carrington. "I don't think we would be going through this if our department was 90% white."
Demonstration in small Bucks County town channels national protests
More than a hundred people gathered outside the Linconia Tabernacle in Trevose Tuesday evening, in Lower Bucks County for what was billed as a "Community Vigil for Justice."
The demonstration was organized by the Bucks County chapter of the NAACP, and included a short march through a quiet neighborhood to a small park. On a basketball court, faith leaders, youth advocates, elected officials, and the director of Bensalem Township's police department made speeches about the need for lasting change.
The diverse crowd included people of all ages, children all the way up to senior citizens.
"It's not just us fighting for our lives, it's a lot of people fighting for our lives," said lifelong Bensalem resident Tiara Dwight of the turnout.
"This is not a moment, but a movement," Dwight said to attendees. "We're going to go for legislation this time. We need reform in writing."
A common message was the need to build on relationships between the local police department and community groups pushing for improved conditions for people of color.
"The truth is not all the law enforcement and police are bad cops. We mustn't blame the entire community officers for the negligence and racism of some," said Nick Christin, a youth minister in Philadelphia who grew up in Bensalem.
"We need your voices in the fight," Christian said, speaking to a handful of uniformed police officers who stood in the crowd for the duration of the evening. "We need you to stand up and speak on our behalf in rooms that we are not invited in. We need you to condemn racism even when Black people are not around."
Fred Harran, director of the Bensalem Township Police Department, said all 106 police employees were sickened by videos of George Floyd's death
"No one hates bad cops more than good cops, because the stuff we have done, the work we do can get undone in nine minutes," Harran said.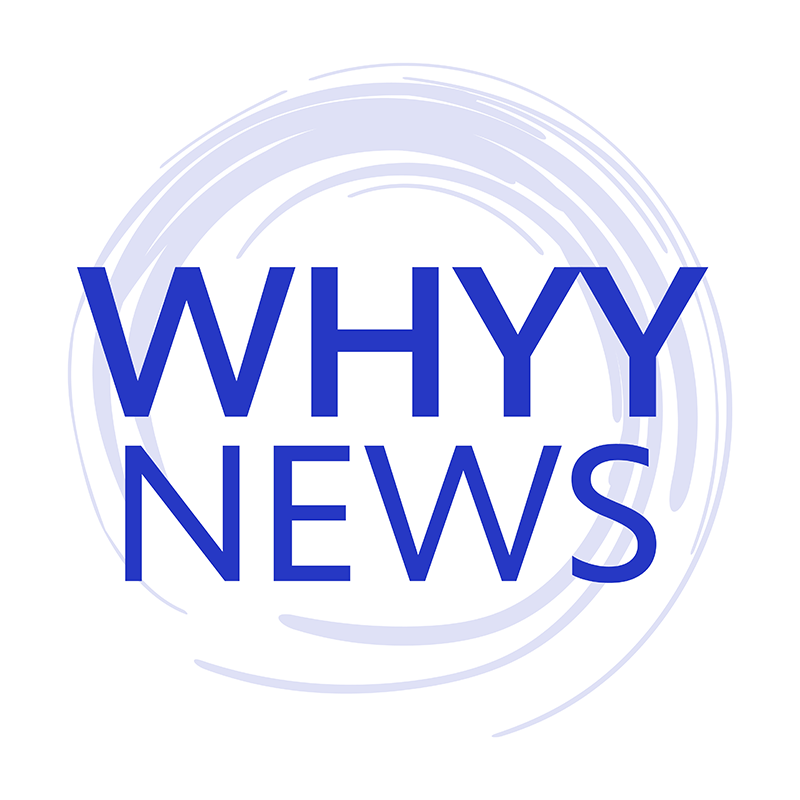 Get daily updates from WHYY News!
Protesters march from West Philly to police headquarters
After an earlier rally in West Philadelphia's Clark Park, another group of protesters marched from West Philly to police headquarters.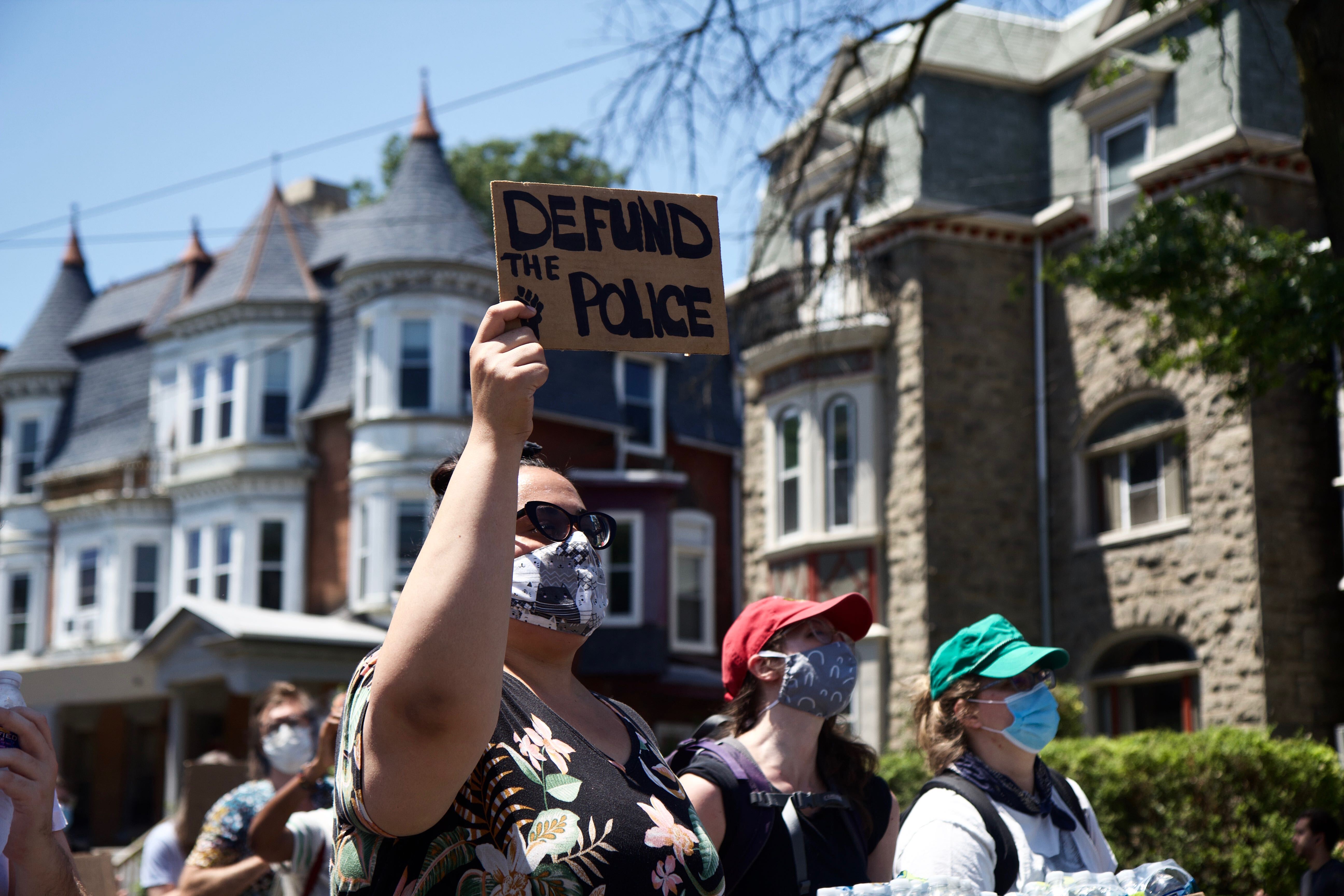 "Things need to change," said organizer Izzy Moregrass, 23. "And I realize that it can't really be done with just one person or small group of people."
The march — which began at 49th Street and Baltimore Avenue — was billed as a "March for the Abolition of Oppressive Systems."
"Things need to be changed and I realize that it can't really be done with just one person or small group of people," said Moregrass (L) about getting involved pic.twitter.com/wMH4CJ0oQ6

— Ximena Conde (@RadioXimena) June 9, 2020
"We're trying to keep a communal town hall kind of vibe but also keep the march [moving] along," said Moregrass. "A big thing that protests have, a big impact, is blocking traffic."
It was the first time Moregrass and fellow organizer Faith Williams have ever put together a demonstration, but they said they want to keep their demands in the public eye.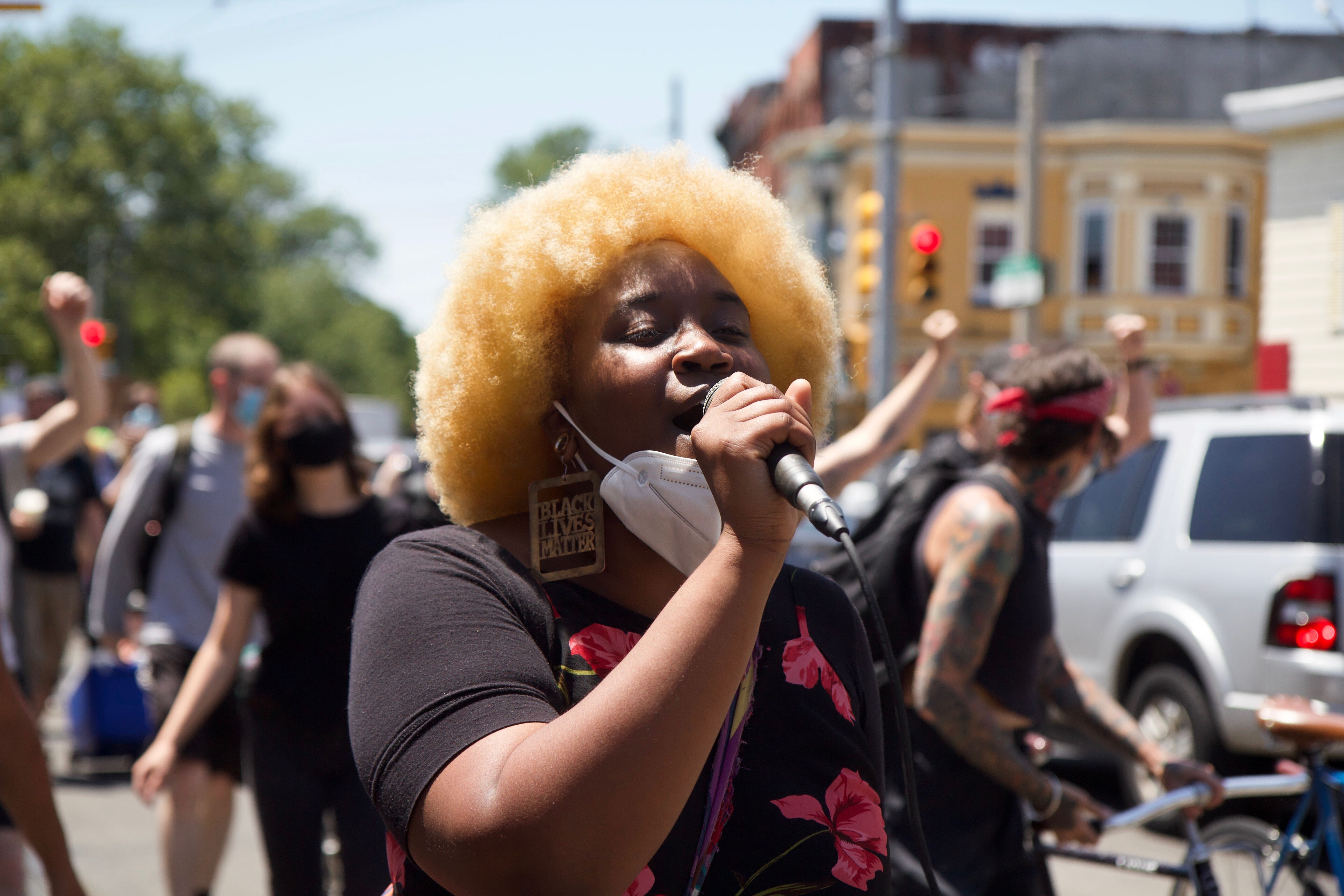 Though Williams and Moregrass didn't coordinate this march with Black Lives Matter Philly or other local organizations, they're supporting the demands those organizations have put forth, including calls to defund the police department.
The march included stops in Rittenhouse Square and City Hall before ending at police headquarters. There, one by one until their demonstration ended peacefully, protesters took the mic to describe negative experiences with police and lay out demands.
One young man turned to face police officers and asked, "You think I don't see the videos on social media?"
Protesters march in Northeast Philadelphia
Northeast Philadelphia — long associated with the many police officers that call it home — hosted a pair of rallies Tuesday evening against police brutality.
"Usually you have to go to Center City for this kind of thing," said Senia Lopez, a longtime Northeast resident.
Protester Senia Lopez, a long time northeast resident, said this is the first time she's seen a demonstration like this here. "Usually you have to go to Center City for this kind of thing."

— Zachariah Hughes (@ZachHughesNews) June 9, 2020
Protesters gathered outside Northeast High School and Fox Chase Elementary School, with plans to meet at the prominent Five Points intersection.
Demonstrators marching down a major street, police blocking side streets and intersections. People periodically coming out of their homes to cheer on or just see what the commotion is.

— Zachariah Hughes (@ZachHughesNews) June 9, 2020
Pa. gives guidance to businesses damaged by looting
Pennsylvania's Insurance Department released guidance Tuesday for businesses damaged "during civil unrest."
The document is mainly a primer on the way business insurance policies tend to treat broken glass, lost business revenue, and other disruptions that could be caused by looting.
Philadelphia saw a substantial spike in commercial burglaries during the early days of protests over the alleged murder of George Floyd. On June 1, for instance, more than 400 businesses were burglarized, according to police.
Business owners seeking information or wishing to file a complaint can call the state Insurance Department at 1-877-881-6388.
Woman charged with attempted murder after allegedly running over police officer
A Philadelphia woman has been charged with attempted murder after police say she ran over a bicycle officer during the burglaries and vandalism that happened after the first night of protests over the death of George Floyd.
Court documents indicate that 41-year-old Angela Hall faces charges of attempted murder of a law enforcement officer, aggravated assault, reckless endangering, evidence tampering, fleeing an officer, and other counts.
Officer Antonio Nieves was on his bicycle helping patrol near Center City late on May 30 when several stores were broken into, fires were started, and people began taking merchandise. Police have said Nieves chased a car after he saw someone taking items from a store and attempted to stop the vehicle leaving the scene.
Police say the driver of the car ran over Nieves to get away. The officer suffered major injuries, including broken ribs, cracked vertebrae and shoulder, neck and arm damage, police union officials have said. He remained in the hospital Tuesday, more than a week after the incident.
Police announced late Monday that Hall had been arrested.
A message seeking comment was left with the Defender Association of Philadelphia, listed in court records as representing Hall.
Protests and incidents of vandalism, arson and theft continued through last week. City and police officials have said the incidents of burglary and vandalism had decreased significantly by the end of last week.
Philadelphia Police Commissioner Danielle Outlaw said that as of this weekend, when protests were largely peaceful, 27 officers had been injured.
Scanlon introduces resolution in support of press freedom
Citing the arrest and harassment of some reporters during the ongoing protests, U.S. Reps. Mary Gay Scanlon (D-Pa.) and Adam Schiff (D-Calif.) are calling on their colleagues in the House of Representatives to express public support for journalists.
A resolution introduced by the pair on Tuesday includes a statement reaffirming the rights of journalists, asks local law enforcement to safeguard those rights, and asks "government entities" to clarify that journalists are "exempt from curfews enacted in response to protests and public demonstrations."
The resolution mentions the recent arrests of three Philadelphia-area journalists, including one from WHYY.
Scanlon, whose district includes Delaware County and part of South Philadelphia, said the detention of journalists was a threat to democracy
"A free press is the lifeblood of democracy, and the media's role in covering recent protests calling for racial justice has been critical to holding the government, at all levels, accountable," Scanlon said in a statement.
The Associated Press contributed reporting.
WHYY is your source for fact-based, in-depth journalism and information. As a nonprofit organization, we rely on financial support from readers like you. Please give today.