City Council amends Germantown overlay ahead of zoning reform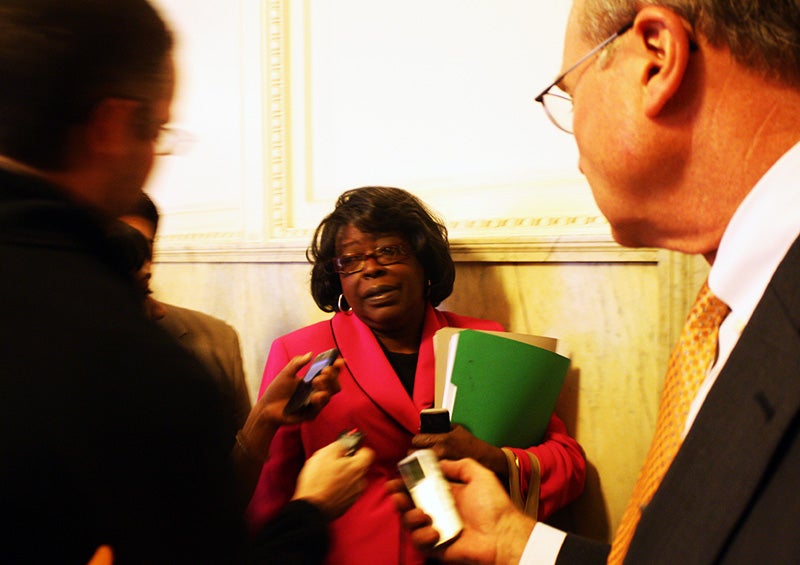 By Jared Brey and Kellie Patrick Gates
For PlanPhilly
Who is Germantown, and what does it deserve?
These questions have been humming beneath the months-long controversy over the proposed building of a Dollar Tree in Chelten Plaza. To the chagrin of some and the satisfaction of others, they were indirectly answered in a Thursday morning meeting of City Council.
Council voted unanimously, 17 votes to zero, to pass a bill introduced by 8th-District Councilwoman Donna Reed Miller amending Germantown's overlay controls, which formerly prohibited any new "general merchandise" stores from being built in parts of the area. Miller's amendment allows for general merchandise stores larger than 7,500 sq. feet, which some saw as a blatant handout to developer Pat Burns, who has proposed building the Dollar Tree.
Most of the public comment period of Thursday's Council meeting was given over to testimony from individuals on both sides of the issue. The most passionate voices came from those who were opposed to the bill, and who instead want to see Chelten Plaza used for a grocery store. The testimony of those who spoke in opposition—ten in all—was punctuated by claims of, "I am Germantown." But that meme was taken up by some on the opposite side as well, and it ultimately failed to compel any Council members to vote against the bill.
In its unanimity, Council did not so much answer the questions of who Germantown is and what it deserves as who makes its rules and what it will get.
State Representative Rosita Youngblood was the first to testify against Council Bill No. 110662, saying that building another dollar store in Germantown rather than a grocery store would be "devastating." Yvonne Haskins, an attorney who has been active in trying to block the Dollar Tree development, called Miller's bill an "egregious abuse of legislative power" from an outgoing Councilperson. Germantown resident Susan Guggenheim called the bill a "blatant and crass attempt to spot zone." Many of the opposition witnesses objected to the notion that Germantown as a community is too poor to support a full grocery store. Some said that any need for discount general merchandise stores in the community is already fulfilled.
By the time Pat Burns' attorney Carl Primavera took the stand to testify in favor of Miller's bill, some members of Council were visibly frustrated. Councilman Jim Kenney said it wasn't necessary for Council to re-hear all the same points of view it had heard during earlier hearings. Primavera briefly said that 7,000 citizens had signed a petition in favor of building the Dollar Tree, and then cut his testimony short.
But more witnesses picked up where he left off. Betty Turner, a member of Germantown Community Connection, told Council that the objectors did not speak for all of Germantown. Germantown resident Malik Boyd said that dollar stores are important to many residents of the neighborhood, and that Rep. Youngblood's testimony should be disregarded because, he said, she "hasn't brought a single job" to the neighborhood during her time in the Pennsylvania House of Representatives.
For the most part, witnesses in favor of Miller's bill framed the issue as a matter of bringing jobs to a struggling area of the city. Those in opposition framed it as an issue of access to fresh food and setting a precedent for a different kind of development in Germantown. For its part, City Council kept with the City's long tradition of councilmanic prerogative in siding with District Councilwoman Miller and supporting the amendment to the overlay.
After the vote, Carl Primavera said that it was time for the protestors of Burns' project to "put down the sword and pick up the ploughshare." He said he thought Council's vote sent a message to the objectors that they dealt with the issue in the wrong way. "I think [Council] didn't appreciate the personal, vindictive nature of [protestors'] attacks on people, the level of acrimony in a chamber like this," Primavera said. "I think they're used to a little more respect, and I think that they just didn't appreciate the tone."
After the meeting, Councilwoman Miller downplayed the protestors' objections to the Chelten Plaza development. "I don't think it's a bad project," she told reporters. "I ride by there every day on my way to work. It looks nice. It looks much better than the abandoned building that was there for years."
Though it produced the most argument, the Germantown overlay bill wasn't the only zoning item Council dealt with in Thursday's meeting. Council also passed a bill allowing large wall-wrap advertisements on a building in Callowhill, and three bills making way for expansion of the SugarHouse Casino on the Delaware River waterfront.
Three other planning items on Council's agenda were held: bills striking a portion of Bodine Street in Northern Liberties, creating a Neighborhood Improvement District in the area of the Reading Viaduct, and providing a tax credit for owners of condominiums that do not receive regular City trash service.
Another bill, No. 110859, introduced by Councilman DiCicco, was adopted by Council. That bill authorizes the Planning Commission "to take such action as may be necessary to effectuate the removal of deed restrictions" for the vacant lot at the corner of Broad Street and Washington Avenue.
A Committee of the Whole hearing is scheduled for next Wednesday, December 7th, at which time Council is expected to vote on Bill No. 110845, which would enact a new zoning code for Philadelphia. Councilman Green, for one, reiterated Thursday that he expects the bill to pass.
Contact the reporter at jaredbrey@gmail.com
WHYY is your source for fact-based, in-depth journalism and information. As a nonprofit organization, we rely on financial support from readers like you. Please give today.