City Branch visions | O'Neill advocates more zoning rollbacks | Electric Factory ad-wrap, again | No marker for Wood Street steps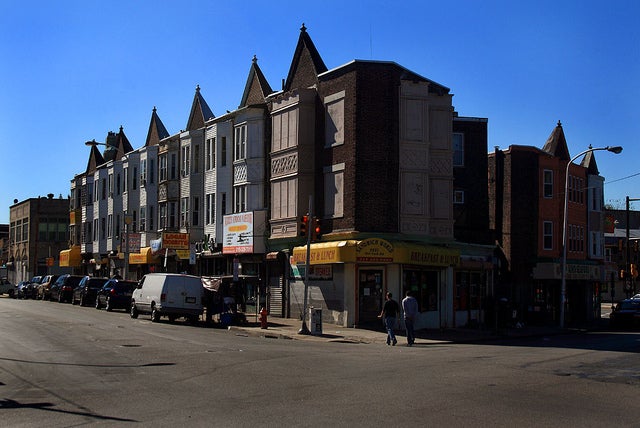 Good morning and Happy Friday, Streeters. As you plan your weekend, don't forget that the Philadelphia Marathon is on Sunday.
In her column today, Inquirer architecture critic Inga Saffron explores two compelling, competing visions for the Reading Viaduct's City Branch: Bus Rapid Transit or a low-line extension of the Reading Viaduct Park. "It's not every day that Philadelphians get to choose between two equally seductive visions for public improvements," Saffron writes. What if we don't have to choose? What if the park could be a placeholder for or companion to the BRT system?
Councilman Brian O'Neill wants to roll back a mixed-use zoning classification to the pre-zoning reform version for the entire city because he says the old code was better for his Northeast district. PlanPhilly's Jared Brey reports that O'Neill introduced legislation that would effectively turn CMX-2 districts back into the more restrictive pre-zoning reform state (the old C-2), which was more restrictive of commercial uses in mixed-use districts. By doing so, the updated and more permissive CMX-2 standards, Jared explains, would need to be remapped into the city as a new kind of district (CMX-2.2). O'Neill's logic: The Northeast is different, and what might be good for other commercial corridors, isn't necessarily appropriate for the Northeast. To this change, deputy director of the Planning Commission Eva Gladstein said, "The kind of rollback to the old zoning code and then requiring people to have to remap to CMX-2.2, does not seem like a reasonable action to us."
Will the Electric Factory be wrapped in ads yet? When Mayor Nutter vetoed the hotly contested special zoning bill that would have permitted the ad wrap, sponsored by former Councilman Frank DiCicco, it looked dead. But the Inquirer reports DiCicco's successor Mark Squilla resurrected the bill Thursday, with a twist: 20% of the ad revenue would support three local elementary schools and community groups. "It would be like an advertisement impact fee, where the people who have to put up with this would then be able to garnish some benefit from it," Squilla said.
Wood Street's historic stone stairs were ordered built by William Penn to ensure public access to the busy Delaware River. The Wood Street stairs are listed in the Philadelphia Register of Historic Places, but neighbors want a blue state history marker from the Pennsylvania Historical and Museum Commission to help explain the significance of the stairs, reports the Daily News. PHMC doesn't think the stairs have statewide significance. Architect and neighbor Richard Stange told the Daily News, "We know that the steps are here, but no one else does. They're forgotten."
WHYY is your source for fact-based, in-depth journalism and information. As a nonprofit organization, we rely on financial support from readers like you. Please give today.