Christie's ego may send him into a pretty strong storm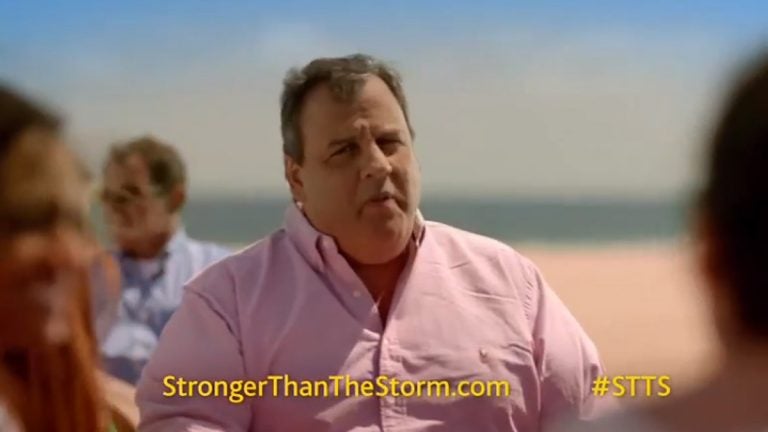 Here's a mortal lock bet for you: Chris Christie will be re-elected governor of New Jersey this fall. But I have a gut feeling his margin of victory won't be as big as expected, particularly in the Shore counties that were hammered by Sandy.
Why is that? Here's why.
You've seen or heard those ads, right? Around here, the only way to avoid them might be to live off the grid.
Let me tell you, that slogan really grates on some New Jerseyans.
WHYY is holding a series of forums up and down the Shore to discuss the future, post-Sandy. In each breakout group, the slogan gets mentioned early on, provoking responses ranging from wry sarcasm to raw anger.
Why is that? Here's one reason:
The Asbury Park Press, doing some fine, old-fashioned digging, has reported how the advertising firm picked to run this campaign is getting $4.7 million in federal recovery dollars, nearly twice what the next best bidder sought. The loser's mistake: It didn't promise to feature Christie in the ads.
To many, the ads convey this message: "Chris Christie's ego. Bigger than the storm." Some dislike how the governor sets himself up as the emblem for the generosity and pluck shown by ordinary people in Sandy's wake.
Plenty of people are still furious about what they see as the slow, inconsistent performance of governments—federal, state and local—post-Sandy. They are in no mood to see a politician take a glossy, premature victory lap.
Another often-heard point: Many, many storm victims are still struggling to put properties and lives back together. To them, these ads declare their continuing woes irrelevant, a thing of the past.
The jingle, as they listen to it, seems to be on a mission to sweep their urgent needs under a PR rug.
To still others, the idea that the state has proven itself "stronger" than the power of sea level rise and hurricanes is not just silly; it's dangerous.
Such bravado, they believe, gets in the way of a needed rethinking of how we build and live at the Shore.
I'm not a habitual Christie basher, so the depth of this anger and scorn heard at the forums surprised me a little.
But the point is vivid. To many Shore folk, the governor is surely no folk hero. This may be a factor to watch as he strides confidently to what he sees as his appointments with destiny.