CHOP presents Schuylkill River research/office tower to PCPC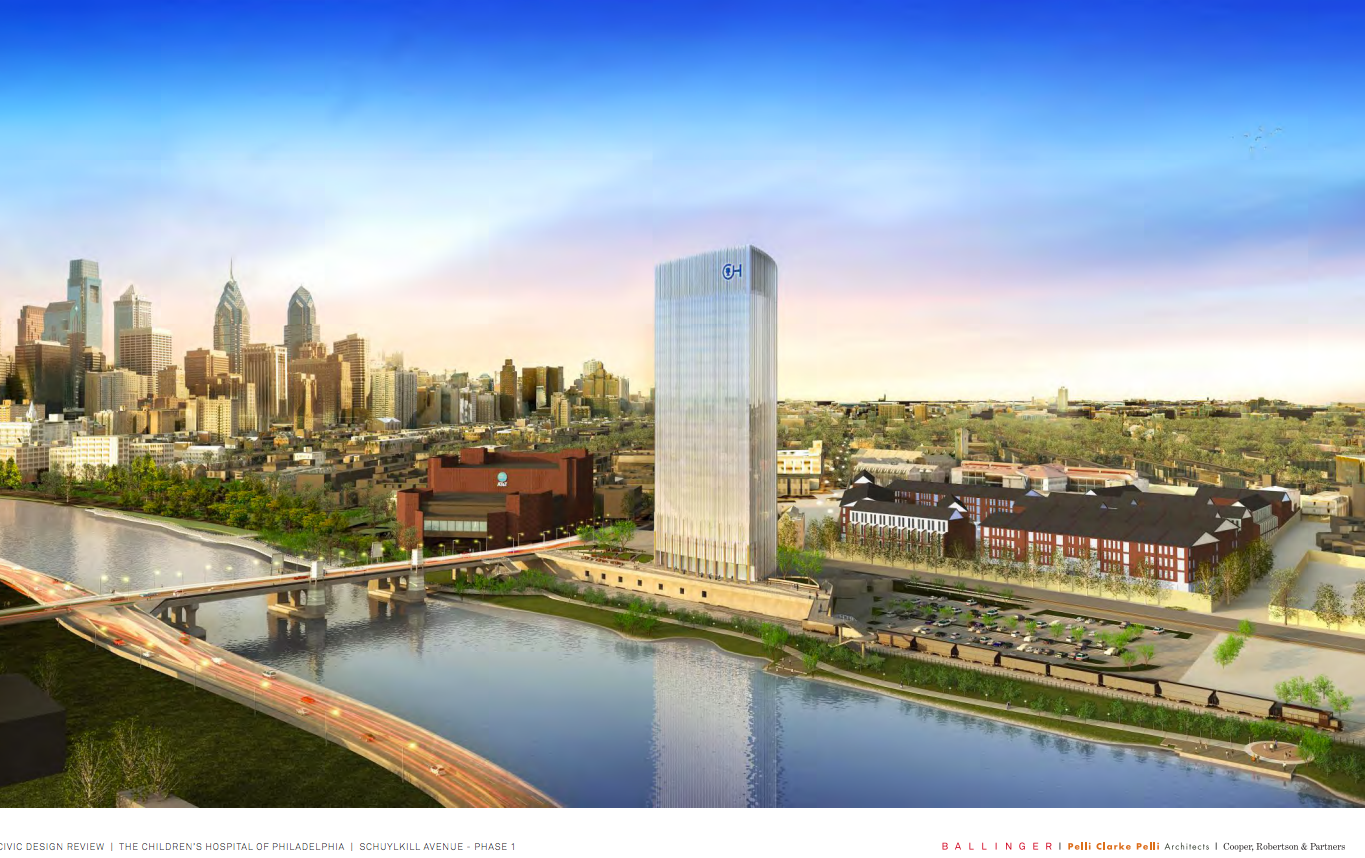 The Children's Hospital of Philadelphia Tuesday gave the city planning commission a first look at its plans for a research and office facility at 700 Schuylkill Ave. That's the east side of the river.
CHOP Senior Vice President for Facilities and Construction Management Doug Carney said the parcel could accommodate about 2 square million feet if fully built out, but CHOP doesn't need that much space yet. Phase I of the project, which includes a 22- or 24-story office tower, depending on whether you count the parking podium, will accommodate CHOP's needs through about 2022, he said. So while renderings he showed to Philadelphia City Planning Commissioners showed three ghost-like future buildings adjacent to the tower, his presentation focused on Phase I.
Carney said the metal and glass building and site, designed by Pelli Clarke Pelli and Cooper Robertson & Partners, would include several public and green areas, and a pedestrian bridge is planned that would allow people to walk from those areas across the CSX railroad tracks and connect to the Schuylkill Banks trail. "We are seeking public funding" for that bridge, Carney said, but CHOP plans to include it in Phase I.
In response to questions about use from Commissioner Nancy Rogo Trainer, Carney said only CHOP employees would work at the building, which would include clinical research facilities and office space.
The research would be "dry research" only – research done with computers. Some research subjects might come to the site, but only for interviews, not procedures, he said. These uses would remain consistent over the two prospective future phases, as well, Carney said.
The first phase would also include a parking garage and a parking lot – with about half of the planned parking in each type of facility.
About 50 percent of traffic to the new facility would be coming via I-76 and taking the South Street exit to the site, he said.
Carney said the project could be built by-right without variance, but CHOP does plan to seek a variance that would allow it to reduce the number of loading zones a project of this size would normally require, since it won't need them.
Tuesday's presentation was for information only. The project will be before the PCPC's Civic Design Review Committee – which Trainer chairs – on April 1, and then will be back before the full planning commission in a future session with public comment and PCPC action. Learn more details about the proposal from CHOP's CDR application, here.
Members of the public have already been commenting on the project, however.
According to notes from a February meeting posted on its website, The South of South Neighbors Association supports the project but has big concerns about the amount of traffic the project will bring, some design elements and a lack of retail space in areas neighbors think it is needed. Learn more about SOSNA's concerns here.
The Design Advocacy Group of Philadelphia shares those concerns, said steering committee member Kiki Bolender. Bolender said DAG is also concerned about the "suburban" nature of the plan, considering the "intensely urban" neighborhood.
"The project sits up on a podium," she said. That would be fine if the podium had active uses in it, or at least was split somehow to allow for views. Instead, the project puts "a solid blockade along a river."
DAG would also like to see more activity on the lower floors facing Schuylkill Avenue, Bolender said. It has been concerned about access to the river as well. She called CHOP's Tuesday commitment to put the pedestrian bridge in Phase I "progress."
Bolender noted DAG has no issue with the height of the tower, or the goals of the project. DAG believes that CHOP could achieve those goals in ways that would make the project a better fit, though, she said. Bolender and fellow DAG member George Claflen wrote a detailed op-ed on this subject that appeared in The Inqurier and Philly.com in February. Read that here.
Craig Schelter, a former PCPC executive director and Philadelphia Industrial Development Corporation board member who currently runs the Development Workshop, said it is unreasonable to expect a medical institution like CHOP to build and lease retail space, noting that this was his personal opinion, not that of the Workshop.
"Convenience retail is terrific," he said, and it will pop up in nearby, smaller buildings once CHOP opens this new facility.
Schelter said he was surprised to hear CHOP would be including the bridge over the tracks in the first phase of development. Seeking public funding is "absolutely predictable," he said. "You can't just do these kinds of things, which are really expensive infrastructure, within the cost of trying to do a research building," he said.
Project Massing, Master Plan

Site Plan, Plaza Level
WHYY is your source for fact-based, in-depth journalism and information. As a nonprofit organization, we rely on financial support from readers like you. Please give today.