Child molesters are thankful for Donald Trump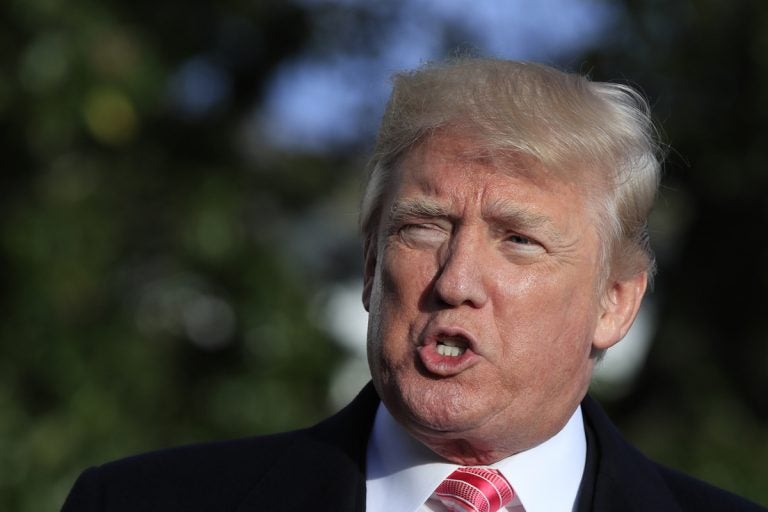 I'm old enough to remember the summer of '15, when Donald Trump supposedly hit rock bottom. We assumed he'd shattered the amoral meter when he maligned John McCain for getting captured.
Little did we know, or could we ever have contrived to imagine, that one day this hustler would be trodding White House turf and touting a holier-than-thou Republican who stands credibly accused of pedophilia. It's not enough to say that Trump keeps lowering the bar, because at this point, after what feels like 2,000 years into his dystopian tenure, there no longer is a bar.
Yesterday, after weeks of reticence about Senate candidate Roy Moore, here's how the alleged president assessed the perv claims voiced by nine women: "Well, he denies it. He denies it. He totally denies it. He says it didn't happen. And you know, you have to listen to him also."
What a gift for child molesters everywhere! Henceforth, all they need to do is totally deny what they did, simply say it didn't happen — and presto, they're magically absolved by our elected moral arbiter. Such denials still won't help them in prison, where they're typically pounded to a pulp for their sins, but hey, at least they have a friend in the White House. Trump says he's willing to listen, because clearly, a la Charlottesville, there are very fine people on both sides.
I suppose it's worth mentioning that Trump is touting Moore even though the Republican National Committee and the GOP's Senate campaign committee have denounced Moore. Basically, he's going against his own party — but that doesn't count for much anymore, because Trump is a party of one. And whatever long-term havoc he may be wreaking on the GOP (especially among young voters and female voters) matters less than the exigencies of the moment. If Moore is a pedophile and serial cruiser of teenage girls, but he is willing to vote for tax "reform" that rewards the upper brackets and screws the middle class, then Trump will take that as a win.
It's not easy to parse the dizziness of Trumpian logic — it's somewhat akin to navigating M. C. Escher artwork — but to the best I can figure, this was the gist of his message yesterday:
Somebody (Democratic candidate Doug Jones) is "soft on crime" even if, as a lifelong prosecutor, he has prosecuted Klansmen who bombed a black church, prosecuted a domestic terrorist who bombed an abortion clinic, and prosecuted drug dealers. On the other hand, somebody who's credibly accused of preying on young girls, and who, as a judge, has repeatedly sided with defendants accused of sexual offenses, is not soft on crime.
This was also the gist of his message:
Women and black people are not believable. If women say they were molested or harassed or assaulted, don't believe them. If Barack Obama, via his birth certificate, proves he was born in America, don't believe him. If the Central Park Five (black teens who denied raping a white jogger) are ultimately vindicated and exonerated by DNA evidence, don't believe them. But if a white, right-wing man "totally denies" serial behavior deemed repugnant by society, believe him.
The Gadsden Mall had enough sense to bar Roy Moore; the local cops had enough sense to keep an eye on Moore. (Retired cop Faye Gary, on TV yesterday: "We were also told to watch him at the ballgames, and make sure that he didn't, you know, hang around with the cheerleaders.") But according to Trump's moral standard, Moore is fit for the U.S. Senate. Ponder that one. Then read this:
"It is said that private character has virtually no impact on governing character; that what matters above all is a healthy economy … If these arguments take root in American soil — if they become the coin of the public realm — we will have validated them, and we will come to rue the day we did. These arguments define us down; they assume a lower common denominator of behavior and leadership than we Americans ought to accept. And if we do accept it, we will have committed an unthinking act of moral and intellectual disarmament …. The high ground will have been lost. And when we need to rely again on this high ground — as surely we will need to — we will find it drained of its compelling moral power."
That was William Bennett, the conservative Republican moralist, during one of his late-'90s laments about Bill Clinton. But today, Bennett supports Trump. He and his allies in the evangelical community are complicit in our moral disarmament. Trump, by indulging Moore's denials, disarmed us further yesterday.
So cut the turkey, American perverts. On this holiday you truly have something to be thankful for.