Chester County joins local governments suing opioid manufacturers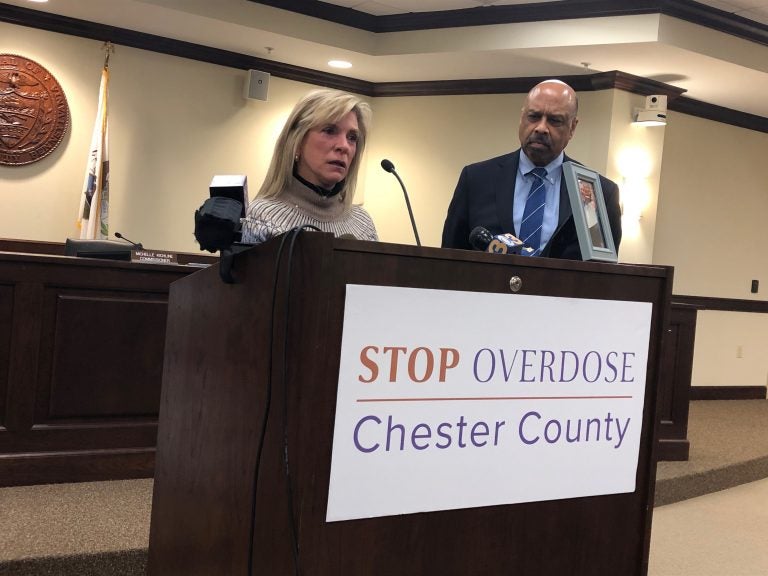 For the first time, Americans are more likely to die of opioid overdoses than in car accidents. In light of that grim National Safety Council statistic, officials in Chester County announced Tuesday that it would be the latest in a slew of local governments to sue opioid manufacturers on grounds the companies deliberately misled doctors into prescribing highly addictive painkillers.  
More than 100 people died of overdoses last year in Chester County.
The city of Philadelphia, the state of Delaware, Delaware County in Pennsylvania, and Camden County in New Jersey, among others, have all filed similar lawsuits in recent years.
Chester County's suit will target Endo and Cephalon, both of which operate in the county: Endo has its U.S. headquarters in Malvern, and Cephalon, now owned by Teva, is based in Frazer. County Commissioner Michelle Kichline said she expected more defendants would be added when lawyers from Robbins Geller Rudman & Dowd file the lawsuit next month.
The suit will allege that the drugmakers used deceptive marketing to boost sales of opioid painkillers, deceiving doctors and patients about their addictive risks in violation of the federal Controlled Substances Act.
Beth Perz of Berwyn, Chester County, was at Tuesday's announcement. Her 24-year-old son, Brad, died in her arms just weeks ago of an opioid overdose.  Perz said he became addicted to Percocet, manufactured by Endo, after it was prescribed to him for a kidney stone.
As a nurse at a surgery center in the county, Perz said, she sees doctors overprescribe opioids all the time.
"It's a disgrace," she said. "They don't need it —  it sits in the cabinet and a 16-, 17-year-old gets a hold of it.  And then that's the beginning."
In 2017, Delaware County became the first Pennsylvania county to sue. There were an estimated 209 total overdose deaths in Delco last year, 155 of which were opioid-related. That lawsuit — filed in state court against 11 pharmaceutical companies and three individual doctors — is in its preliminary phases in the Court of Common Pleas.
Luzerne County filed its federal suit in U.S. District Court in Scranton in 2017.
When it is filed, Chester County's lawsuit will automatically be transferred to the Northern District of Ohio, where it will join more than 2000 other cases as part of a multi-district litigation case to be heard by a judge in Cleveland. The first batch of those suits is set to go to trial in March.
Pennsylvania Attorney General Josh Shapiro is investigating pharmaceutical companies, but the state is one of only a handful that has not taken legal action. Chester County Commissioner Kichline said that her office consulted extensively with Shapiro's about potential litigation and decided that filing on its own was the best course of action for the county's residents.
"We are the ones that actually know what damages occurred in a county, we know intimately what our programs are, what our expenses are. So it's much easier and probably more accurate for us to provide figures than try to aggregate it statewide."
Four years ago, Chester County established an overdose-prevention task force to tackle the growing problem. That effort has focused on expanding awareness, access to treatment, and law enforcement. As is the case with many of the lawsuits, Kichline said that any funding awarded to Chester County would go toward expanding access to treatment, recovery resources, and educational efforts in the region.
"We have devoted a tremendous amount of resources to help address this crisis, but this problem is not going away," Kichline said. "Funding is needed to sustain the programs, services and additional resources, and pharmaceutical manufacturers and distributors must shoulder a portion of that burden."