Caught in a time warp 'Among the Dead' at Theatre Exile
This evocative play about a child of war features a complex story and a fine cast.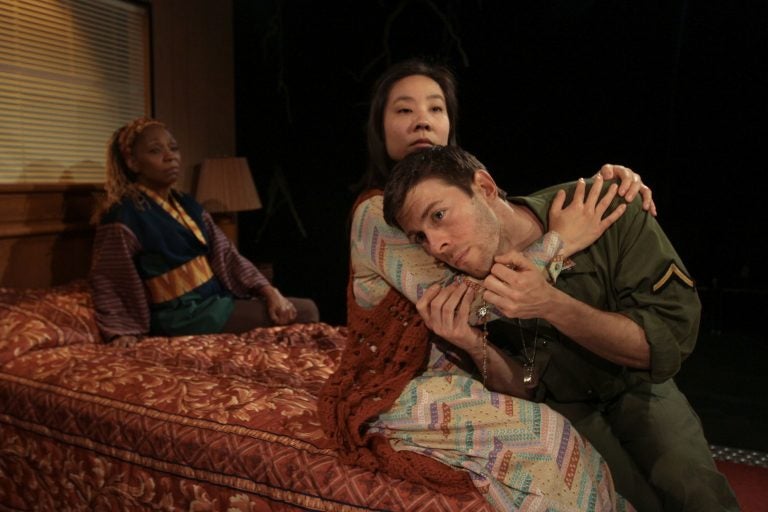 Timing is everything in "Among the Dead," a play about a child of war that opened Wednesday in a soul-stirring production from Theatre Exile. I'm not referring primarily to the timing displayed by a first-rate cast, but to the unconventional timing in Hansol Jung's evocative play.
In her effective telling, Jung combines three decades of action with characters who seem to be in a time warp that draws us in. These are not your usual flashbacks.
Jung's story also is complex, making it all the more satisfying as it plays out with clues that enable us to unravel the plot in the production astutely directed by Theatre Exile's leader, Deborah Block. It takes place, all at the same time, in the mid-'40s on the battlefield in Burma, where Allied forces are fighting off a Japanese invasion; on a bridge there years later; and inside a hotel room in Seoul in 1975, when students are rioting against the oppressive government.
Bi Jean Ngo, in an outstanding performance, is Ana, the woman in that hotel room. Ana has come from her Kansas City home to retrieve her dead father's ashes. (The play doesn't clarify her motive for being there, although we see a box, apparently holding the ashes, on a hotel-room table.) Her father was an American soldier in the Burma campaign. The mother Ana has never met was a Korean "comfort woman" – she provided sex to soldiers – in Burma, and forced her reluctant father to take the infant Ana back to the United States.
Ana, the grown woman, is pretty much trapped in her hotel room in Seoul – the student protests outside are developing into an all-out riot. In comes a room-service attendant, unexpectedly, to mysteriously deliver a war-time diary written by Ana's father. It turns out that the attendant is Jesus, and the diary will allow Ana to connect to the father she barely knew and to the story of her roots.
"Among the Dead" comes with a spiritual underpinning. Jesus (the unmatchable Cathy Simpson) happily encourages the characters through the story in every time zone, and during war scenes often stays by the side of Ana's soldier father. The play takes on an even more spiritual tone when the actors playing Ana and her mother swap roles. In that trade-off, you can sense Ana searching for an identity. (Claris Park is the mother, James Kern is the father, and each is excellent.)
It's all as moving as it is disorienting, a play meticulously crafted and solidly presented on Colin McIlvaine's hotel-room set with dangling pieces that look like small branches separating the room from some of the action and from an audience sitting on two sides. Melissa Dunphy's subtle sound design greatly enhances the production.
---
"Among the Dead" runs through May 26 at Theatre Exile, 13th and Reed streets in South Philadelphia. 215-218-4022 or theatreexile.org.
WHYY is your source for fact-based, in-depth journalism and information. As a nonprofit organization, we rely on financial support from readers like you. Please give today.