Castor Gardens residents petitioning for Big Belly trash cans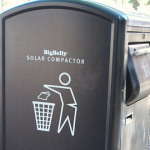 Castor Gardens residents and the Take Back Your Neighborhood community group have been championing an effort to get Big Belly trash cans along Castor Avenue.
The group is branching out and looking for more volunteers to help solicit signatures for the solar-powered trash cans. TBYN member Sandra Gregg will meet with others every Wednesday on the 6000-block of Rutland Street to collect signatures. Residents interested in volunteering can contact Gregg at sgregg3754 AT yahoo.com.
The group has been collecting signatures for months, and Gregg was able to get 75 signatures on one Wednesday. The cans would serve as public trash receptacles along the Avenue, and are covered and have handles.
The next TBYN meeting is Oct. 17 at 7 p.m. at Max Myers Rec Center.