Camden celebrates a BLM artwork that had a contentious creation
Organizers of the effort to make the painting on a four-block stretch of Broadway clashed with city leaders. Vehicular traffic already has the paint peeling.
It shouldn't have been surprising that the paint on the huge Black Lives Matter sign on Broadway in Camden faded before the unveiling on Saturday — less than a week after a handful of residents and activists had carefully applied it to the Broadway asphalt.
"It's a mess," Camden County NAACP president Kevin Barfield said of the effort, which had already been marked by rancor. Camden city leaders washed their hands of it after organizer Stephne Coney, whose National Stop the Violence Alliance led the effort, accused Camden Mayor Frank Moran of racism.
"When you have Hispanic leadership and they're trying to control the narratives of Black events, then that's a racial issue," Coney said. "Tell me what the mayor knows about Juneteenth, tell me what he knows about the African diaspora. They're straight-up ignorant."
Several Camden residents also complained that Coney didn't try hard enough to recruit more local activists for the project, and that during the painting some non-Black participants were criticized for being involved at all.
Still, on Saturday about 100 supporters gathered in front of a stage on Broadway to honor the painting and the movement it symbolizes. Speeches reflected the frustration of the organizers, heightened when Coney discovered that vendors were being asked to pay a license fee of about $70; she said Fuentes had previously guaranteed her the fee would be waived.
At one point, Coney marched down Broadway, vowing to move police barriers blocking vendors and, saying, "If I am arrested, let it be!"
City Councilman Angel Fuentes had originally reached out to Coney, a friend of 30 years, about Camden's Black Lives Matter plans back in July. Fuentes refused to attend Saturday's celebration of the Coney-led Black Lives Matter initiative because Coney and her daughter, Sescily Coney, were "screaming and yelling at the mayor" at a recent Zoom meeting about logistics.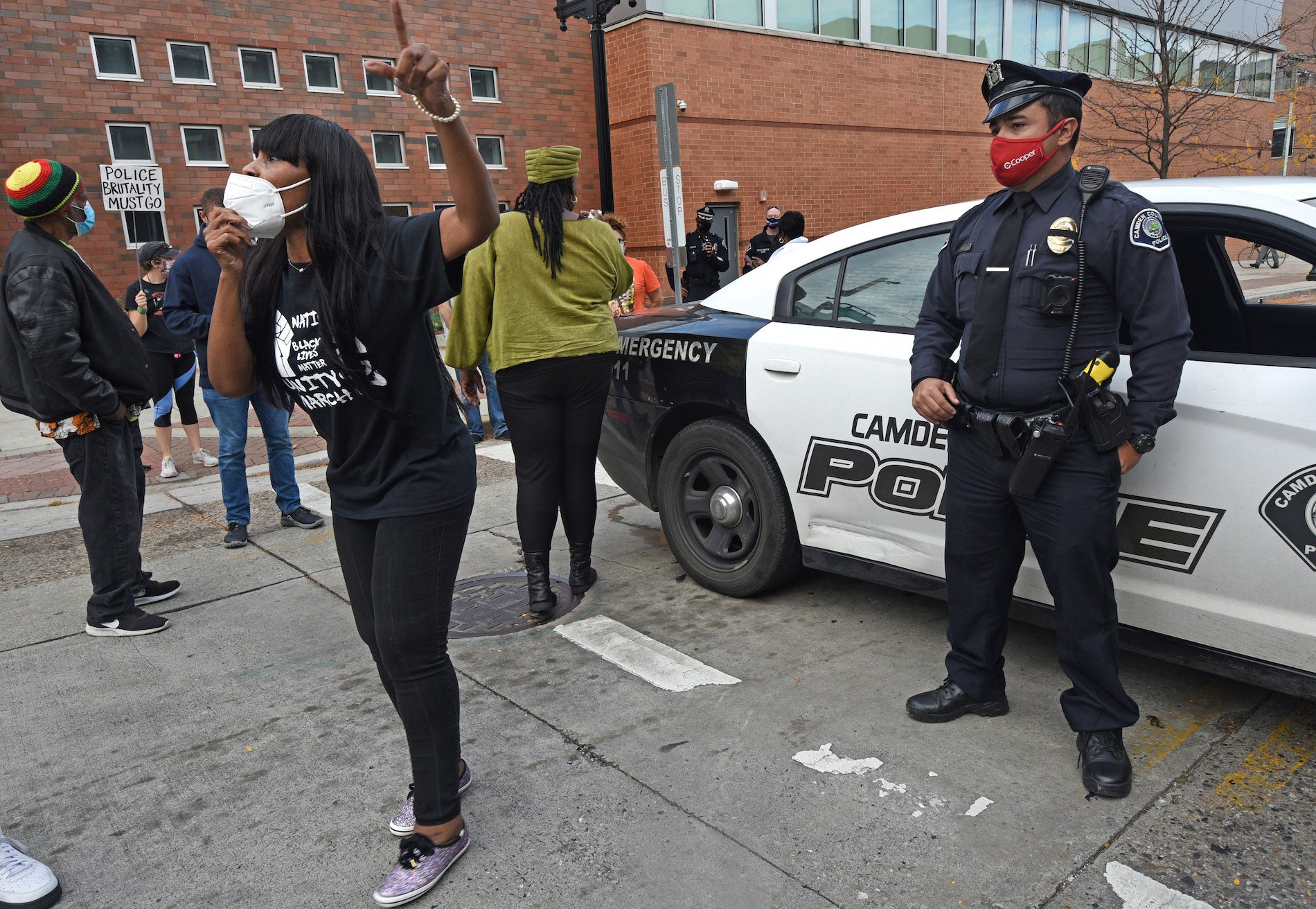 "I couldn't even sleep that night, it was so stressful," said Fuentes, "and to say that the mayor and I hate Black people?"
City spokesman Vince Basara said Camden has Black Lives Matter events planned for the future, and Fuentes said, "I apologize to the African American leaders and promise that this will never, ever happen again."
City resident and activist Ojii BaBa Madi noted that Coney's organization was a national one and wished there had been more local involvement.
"It just never from the start had a feel of connecting with the Camden community, and especially the young leaders here," he said. He put Coney in contact with his son, who had helped lead a previous Black Lives Matter march in the city, but said his son was turned off by Coney's emphasis on "national figures" showing up, and a suggestion that the painting might have Coney's picture on it.
Coney pointed out that even though she currently resides elsewhere, she was born and raised in Camden and is a Woodrow Wilson High School graduate.
"I'm not a stranger," she said. "I'm here basically every day."
The NAACP's Barfield believed that more Camden students would have participated in the painting had the city helped with communication.
"The school district," said Barfield, "wouldn't send out information to promote the event."
Creating the painting
The painting itself — on a four-block stretch of Broadway that encompasses NJ Transit bus routes, an entrance to Cooper University Hospital, Cooper Medical School or Rowan University and Kipp Cooper Norcross Elementary School — had a diverse array of creators.
For young Black woman Aliyia Jones, wielding a brush meant being part of a "historic moment." A white family of four staying in a nearby shelter were out for a walk and decided to help. Camden activist Dava Salas, who is of Puerto Rican, Irish and German descent, brought her husband and son to paint with her.
Salas said a Black woman came up to a white woman who was painting "and started yelling at her, 'You don't know what we've been through! You have no right to paint this mural.'" Salas also recalled people walking by "yelling, `All lives matter, not just Black lives!'"
At the same time, Coney said, some passersby prayed over the sign, and Barfield said he'd heard it had actually "caused drug traffic to go down. Even the drug addicts were looking at it and were mesmerized by the art!"
Camden County Sheriff Gilbert "Whip" Wilson said it took him back to the 1960s, when he took a "double hit for being a minority, then being a cop. "In those days, I got looked at as H. Rap Brown or Malcolm X" for the stands he took. "Crying out against police brutality is nothing new to me."
The sign's letters, sketched out by artist Danielle Cartier, are filled in with peace signs, messages and designs improvised by participants. The city's name is also spelled out, which was not the case with similar Black Lives Matter murals.
Peeling problems
A few days after the work was completed, the paint began to peel.
Although the Camden County police and sheriff's departments had stopped traffic during the painting's creation, there had been no agreement on when the roadblocks would be removed.
"We would have thought they would let the paint dry," Coney said.
Instead, said Barfield, "After all these hours and money trying to paint a mural, as soon as they finished, they opened the street back up and a lot of the work was destroyed by cars running over it!"
Coney said that Camden is the only city "that allows buses and cars to drive on top of [a] Black Lives Matter mural … once you place something like that down, it's sacred ground."
Fuentes doesn't think that's realistic.
"You can't close it," he said, "especially where you have hospitals and a New Jersey Transit bus route." He pointed out that Broadway is also technically a county road — which makes it easier for the city to step back from any involvement.
For Barfield, who participated in discussions about the sign and Saturday's event, the controversy is nothing new.
"The mayor wanted to be more in front of the event than the organizer. I think it was more of a power trip than anything else," he said, adding that the city had recently "tried to take over" the annual Juneteenth celebration, which had been organized by local activist Mangaliso Davis for many years.
"Why is there always confusion, especially when it's an event presented by an Afro-American organization?" Barfield said. "It's why people feel there's a division between races in the city."
On Saturday morning, organizers said that authorities had only been willing to close down Broadway after 9 the night before to allow volunteers to touch up the paint before the celebration, so it wasn't possible.
Longtime resident Stan White, who attended the unveiling, didn't let that bother him.
"The paint is fading," he said, "but Black Lives Matter will never fade in our hearts."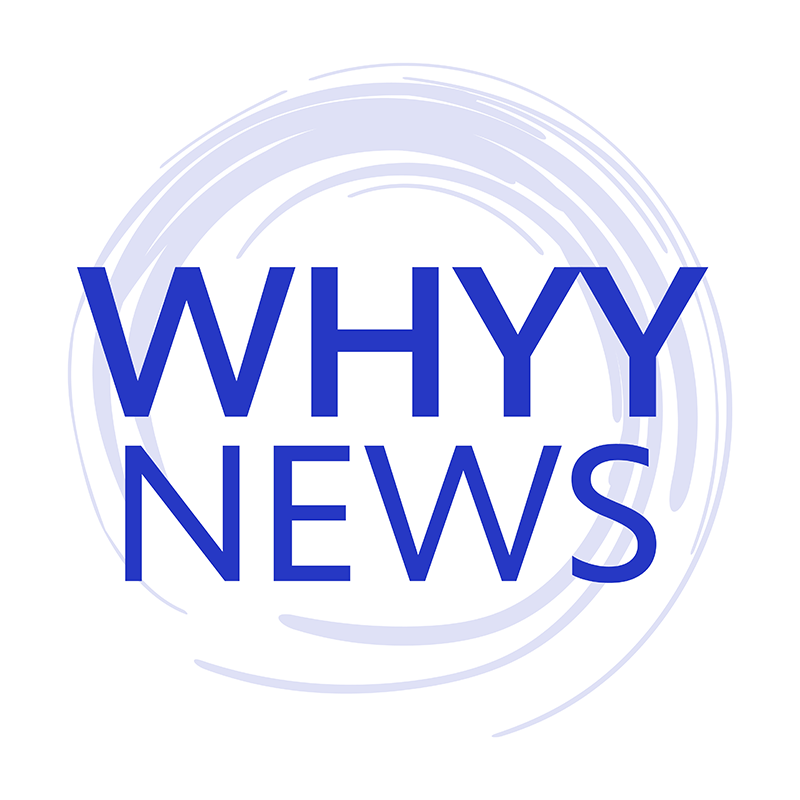 Get daily updates from WHYY News!
WHYY is your source for fact-based, in-depth journalism and information. As a nonprofit organization, we rely on financial support from readers like you. Please give today.