Camden 28 revisit court where they were tried for '71 break-in to protest Vietnam War
As war casualties mounted, several draft board raids occurred throughout the country. But the Camden 28 case was the only one where all defendants were acquitted.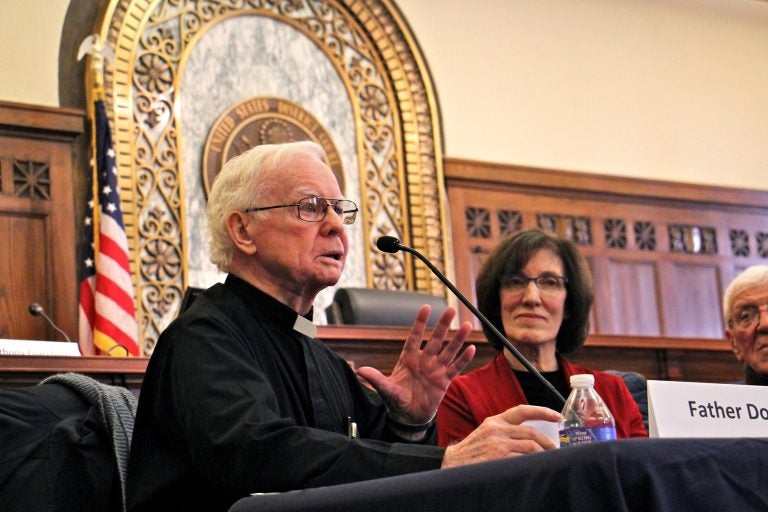 Nearly 50 years after breaking into the Camden draft board and destroying records to protest the war in Vietnam, members of the Camden 28 took to the stand in the federal courtroom where they were tried.
This time, it was to tell their story for future generations.
Joan Reilly read the names of those who didn't live long enough to return to the courtroom that was packed Thursday with high school and Camden County College students.
A lifelong Catholic, Reilly said her faith led her and her sister Rosemary to oppose the Vietnam war, and move from Long Island to join the resistance in Camden.
"It was ordinary people who said 'not in our name, not on our watch.' We took great risk and worked in collective action, and I very much believe that's what helped to end this war," said Reilly, who was in her early 20s at the time.
"My parents have both died, and they kept the letters I sent to them. Now I can see the fire that burned within me about the injustices I saw happening," she said.
In the weeks before the 1971 raid, rioting was regular in Camden.
Keith Forsyth, who moved from Ohio to be a part of the anti-war movement, said demonstrators knew the risks. "It was like the Boy Scout motto, 'Always be prepared.' We were ready to go to jail," he said.
In Camden, they met the Rev. Michael Doyle, one of four priests and one Presbyterian pastor charged with felonies related to the raid. Now Monsignor Doyle and pastor of Sacred Heart Church in South Camden, he said he wouldn't change a thing, though at the time his politics meant few churches would employ him to celebrate Sunday Mass.
"No congressman's son died in Vietnam because they never got sent to the front. But the poor kids of Camden, they were sent to the front," said Doyle. "It's outrageous. And then you say, 'There's no point in writing a letter to those [politicians],'" he continued.
As casualties mounted, several draft board raids occurred throughout the country. But the Camden 28 case was the only one where all defendants were acquitted.
Despite evidence that the FBI aided the raid through a paid informant, attorney David Kairys didn't try to prove entrapment. Instead, the 28 defendants represented themselves as co-counsel, giving each a chance to address the jury directly.
Eugene Dixon said the idea was to appeal to the people, not the law.
"I was just an ordinary working stiff, but, of course, the politics of the war were always in front. And the idea of massive violence being perpetrated on people was one that struck home with me," said Dixon.
"I loved being on trial," said Doyle to laughter from the room. "We talked a lot and Judge Fisher, he had a great sense of humor. I was a felon, but he was so nice to me. And to be able to cross-examine FBI agents — imagine that! I was a peasant from Ireland doing that, and I loved it."
Complementing the event was a screening of a documentary by Anthony Giacchino, which is available online. Giacchino grew up attending church at Sacred Heart and his parents are active in the parish.
WHYY is your source for fact-based, in-depth journalism and information. As a nonprofit organization, we rely on financial support from readers like you. Please give today.