Camac Street's wooden blocks repaired
I have a particular fascination with Philadelphia's network of alleys and small streets, and I count the the wood-paved 200 block of Camac Street as a personal favorite. So I was disappointed to notice this fall that some of the pavers were looking markedly worse for the wear (see above).
Back in 1917 Camac Street was paved with wood blocks (instead of granite blocks) because the wood deadened the clattering sound of horse hooves trotting down the narrow street of clubs and inns. And today, lucky us, Camac Street's still got its wood block pavers, though not the originals. The street was completely resurfaced with wood blocks in 1998, and again in 2008. Camac Street's wooden pavers remain because they are part of a group of paving systems listed in the Philadelphia Register of Historic Places. That means that when streets with designated paving systems require repairs, damaged pieces must be replaced in kind.
That's just what PlanPhilly's Jared Brey spotted happening in late October: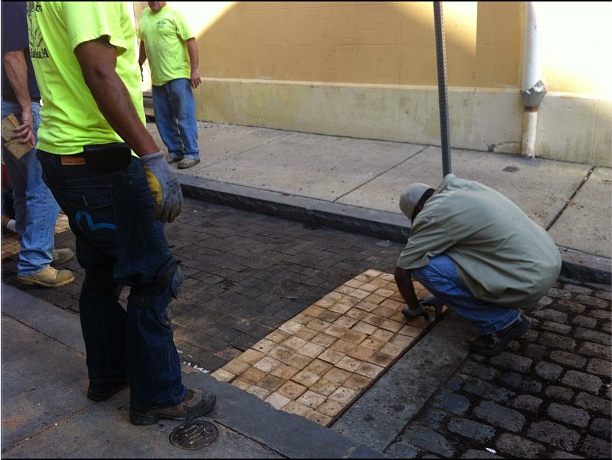 Amid all of the other street resurfacing projects going on in the city this fall – planned and otherwise – I was impressed to see that Streets got around to repairing tiny Camac Street's oak blocks so expeditiously.
Streets Department spokeswoman Keisha McCarty-Skelton told me that the damage to Camac Street's pavers was not due to any particular incident, but "normal wear and tear of everyday use." And because Camac Street doesn't carry too many cars, these should last for years to come.
———
Want more:
WHYY is your source for fact-based, in-depth journalism and information. As a nonprofit organization, we rely on financial support from readers like you. Please give today.