Bribery scandal involving ex-Penn coach has students questioning admissions process
Penn students react to the school's former basketball coach taking $300,000 to save a spot on the team for an unqualified player.
Listen
4:21
In the wake of the national scandal over the rich and famous allegedly stooping to alleged bribery to get their children enrolled in prestigious schools, students at the University of Pennsylvania are talking about their school's admissions process.
Last week, former University of Pennsylvania basketball coach Jerome Allen testified to taking a total of about $300,000 in bribes to save a high school student a spot on Penn's Division I basketball team, according to The Philadelphia Inquirer.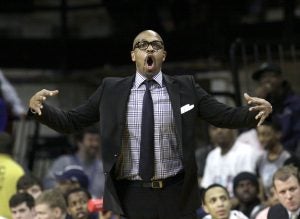 Allen's testimony was during a Medicare fraud case involving the businessman, but unrelated to the college admissions bribery case that was announced Tuesday.
Allen listed this student as a top recruit the fall of 2014, despite his honest assessment that he wasn't good enough to play.
Allen was forced to resign from his position at Penn in 2015 over the the team's losing record and is now an assistant coach for the NBA's Boston Celtics.
Meanwhile, the student in question reportedly never played a game for the Quakers.
This isn't the only case to engulf a competitive college.
Widespread admissions scheme
News broke Tuesday that federal officials charged dozens of affluent parents in a separate college admissions scheme.
"I assumed that it was happening the whole time, and that this type of thing was fairly common, especially at a prestigious school like Wharton," said Wharton student Joseph Harrison.
Harrison said he's understood that parents can work contacts and make donations to boost their kids' chances of admission at a competitive school.
According to UPenn's profile of the class of 2022, more than 44,000 students applied, but fewer than 4,000 — 8.4 percent — were admitted.
"I at least benefit from financial aid and a lot of that is from donors," said Harrison. "If those people aren't donating the money, I might not get my financial aid, so it doesn't particularly bother me that people are taking advantage of this system and kind of buying their way in for these extravagant sums of money."
Still, Harrison said, he might feel differently if he'd been rejected from the top-tier business school.
Savannah Heon, another Wharton student, said she's also not very surprised by the Allen case or the California scheme.
"Yeah, I've definitely seen it," she said. "You can tell who probably got help and who didn't in the admissions process" she said of her classmates.
Heon says this can affect the quality of classroom discussions.
But Edward Cohen, a Penn junior, said he was surprised and upset when he heard about Allen.
"I didn't think that kind of thing could happen at Penn," he said. "I didn't think we were a school where a high-level official could be bribed to give someone a spot at this school … I just hope it doesn't happen often."
Cohen said he thinks it's the case of one bad apple and not representative of the whole process.
Reassessing acceptance
Morgan Jones, a freshman at Penn, sat in front of the school's admissions building Wednesday as dozens of prospective students took part in information sessions.
Jones said these cases have her reflecting on her own admissions experience.
"The second I got in, probably one of the happiest moments of my life, it was immediately ruined by a lot of people who were saying I was only accepted into a selective university because of my race or factors I don't really have control over," explained Jones, who is multiracial.
Cassy Ingersoll, another Penn freshman, was sitting next to Jones and nodding as Jones described how people reacted when they heard she was admitted.
Ingersoll said her acceptance to the school also drew skepticism.
As a first-generation college student with Mexican-American roots, Ingersoll said these cases are all the more frustrating because she was so aware that the odds were stacked against her when she applied to schools.
"It's infuriating because I have friends from back home who have similar circumstances to mine and they just weren't as fortunate as me to be able to be where I am today. They worked just as hard as me, but there are other positions filled by students who maybe didn't work as hard," she said.
Another worry for Jones is that these stories throw suspicion on all college athletes.
"It then makes the whole athletic process, it puts it in a bad light, which it doesn't deserve," she said. "Because the people who are here through that process fairly are amazing."
Jones has a brother plays soccer in high school. She said prospective athletes like him lose out when wealthy parents try to pass their children as top-tier players because these spots are limited.
"And to see that spot being taken by someone that literally has zero passion for the sport and doesn't even play it competitively, absolutely disgraceful," she said.
Parents who don't have influence
Lola Holmes is a recent high school graduate from Virginia who was touring the campus with her mother Wednesday. The scandals were fresh on their minds.
Holmes was president of her school's National Honor Society, editor of her yearbook and the list goes on. But when applying to colleges, Holmes and her mother had to consider how likely her admission chances were as well as what scholarships were available to her.
"It's frustrating as a parent who doesn't have a lot of money, who doesn't have a lot of influence. I have children who can't use any other cards to get into school," said Evangeline Holmes. "So it's frustrating when I see that my children are very well qualified to get into a school and should have the same opportunities as people that have different financial backgrounds."
And while Lola Holmes doesn't think these bribery cases affect her directly, now she's left questioning the whole admissions process.
"It makes me wonder if people who go to really good schools like UPenn, if they truly were qualified to get in or if they were helped," she said.
In a statement, Penn Athletics maintains student-athletes should be admitted on the basis of academic promise, personal qualities and athletic ability.
"Staff and coaches are expected to follow all NCAA, Ivy League and institutional rules, policies and procedures throughout the recruiting and admissions process, and prospective student-athletes who are presented for admission are required to meet Penn academic and athletic standards," it said.
Meanwhile on Wednesday,  Auburn suspended assistant men's basketball coach Ira Bowman indefinitely amid allegations that he was involved in a bribery scheme during his time at the University of Pennsylvania.
Auburn University sent a statement Wednesday announcing the suspension, saying "we continue to gather information regarding a situation that recently arose."
Auburn didn't elaborate on reasons for the suspension, but ex-Penn coach Allen implicated Bowman during testimony last week at a federal trial of a former health care executive.
Allen testified that after he left Penn in 2015, Bowman was aware of the alleged scheme to have a son of Miami businessman Philip Esformes on the Penn basketball team, according to reports. Bowman was a Penn assistant for six seasons.
The Associated Press contributed to this story.
WHYY is your source for fact-based, in-depth journalism and information. As a nonprofit organization, we rely on financial support from readers like you. Please give today.