Borrow a tool – and learn which one you need – at West Philly Tool Library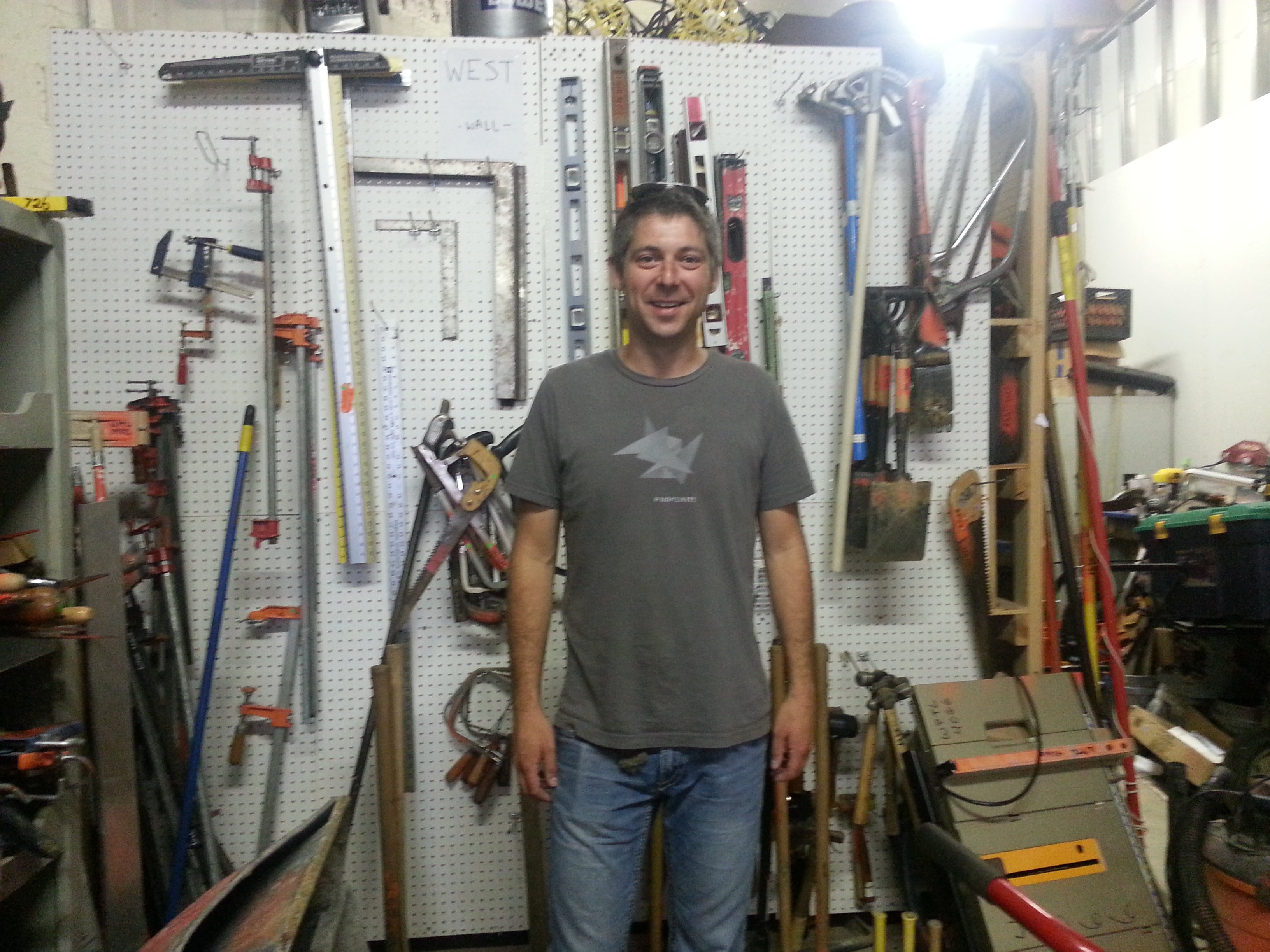 The eight-year-old institution is raising funds to buy more tools and host workshops. A researcher says it's helping tool libraries spring up elswhere.
New West Philadelphia homeowner Ramon Rincon had no idea how to get rid of a rapidly growing pine tree threatening to take over the flower bed next to his home.
Chenda Cope had a leaky faucet, but not the right wrench.
Andrew Wischmeier is making furniture.
Their need for tools and advice brought all three to the same place on a recent early evening: The West Philly Tool Library.
Most of the important info is right there in the name: It's a library whose borrowers check out tools. And some books about ways to use those tools. But mostly tools.
Hammers, shovels, ladders, cordless drills, chop saws, lawnmowers, weed whackers, pry bars and an engine lift are just a few of the more than 3,000 tools lining shelves, hanging from walls, and taking nearly every inch of floor in a section of warehouse at 1314 S 47th St.
There's an income-based annual fee ranging from $20 to $50. Borrowing is free. After a week, there's a $1-per-day late fee, although most tools on lease can be renewed.
Since the doors opened in 2008, the library's mission has been to "provide affordable access to tools," said Executive Director Peter Foreman-Murray. The library aims to help lower-income people stay in and maintain their homes and gardens, Foreman-Murray said. But the library is for anybody of any income. Just over half of its 1,700 members pay the $20 fee for those who earn $25,000 or less, he said. The others are spread out all over the range – those who pay $50 make at least $75,000.
Everybody can benefit from not having to buy – or store – a tool they only need once or twice, Foreman-Murray noted.
The library is named for its geographic location. Anyone can join, and it has members from around the city, and even a few from the suburbs.
The West Philly Tool Library is nearing the end of a $10,000 Indiegogo fundraising campaign. The library has been able to "keep the lights on" and meet its roughly $40,000 yearly budget through grants, dues, donations and late fees. The money raised through Indiegogo would allow the purchase of more tools – particularly power tools, which are often checked out. It would also allow the library to hold workshops to teach people how to use the tools the library offers. Anyone who wants to contribute via Indiegogo can do so through Monday. Donations of cash and tools are always accepted, however. Find more information at the tool library website.
The West Philly Tool Library isn't the first of its kind, but does seem to be contributing to a new spate of tool library openings, said Monika J. Antonelli, an associate professor and outreach librarian at Minnesota State University now conducting a study of tool libraries. The first cropped up in California, Washington state and Ohio in the late 1970s, she said. She read news accounts as the West Philly library opened, and noticed that it "seemed to have been a catalyst for other tool lending libraries (and) appeared to play an important role in getting others started." That's why Antonelli made it one of three tool libraries where she talked to staff and patrons as part of her research.
Foreman-Murray says starting a library is a ton of work, and he stresses that West Philly's role elsewhere has been as a source of advice and example. He recently spoke to someone from a South Carolina community gardens non-profit hoping to launch a gardening tool library. "Groups from Baltimore and Troy, N.Y. have visited us." Library board president Michael Froehlich, put together a list of resources here.
Antonelli estimates there are somewhere between 35 and 50 such libraries in the country. Most, like West Philly, are stand-alone non-profits. Some are part of other, larger non-profit organizations, and some are part of the public library system. Antonelli, a community activist involved in getting her town of Mankato, Minn., prepared for future rising fuel costs and shortages in the future, hopes that one day, every town library has a tool-lending component. This is one way for people to have access to things they need without the waste of producing one for everybody, she said.
Wischmeier, who was building furniture, moved to West Philadelphia from Cleveland four weeks ago, and has been coming to the tool library for three of those. Cleveland is just too far for the nursing student to go to borrow a tool from his dad or uncle.
Cope, the local singer-songwriter who's faucet was leaking, has lived in the neighborhood a long time. She'd thought about checking out the library for years, and is glad the recent household projects got her there. "It's so awesome," she said on her first visit. "I have some basic tools, but I don't have a lot of power tools. And they are out of my range financially." (Watch a video below)
Rincon, the new homeowner, can relate to that, with his money tied up in his house itself. Moments before, he had told librarian Kathleen O'Donnell about the tree problem, and she showed him the tools and gave a tutorial.
O'Donnell, who talks about library patrons' projects in the second video below, gained her knowledge from working with her dad and taking on projects of her own – including building a boat. On a previous visit, she helped Rincon find the right tools to install a sump pump in his formerly flooded basement.
"I have no idea what I'm doing," Rincon said, laughing. "Google is my best friend, and she's the second."
The West Philly Tool Library

Tool Library Executive Director Peter Foreman-Murray

Tool Library handtools

Tool Library pliers and wrenches

Tool Library automotive tools

Tool Library engine hoist

Old medical library card catalogue holds tool library screws

Patron Ramon Rincon leaves with pick and tree-puller

Vice grips

Patron Andrew Wischmeier returning tools