Bloom Energy refurbishing mothballed ventilators in Delaware and California
Listen
1:43
The nation's inventory of life-sustaining ventilators is being stretched to the breaking point, with New York and other states predicting they won't have enough in the coming days and weeks to save patients with coronavirus.
But Bloom Energy, a California fuel cell manufacturer that has a plant in Delaware, is helping boost supplies.
Bloom began refurbishing hundreds of mothballed ventilators for California last month after discussions with Gov. Gavin Newsom.
Days later, CEO K.R. Sridhar contacted Delaware U.S. Senator Chris Coons and said the company, which has a plant on the University of Delaware's STAR Campus, could do the same there.
Coons connected Sridhar with local political and medical leaders. And voila!
Delaware now has 100 additional ventilators. They were obtained from the feds during pandemic planning in the mid-2000s but never used. They had been stored in a Division of Public Health warehouse in Kent County.
"The great advantage to doing this is that it's faster than taking some existing auto manufacturing line and completely retooling it to manufacture new, from scratch, ventilators,'' Coons told WHYY.
"'What they're doing is recharging the units, often replacing batteries or chargers that are 14 years out of date, recalibrating the oxygen sensors, ensuring that the flow meter works right and then returning them to the packaging with updated paperwork."
As of Tuesday morning, Delaware had 783 reported cases of the disease and officials are expecting that number to surpass 2,000 in the coming days and weeks. Fifteen people have died. Currently, 140 people are hospitalized, with 25 in critical condition.
A.J. Schall, director of the Delaware Emergency Management Agency, says hospitals have about 400 ventilators on hand and have ordered 50 more through the open market. The ones Bloom fixed will augment that inventory and hopefully help Delaware avoid a catastrophe.
Even though the number of ventilators far exceeds the number of critically ill patients, Schall stressed that "we're not out of the woods. We're planning for multiple different scenarios. We want to make sure we have what we need when we need them. But at the same time, the supply chain is only working so quickly."
For some patients, a 'necessary bridge to survival'
Dr. Karyl Rattay, director of the Delaware Division of Public Health, said the ventilators would be needed "if there is a surge in critically ill patients as a result of COVID-19 … For some people, ventilators serve as the necessary bridge to survival in the setting of respiratory failure. For others, as we look at the horizon for new and effective therapies, mechanical ventilation provides the important first step in caring for patients."
Susan Brennan, Bloom's chief operations officer, said the company has retooled about 1,000 ventilators for California and is awaiting more, plus about 100 in Delaware. Bloom is also negotiating with other states to possibly update any they have in storage, Brennan said.
She said Bloom's fuel cells, which provide power to hospitals, data centers, grocery stores and other businesses, have some similarities to the ventilators, making the repair work relatively simple.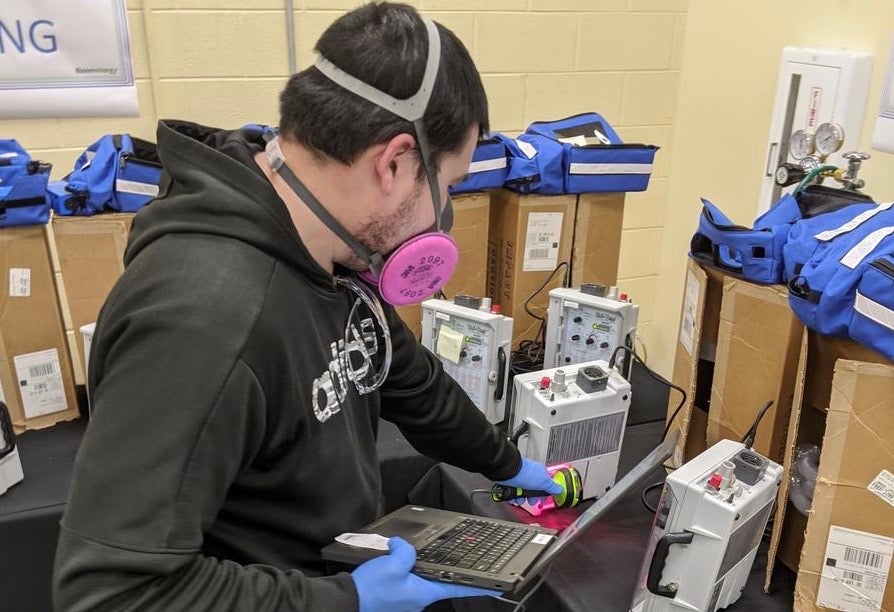 Both devices run on "air flow, batteries [and] pumps,'' she said in a telephone interview from Bloom's California headquarters. The rehab process takes about two hours, Brennan said, comparing the older ventilators to a car that's been idled.
"You leave your car in the driveway, whether it's three months or a year, you're going to have flat tires, a dead battery and you might not know where the key is,'' Brennan said.
"We are providing the maintenance protocols, which allows hospitals to spend time on patients and states to spend time on serving their communities."
Coons called the makeshift repair program "absolutely critical, because COVID-19 is a disease that attacks the respiratory system. People who are dying, many of them are dying because of respiratory failure, and many of them have to be hospitalized and then intubated and put on a ventilator. In the absence of a ventilator, the outcomes are much worse."
Anyone who knows of stockpiles of ventilators that need refurbishing is urged to email ventilators@bloomenergy.com or call 888-544-2644.