Black in Rittenhouse and designing for a diverse city
One week ago, the arrest of two black men at a Rittenhouse Square Starbucks pushed a provocative idea about the racialization of urban space into mainstream conversation.
One week ago, the arrest of two black men at a Rittenhouse Square Starbucks pushed a provocative idea about the racialization of urban space into mainstream conversation. Suddenly, millions of people across the globe were talking about the notion that a space as anodyne as a chain coffee shop found in airports and shopping malls the world over can operate in a way that serves white people better than those who are black or brown.
This is the same neighborhood that last year the residents tried to keep people from sitting where they wanted in the PUBLIC park. They had signs posted for not sitting on the walls. Youth of color are the predominant wall sitters.

— Erica D. Atwood (@EricaInPhilly) April 15, 2018
In a majority-minority city like Philadelphia, the specifics of this ongoing conversation about "white spaces"  may have been new, but the substance was not.
"What happened in @Starbucks is just a symptom of the larger issues of race and class in Philly," tweeted Philadelphian Erica Atwood in one of the countless conversations on the topic rippling across social media. Atwood and others pointed to an episode last year when Rittenhouse residents tried to ban sitting in areas of the affluent neighborhood's namesake park where black youth tended to congregate. They pointed to data: According to the ACLU of Pennsylvania, 67 percent of police stops in the district servicing Rittenhouse involved African-Americans, despite 97 percent of the area's residents being white.
But for many people of color, no amount of data can tell the whole story. Tayyib Smith is one of those people.  "I am one of that three percent living within the Ninth Police District," says Smith, one of the founding partners of the coworking space Pipeline Philly, Little Giant Creative, and the Institute of Hip-Hop Entrepreneurship (IHHE).
The unspoken signs that make Smith, as a black man, feel a sense of otherness or unwelcoming in his own neighborhood manifest in myriad ways. It's not irregular for him to witness neighbors on his posh street halt conversations when he walks outside. White men designed almost all of the neighborhood's historic architecture  Even the veneer of farm-to-table restaurants and coffee shops full of refurbished wood, Smith says, are part of "an unspoken language that this isn't designed for you."
With those experiences embedded in his everyday life, it's become part of Smith's mission to cultivate spaces that are very intentionally not designed by white men, for white men.  Across the street from City Hall, the coworking space that Smith helped found, Pipeline, has become a beacon of not just racial diversity but also professional diversity within a local coworking scene that's not usually applauded for its cultural competency. His other ventures — which almost exclusively employ people of color — are all housed there.
Pipeline isn't a public place even in the way that Starbucks (and its bathrooms) can be considered by some. It's a fashionable shared office space for busy consultants, entrepreneurs, lawyers and civic leaders. Located on the 15th floor of a newly renovated Class- A office tower that faces out to Dilworth Park and charging memberships fees appropriate for its prime location and high-end furnishings, Pipeline is no social justice project. But that doesn't mean equity and inclusion aren't baked into its sleek brand.
"There are no safe spaces for people of color — but I would especially argue, for black men — unless you are paying a premium," Smith says.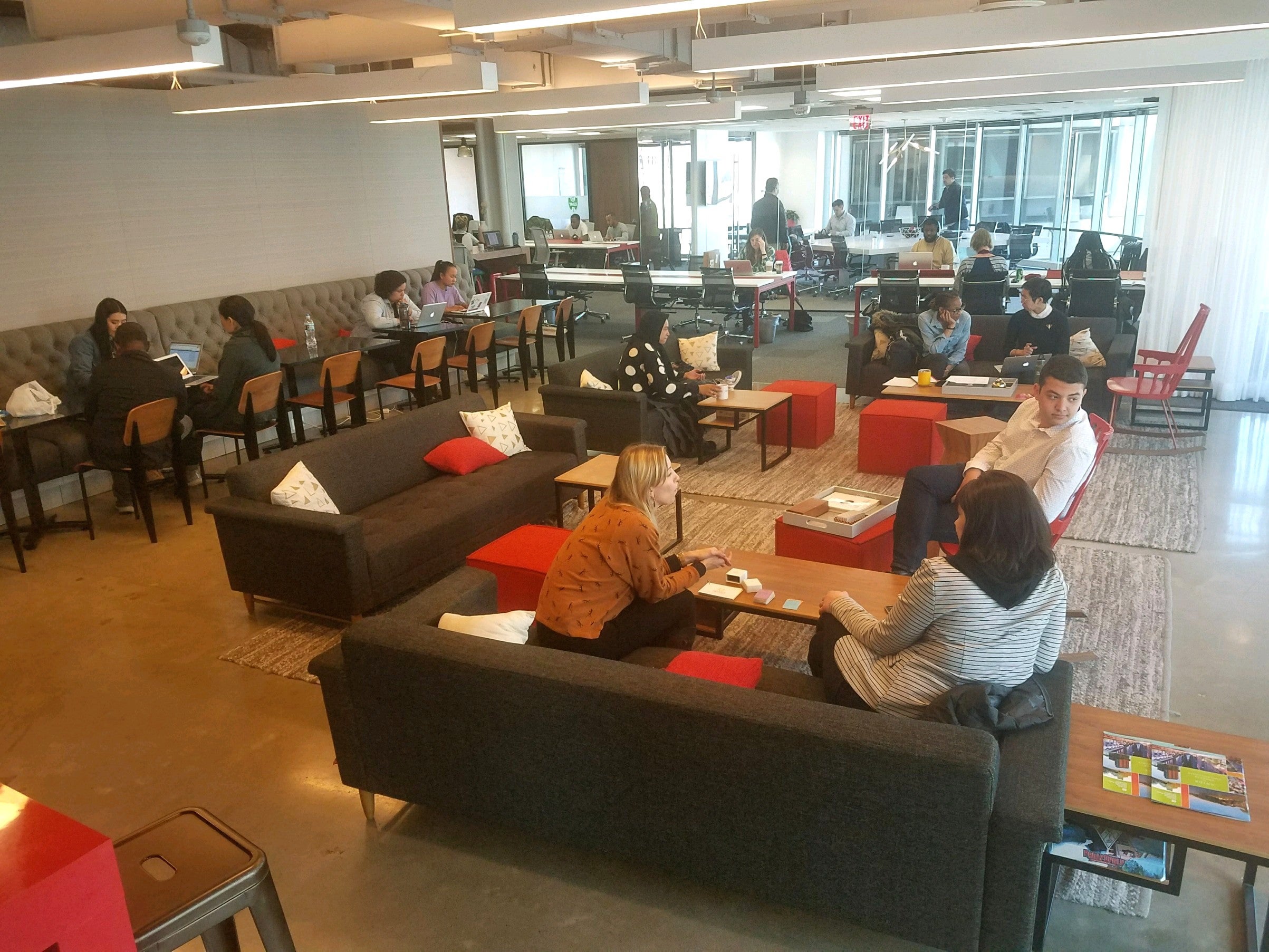 Unique as it may be, Pipeline offers lessons for companies like Starbucks whose business models haven't yet grown to address the complicated questions that come when you open your doors to the public in a diverse and yes, racist world. Inclusivity must begin with the aesthetic design and aspirational interactions within a space, Smith says. "People need to feel warmth," Smith says. "Having diversity in the frontline staff and within the partners on the project is important. That affects who the anchor tenants are. And in turn, that reflects the reputation of the space."
Smith says that interventions like the "implicit bias training"  that Starbucks will provide to employees of its 8,000 stores nationwide later this month can only do so much without deeper attention to a place's fundamental design, programming, and demographic mix.
Setha Low is a professor of environmental psychology at The City University of New York. She has spent years developing a nomenclature around evaluating the equity of public spaces. One form of equity she's identified is "distributional justice," or the idea of physical access or proximity to a space. There's also the "procedural justice" of who was allowed to have a voice in the planning and operations of a place. And perhaps most importantly, there's the "interactional justice" of who feels a sense of ownership and welcome.
These three categories of justice are the foundational pillars of the Just Spaces Initiative of University City District. Low and Smith both serve on the initiative's advisory board, as do I, in my capacity as a journalist covering civic and public life. (Disclosure: The John S. and James L. Knight Foundation supports the initiative and also provides grant support to PlanPhilly.)
Smith and his business partner, Little Giant Creative and Pipeline Philly co-founder Meegan Denenberg, say that the ideas at the heart of the Just Spaces project play a motivating role in the work they do.In the next year, the two plan to launch a part-cafe part-barbershop called Cuts & Coffee. The retail concept is the brainchild of two students who attended IHHE. "A lot of the students from the get-go were talking about safe spaces," says Denenberg. One student sought an alternative to coffee shops in Center City, which were unwelcoming in his experience. Another student separately wanted to experiment with gaming activities inside a barbershop. When Denenberg and Smith were asked to propose a new use for a vacant retail space across the street from neighborhood service provider Impact Services Corporation, they committed resources to helping the students build the story and marketing for Cuts & Coffee. "I had experience developing concepts around igniting spaces in emerging corridors by working with the community rather than talking at them," Denenberg says.
At the center of Little Giant Creative is the idea that inclusivity begins at the top. The ownership and management right now exclusively consist of people of color. "If we are going to work with an audience that is truly reflective of the demography of the country, we have to have a team that is reflective of that demography as well," Denenberg says. "When people can see other people who look like them being the owners and having a sense of agency in the workplace, then, of course, that space is going to be more welcoming."
WHYY is your source for fact-based, in-depth journalism and information. As a nonprofit organization, we rely on financial support from readers like you. Please give today.