Billboards condemned for I-95 construction between Allegheny and Rhawn may be able to relocate, afterall
When City Council decided last June that owners of billboards and other structures condemned to make way for I-95's expansion could replace them without going through the usual permitting process, that controversial law did not apply north of Allegheny Avenue.
What caused the geographical exception? In response to complaints from constituents, former city councilwoman Joan Krajewski kept her district out of the legislation.
But Krajewski's successor, Philadelphia District 6 Councilman Bobby Henon, recently introduced a bill that would add the sixth district in, from Allegheny Avenue to Rhawn Street – the portion where I-95 improvements are scheduled, and where six billboards are in the way of that work.
"It wasn't something the councilwoman was interested in," said Chris Creelman, who was Krajewski's chief of staff and is now Henon's director of constituent services. "After Councilman Henon reviewed it, he saw the need for it."
The city's billboard companies also see the need for both the original legislation and the proposed amendment. Preserving billboards means preserving businesses, jobs and tax revenue for the city, they say.
Industry representatives lobbied Krajewski and former First District Councilman Frank DiCicco to introduce the original legislation. DiCicco agreed. The representatives crafted the first draft of the original legislation, which was amended to remove District 6 after Krajewski's objection, and to tighten the circumstances under which a structure can be relocated after objections from the city's planning and legal departments. Learn more about the law's history here.
Attorney George Kroculick, whose clients include CBS Outdoor and Clear Channel Communications, said the original law, and the amendment if it passes council, will "save the city a lot of revenue." Losing a billboard means losing tax revenue and jobs, he said. Outdoor companies "pay 7 percent tax on income from advertising," he said.
"The city felt the owners and tenants of the structures impacted hadn't done anything wrong, and all things being equal, preferred to keep the tax revenue in the city," Kroculick said.
Opponents of the original legislation said it allows unwanted and in some cases out-of-compliance billboards to pop back up without re-applying to put up a new billboard, under the terms of current zoning law.
And while council may soon debate expanding the original law, a June Zoning Board of Adjustment hearing is set to hear an appeal of the first relocation permits issued under the existing law, filed by one of the law's harshest critics, Scenic Philadelphia – the anti-blight and generally anti-billboard group formally known as SCRUB.
Even with the law and proposed amendment, companies have lost or will lose billboards because of the I-95 expansion when there is no spot for relocation that meets the parameters established in the law, Kroculick said. He estimates a 10 percent decline. The potential loss of business isn't limited to billboards, Kroculick said. One of his clients knew he would lose his warehouse to the I-95 expansion, and while the original legislation was in its longer-than-anticipated journey to passage, that client decided to move to Bucks County rather than risk being without a location, Kroculick said.
The existing law covers land within 200 feet of either side of the I-95 right-of-way, between Arch Street and the south side of Allegheny Avenue.
Among other restrictions, it says that only legal signs are eligible for relocation, that they can only move within the corridor and no more than 350 feet from their original locations, and that the newly relocated sign cannot be a digital billboard, that the new site must be zoned either industrial or commercial. It states a relocated sign or other structure cannot be placed closer to a residence than allowed by law, unless the original location was closer. In that case, the new structure can't be any closer to a residence than the original one was.
Henon's proposed amendment adding the area between Allegheny and Rhawn "is going to mean that out of six locations (in Henon's district) we will be able to save four of them," Kroculick said.
Creelman said a change in PennDOT plans largely influenced the decision to revisit adding District 6 to the law. "I think the amendment to the original legislation became a necessity when it became apparent that Wissinoming Street was going to have to be condemned and stricken to allow for the water/sewer infrastructure," he wrote in an email. "This wasn't a part of the original plan," he said, and negotiations with property owners took awhile to complete. "Once PennDOT completed acquisition, it was obvious that something would need to be done to address the billboard issue" because more billboards are being condemned in that area.
Henon decided to introduce the legislation after talking to both billboard company representatives and the Tacony Civic Association, and being satisfied that the billboard company's plans wouldn't be harmful to the district, Creelman said.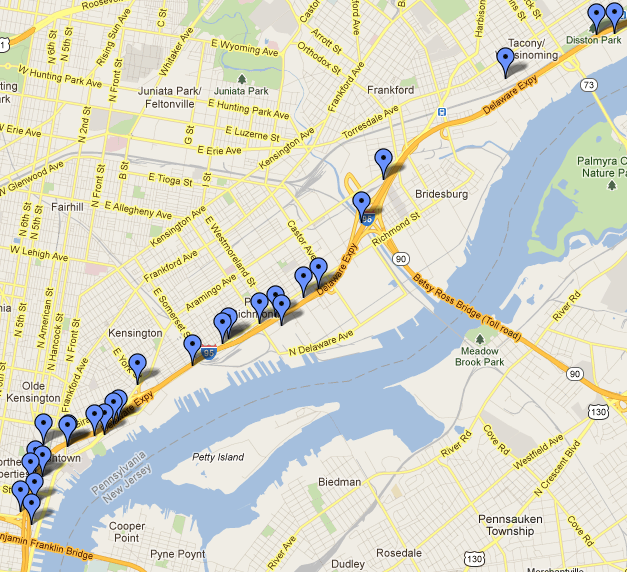 A map depicting the general location of outdoor advertising firm Steen's billboards along I-95, according to Society Created to Reduce Urban Blight inventory taken in 2007.

The outdoor advertising companies shared the proposed new locations for the billboards in question with Henon and they are "not in residential neighborhoods, and aren't currently an issue to the neighborhood or the community. Most are located in industrial lands, and they are not being relocated miles apart (from their original locations). The biggest change is 200 feet. They will be the same size, and the same type of billboard," Creelman said.
Both Henon and the civic association wanted to be sure any relocated billboards remained the same size and did not go from standard to digital, Creelman said. The companies were fine with that, he said (since the current version of the law covers much of this, they have no choice) and Tacony Civic "seemed OK" with the introduced amendment, "once we explained" what it all meant.
But the Tacony Civic Association has not given its support to the amendment. The full board hasn't met to discuss the issue yet.
Lou Iatarola, chairman of Tacony Civic's land use and zoning committee, said he was told about the amendment a week ago, but it is "premature" to say the civic association is OK with the legislation. Iatarola said he hadn't seen the proposed language yet, and the full board hasn't discussed it. He said he was under the impression that the proposed language would be specific to the six billboards, and was concerned about "the broad nature" of the amendment that simply added geographic area to the existing law.
"The I-95 work is ongoing, and it may be that other sites come up," he said. "If that's the case, are we endorsing something we don't know about just yet?"
Iatarola also wants to be sure any relocation provision applying to the district prohibits vertically installed billboards. One billboard that will come down because it can't be relocated under the terms of the law is vertical, and he doesn't want to see any more like that pop up.
Tacony Civic also wants Holmesburg Civic Association brought into the discussion.
"There were a lot of concerns when Joan Krajewski was in office about (the condemnation corridor stretching) to Rhawn Street," Iatarola said. Once District 6 was taken out of the legislation "we assumed it was going to go away, and be excluded from our neighborhoods."
Iatarola said he understands that condemnation due to I-95 work constitutes "an economic hardship both to the companies and to the city," but Tacony Civic is concerned about protecting the aesthetics of the neighborhood.
Scenic Philadelphia Attorney Stephanie Kindt says the original law and any amendment constitute spot zoning. Especially troubling to her is a provision that allows a sign that is too close to a residence under the zoning code to go back up, so long as it is no closer to any residence than the original sign was. "The whole idea of the 1991 sign code, on non-conformity, is that when these signs come down, they don't come back up," she said. "It's to protect the neighborhoods and protect the city. When you drive in from Bucks County, you see something like 400 signs. It's blight. It's an overall feeling of decay and chaos," she said.
Last June, city planning commissioners and staff said they wouldn't oppose DiCicco's bill so long as this provision was changed, and relocated billboards had to meet current requirements of being at least 300 feet from a residence, regardless of their original location. Kindt said this provision was removed from a draft, but was added back in before the final council vote.
When a government agency creates a law allowing non-confirming signs to go back up in one area, that is spot zoning, she said, and she'll argue that at the June 13 ZBA appeal hearing on the issued relocation permits.
The law and proposed amendment aren't spot zoning, Kroculick said. "In this context, it makes no sense, since every owner of a structure, every tenant has a right to move their property – their structure. It is not designed only for billboards."
Kroculick will be arguing at the June ZBA hearing, intervening for his clients CBS Outdoor and Clear Channel Communications. While the appeal applies to permits to relocate billboards owned by Steen, "Both CBS and Clear Channel have a vested interest in the outcome of that appeal," Kroculick said. Kroculick said his clients have recently completed applications for relocation permits, but have not yet heard back from L&I.
Allowing a currently legal, non-conforming billboard that is closer to a residential structure than zoning requires to relocate at the same distance from a structure is no different than any zoning law amendment or overlay, which happens all the time, for many different reasons, "many times to allow a viable use to be built or to continue," he said.
After its introduction at last week's council meeting, Henon's proposed amendment was referred to the rules committee. A hearing has been set for 10 am June 12 in council chambers.
Reach the reporter at kgates@planphilly.com