Bike and pedestrian counts around Northeast Philadelphia [map]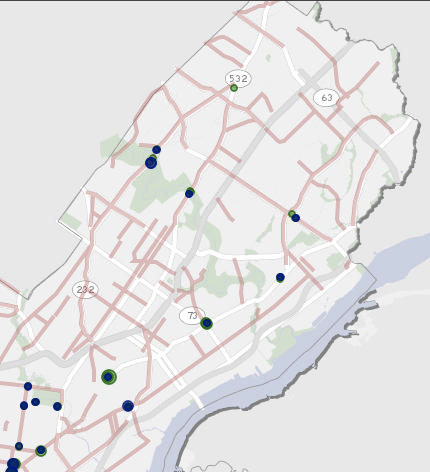 The Delaware Valley Regional Planning Commission conducted bike and pedestrian counts in 2010 and 2011, which quite literally means the number of cyclists and pedestrians who pass through certain points around the city.
The Philadelphia Department of Health put all that information onto a map, which shows bikes lanes, bike racks and the average daily number of bikers and pedestrians who pass through specific places.
Take Grant Avenue near Academy Road, for example. The eastbound lanes see about 10 bikes per day, for example, and about six bikes per day use the westbound lanes. Meanwhile, that stretch of road sees about 300 pedestrians per day.
Farther south, near Frankford and Cottman, about 19 bikes per day use the southbound Frankford Avenue lanes, and 24 use the northbound lanes. Between 1,000 and 2,000 pedestrians walk in that area on a given day.
The information can help the city determine where and when different types of transportation are used. Check out the map for yourself, where you can also see what date and time of day the counts were done at specific locations.