Batting around formalized 'design review'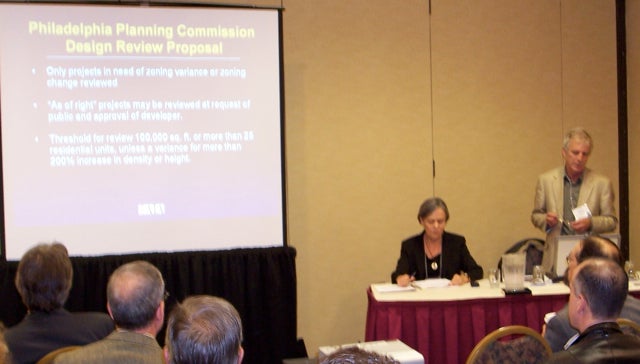 Oct. 29, 2009
By Thomas J. Walsh
For PlanPhilly
With the public input phase of the Zoning Code Commission's efforts to re-write the city's antiquated zoning code well underway, architects, architecture critics and at least one developer took time Thursday to examine one possible aspect of the new code. It's an idea that has been gaining momentum as well as a bit of controversy: a new Design Review Committee that would be a part of the city's Planning Commission.
"As developer I have an open mind," said Sam Sherman, who is also chairman of the Historical Commission and a member of the Congress For The New Urbanism, a national association of architects and planners that seeks to mainstream traditional urban design principles. "I view urban infill development as part of the public realm we all walk by on a daily basis. Design matters. And design needs to add value – for the neighborhood, for the developer and the buyer."
"It's more about urban values than reviewing the design," said Inga Saffron, architecture critic for the Philadelphia Inquirer and another panelist for the morning session, part of the 7th annual "Design on the Delaware" American Institute of Architects conference, a three-day affair running through Thursday at the Sheraton Philadelphia.
The conference's mission is "examining the issues and opportunities of the built environment for design and building professionals in Pennsylvania, New Jersey and Delaware." Moderating the panel was Kiki Bolender, principal at Center City-based Schade and Bolender Architects LLP, on behalf of the AIA Philadelphia Urban Design Committee.
Stacking up
Specific design-oriented urban values "should permeate the whole operation of city government," Saffron said. "You have to hold fast to those values, even in hard times. But those values can be basic and flexible enough that they won't interfere with architecture."
The panelists were preceded by a presentation from John Gibbons, associate principal and director of architecture at Kise Straw & Kolodner, who briefed the room on design review in the context not only of Philadelphia's ongoing zoning re-do, but also the formalized design review for developments in Seattle, Boston and San Francisco.
San Francisco's approach is handled by the city's Planning Department staff. Boston's is a separate commission entirely, while Seattle has a neighborhood-based group of design review boards.
In December 2008, Philadelphia City Planning Commission Executive Director Alan Greenberger proposed creating a Design Review Committee made up of seven design professionals from different disciplines to act in an advisory role only, supporting the commission. It would evaluate projects based on their potential impact on "the public realm."
(Due to the ensuing national recession and city budgetary nightmare, along with the June exit of Andy Altman, former deputy mayor for planning and commerce, Greenberger's responsibilities were greatly expanded this year, even as his resources were diminished. In August, he told PlanPhilly that the development of the Design Review Committee was on the back burner.)
Gibbons focused on Seattle, with its extensive outreach and what he called "the most sophisticated design review process" with a "pedestrian-friendly streetscape that really focuses on the public realm."
"The key is flexibility," Gibbons said. "They realize that you can't get everything under the zoning code," and that often, design review comes down to negotiations between the developer, city, the architect and the neighborhood residents.
More to the point, how would recent high profile Philadelphia developments measure up against these guidelines? "Is a transparent community-based design review process, similar to the Seattle model, appropriate for Philadelphia?" he asked.
Well…
As it turns out, Seattle is not a paragon of design virtue – at least not for the two architecture critics on the panel.
"I'm actually not a fan of design review," said panelist Jim Russell, architecture critic for Bloomberg News who has lived in Seattle several times. "It operates in a context. For all the elaboration of [Seattle's] design review process … it's very stick-on. Seattle actually doesn't understand how to [build] good buildings. It's one of the ugliest skylines in one of the most beautiful settings you can imagine."
Seattle's "very open political process" may or may not directly impact what he called "a tendency to play it very safe and to be very mediocre," at least it is not as cynical in its processes for development as, say, New York City, where he has also worked.
"Developers [in New York] are operating in the political process more often than the design process," Russell said.
"I've been to Seattle – nothing offends you but nothing really excites you," Saffron added. "No one ever predicts a great design. You can't lay out the formula for great design – it's always a surprise.
"One thing that design review might be useful for is as a corrective to zoning, all the things wrong with the zoning code," she said. "We have a crazy zoning code here." If you use design for addressing values for things like parking and ground floor retail requirements, Saffron said, design review might be useful "in a broad way, without getting all that prescriptive. Context is a very tricky thing. We don't want everything to look like the thing next to it."
Russell, who was a practicing architect before he started to write about it, agreed.
"Design review must inevitably be reactive, it can't be proactive," he said. "Complexity is highly exploitable by the cynical." That can lead to a city going in the opposite direction, he said – toward simplicity. New York went through such a phase, in which the zoning code had as much "as of right" language as possible.
With the Bloomberg administration re-zoning much of the city, that process once again reversed itself to some degree, Russell said. The result was "an enormous amount of power accrued to the city Planning Commission," with New York's planning chief, Amanda Burden, in the position of "administering all the carrots and sticks."
"I don't think it should be by consensus alone," said Russell. "If you ask communities what they think, they will always tell you what they know, and that's completely natural. Their day job is something else.
"So there has to be a role for expertise, for people who live and breathe planning, zoning, development, density, design. There needs to be a way to bring that in, and I'm not sure design review is the place for that."
'Sophisticated' neighbors
Yes and no, said panelist Scott Erdy, a principal at Erdy McHenry Architecture who teaches an intermediate design studio at Penn.
"Community input is always good, [especially] when it raises a question – what about this? These are our concerns, and allow us as architects to respond to that," Erdy said. "Being able to respond to the budget parameters, the programs parameters and the urban parameters – all those are guided by neighborhood groups."
Clarifying, he added, "It's always helpful to get the questions, but it depends on the sophistication of the groups. … Some have somebody standing up and saying, 'I like Georgian buildings. Can we do a Georgian building?' Versus somebody who says, 'I'm concerned about the loading dock, or about is there enough activity on the street?' Those are the great things to get input on."
At the above-mentioned December Planning meeting, Planning Commissioner Joe Syrnick wondered how a new Philadelphia design review board would "stop non-organized neighborhoods groups?"
Greenberger replied by saying, "The intent is that the public would be better served if we communicate the true impact of projects rather than the presumed impact," and that they would be "best served by people who understand design."
"Design review, can, if we have it, can be an educational process," Russell said Thursday, toward the end of the session. "It shouldn't just be a yea-or-nay process."
"Process enables discourse," Erdy added. "It's a discourse that asks questions of each other, right? Not necessarily demands of each other. … In our work we try to approach it in an objective way, so that there's a sort of logic behind things, so that what stuff looks like is not necessarily somebody's taste but is really based on all these things – budget, site, community input, things like that.
"The key to this is really how you control, or how you set it up, for a lively discourse that's helpful."

Friday: Industrial reuse
Friday's AIA Philadelphia program includes a full day (8 a.m. – 6 p.m.) design charrette on the interim use of industrial sites, in partnership with the Community Design Collaborative. The charrette is part of the CDC's "Infill Philadelphia" initiative, now in its third phase, focusing on designs and prototypes for neighborhood industrial transformation.
AIA Philadelphia and the CDC are partnering with the Philadelphia Association of Community Development Corporations for the charrette, which will be held at the Center for Architecture (1216 Arch Street).
Contact the reporter at thomaswalsh1@gmail.com.

ON THE WEB:
Design on the Delaware (AIA): http://www.designonthedelaware.com/
Infill Philadelphia: http://infillphiladelphia.org/industrial-sites.php