Basketball and group walks promote peace in Wilmington neighborhood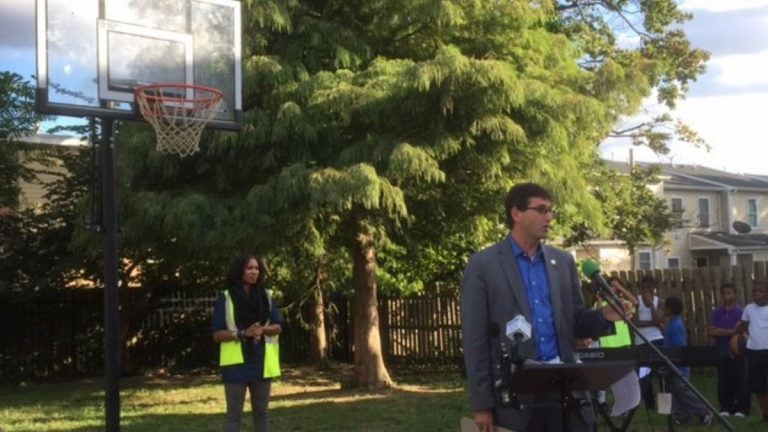 Kids in the east side of Wilmington will once again play basketball, thanks to a donation for a new hoop.
Every day, neighborhood kids gather to play basketball at a small park on 22nd Street in Wilmington.
The park is maintained by the non-profit Safe United Neighborhoods, which promotes peaceful communities, and is located near Praying Ground Community Church.
Led by Pastor Saundra Ben, SUN uses the park to provide recreational opportunities, bring the community together and keep kids out of trouble.
Basketball is a major highlight of the park—but the game came to a halt recently when the hoop broke.
"It was a really a hard feeling, because I know a lot of the kids have nothing to do—this is more of an escape," said 17-year-old Marquez.
"Different things are happening in the home we don't know—what goes on behind closed doors, you won't know. I know a lot of kids that live around here take out their frustration on the basketball court, and they just have fun."
But now, thanks to funds from New Castle County and a donation from Dicks Sporting Goods in Brandywine, the kids have a better-quality hoop.
County Executive Matt Meyer, D-New Castle, approved $300 in contingency funding for the hoop, while Dicks Sporting Good donated $350 in installation costs.
On Wednesday, SUN held a dedication ceremony, along with Meyer, Mayor Mike Purzycki, D-Wilmington, County Councilman Penrose Hollins and Police Chief Robert Tracy.
SUN also received official signs that lay out park rules.
"Now we have this new hoop, it helps a lot of kids get off the streets," Marquez said. "It's something positive to do, and I'm just proud of our pastor, I really am."
Ben doesn't only provide opportunities for recreation—for four years, she's organized weekly walks to strengthen the community. A late friend suggested the idea to her after hearing about a similar neighborhood walk in Lancaster, Pa.
When Ben first started the walks, she even received threats—but she kept walking without fear.
"The first year someone got killed right here," she said pointing to the other side of the park gate. "And that also sparked our walks. Since that happened, 22nd has been very quiet. 23rd and 24th still need a lot of work. So, the goal is to keep it quiet and let our young people know there are adults that do care."
Wilmington police also participate in the walks. S/Cpl. Andrew Conine has been involved since the beginning.
"Pastor Ben is a big advocate of going out and being seen. A lot of times in these areas people are afraid of being seen with police, whereas she is not," he said.
Not only do kids and community members participate in the walks, but teachers at schools, like Lombardy Elementary in Wilmington, also join in.
"It's a way for the school to come into the neighborhood, build relationships, not only with law enforcement and the pastor, but directly with the families as well," said Brandywine School District Superintendent Mark Holodick.
"I've seen a connection within that school between the students, students who reside in the city, students who reside in the suburbs, and the parent engagement at Lombardy, from what I can tell, is at an all-time high."
Conine added it makes kids feel supported by their peers and elders.
"When they see their teachers and friends who don't live around here coming out, I think it shows a lot of support and makes them feel confident," he said.
Meyer said bringing the community, teachers, law enforcement and government together is integral to addressing safety concerns. He said the new hoop will play a small part in the effort to address the problem of youth violence in the city.
"A basketball hoop isn't going to do much to solve the problem, but it's something. We want to support the efforts of people like Pastor Ben, who now today on her fourth anniversary of Safe United Neighborhoods, is making a statement of what this community can be, and we want to do everything we can to support it," he said.
"It's a small thing that hopefully will enable kids to have creative, constructive team activities, and it's something we need to come out and support."