Bartram's Farm hits one-year mark, brings food sovereignty to Southwest Philadelphia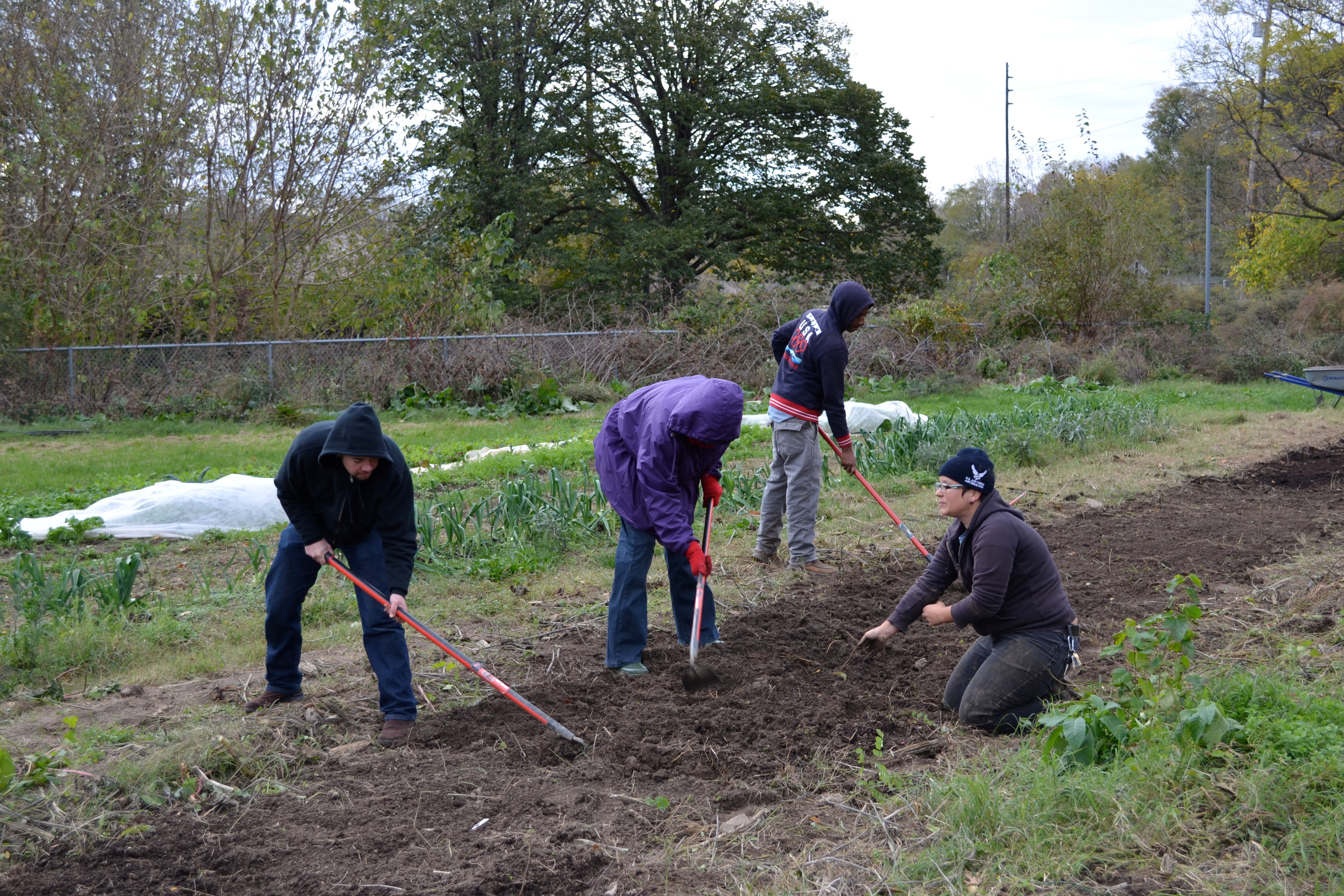 In its first year alone, Bartram's Farm has built a crop field, greenhouse, community garden and orchard, grown 6,500 pounds of produce and held 21 weekly farmers markets. But more importantly, the farm has started to establish itself as a community based, rather than community placed, organization and is working to bring food sovereignty to Southwest Philadelphia, said the farm's co-managers Chris Bolden Newsom and Tyler Holmberg.
Roughly a year ago Bartram's Garden, The Pennsylvania Horticultural Society (PHS), Philadelphia Parks and Recreation and the Agatston Urban Nutrition Initiative (UNI) joined forces to break ground at Bartram's Garden on the Community Farm and Food Resource Center – a 3.5-acre farm and aspiring food sovereignty organization at Bartram's Garden.
Holmberg said in the past year the farm's goals, which are evolving, have emerged as providing access to healthy, nutritious and local foods, developing tools for self-reliance through food, and creating a space to reconnect with both nature and food.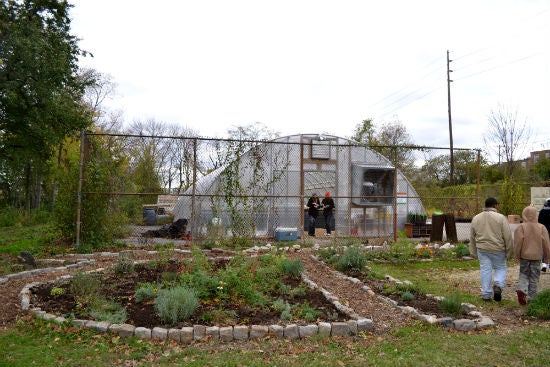 Newsom stressed the farm's focus on building self-reliance, raising awareness and the connection between the two.
Newsom said a major goal of the farm is to educate people in the 54th Street corridor community and to get them to think about their food so that they can take control of their food system.
In terms of food access in Southwest Philadelphia, Newsom said, "It's what you will find in a lot of the city. In some ways it might be a little better."
But when it comes to food choice, the community does not have enough options for healthy, quality food capable of sustaining families.
"When people start asking critical questions about food… they're gonna demand more," Newsom said. "They're gonna demand something different."
Then, he said, people will start asking questions about not just their food system but all the other systems that impact them – from their school systems to their public safety.
"If people are really presented with facts… then we believe people will really get involved and get engaged," he said.
In this way, Bartram's Farm is about community liberation.
Building from scratch
About two years ago, some of the partners began looking at the space, which at that time was a baseball field, abandoned tennis court and mowed, green space.
"It kind of looked like humans disappeared, like one of those movies," Holmberg said.
The four partners – Bartram's Garden, UNI, Parks and Recreation and PHS – have since turned the desolate space into a 3.5-acre farm with a 1.5-acre crop field, heated greenhouse, 115-tree orchard and 30-bed [and counting] community garden. They grew 60,000 transplants for the PHS City Harvest Program and gave away 10,000 -15,000 plants to people who wanted to start gardens in their own yards.
Through UNI, Bartram's Farm was able to hire 12 Bartram's High School students to work 10 hours per week during the school year and 17 high school students to work 20 hours per week during the summer.
"It's a big space so we really do need the support of the young people," Holmberg said.
In addition to farming, the program is a youth empowerment and youth development initiative and conducts college access, food sovereignty, and plant biology classes and workshops.
The students all have different reactions to the farm. Holmberg said one student was initially afraid of soil. Two months into the program, she was digging around at the top of a compost pile with no problem.
While it is hard to tell how the program impacts each student, "Part of the education program is planting seeds and who knows when they'll grow," Holmberg said.
Moving forward
As Bartram's Farm begins its second year it will continue to emphasize its community based rather than community placed mission and "authentically build with the community," Holmberg said.
Bartram's Farm hopes to offer the information and tools for people who live and work in the community to reclaim their food system and to do so on their own accord.
The partners plan to grow the farmers market, continue contributing to the PHS City Harvest Program, expand the community garden from 30 plots to 50 or 60. They hope to partner with more community leaders and reach out to faith-based organizations, as well as build an education kitchen where additional food-based educational programming and workshops – like a recent canning workshop for community garden members – can be held.
"I have some ideas but I want [ideas] to be generated by the community," Newsom said. "People really invest in what they create."
Newsom said he encourages people to visit the farm and watch for volunteer days throughout the year.