Autism and football in Philly: Therapeutic benefits on and off the field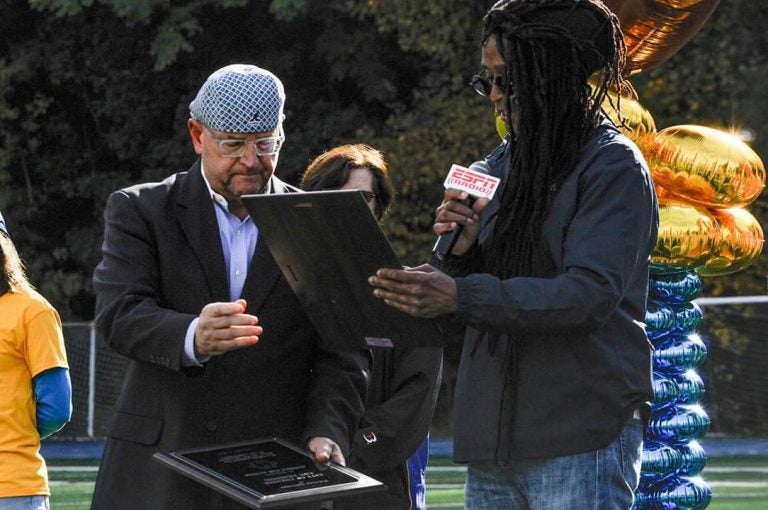 For children who are diagnosed on the autism spectrum, a number of recreational activities are well-known for having therapeutic benefits, especially equine therapy (horseback riding) and aquatic therapy (swimming). But a new organization forming in the Philadelphia area believes that football can be another avenue to help kids with autism gain confidence, learn social skills and work on emotional regulation.
Audible For Autism is working with professional and university level football teams to create opportunities for Philadelphia area kids and teens with autism to engage in football in ways that they may have never had an opportunity to do so before. For some kids, this means participating on field—but for others, it could mean finding a way to engage the child's unique talents off of the field. Muzz Skillings, Grammy Award-winning musician (known as the bassist for the band Living Colour) is one of the co-founders of the  Audible For Autism and explains that his goal is "to discover what the wildest dream of the child is…and to make that dream come true."
This Sunday, June 10, a number of children with autism have been selected to have that experience. The Philadelphia Soul will host an Audible For Autism event both during their half-time game and following their game with a festival for families. The festival will invite children and their families to take the field and participate in a variety of interactive sports activity stations, such as basketball, hockey, baseball, football, and soccer. Children will have the chance to perform their favorite talents, and receive trophies, ribbons, and awards to take home.
The Halftime Touchdown Run will feature legendary Eagles quarterback Ron Jaworski and City Councilman Derek with two pre-selected children who will join the team huddles as running backs. The Halftime Touchdown Run teams will be comprised of members of the Philadelphia Police Department. The children will have the chance to run down each sideline in front of the cheering crowd.
Skillings notes that while that on the field experience will be exciting for those children, others kids who are on the spectrum may prefer to engage in the game in different ways. One child has been selected to sing the national anthem while others will be employing in-game commentary/announcing and also helping with video and photography.
He also believes that the therapeutic benefits reach beyond the children to impact the parents and also the larger community. "We've seen what it looks like for the parents when they experience the larger community embracing their child, feeling that the community is behind them…the parents are brought to tears when they experience this for their child, sometimes for the first time in that child's life."
And as for the football players, Skillings has seen their tough-guy images shift to tenderness when they work with kids. "They are so human, gentle and engaging with the children once they were in their presence … I have been very impressed," he observes.
For more information on Sunday's event and Audible for Autism, check out their website. Parents, what kind of therapeutic activities have you found beneficial for your children? Please share your experiences in the comments below.
WHYY is your source for fact-based, in-depth journalism and information. As a nonprofit organization, we rely on financial support from readers like you. Please give today.