August 5: No action on school funding | Pier 53 could open soon | Suburban poverty on the rise | What's next for Destination Maternity building?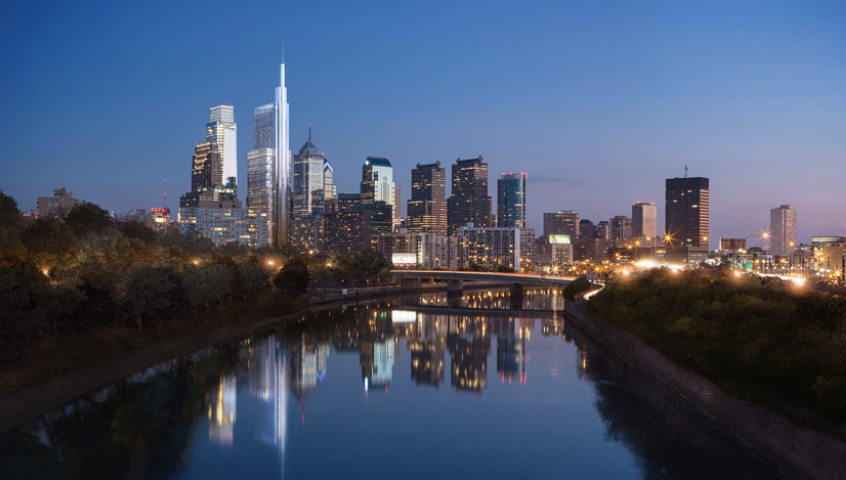 Governor Tom Corbett and top Republican leaders met yesterday to try to save the enabling legislation that would allow Philadelphia to raise the cigarette tax to fund schools, and they came up short on a solution. Corbett is holding out the possibility of a cash advance so the schools can open on time, but local school district officials are loathe to open the schools when a funding source has not yet been secured.
The sale of that short, boxy Destination Maternity headquarters on Spring Garden and N. 5th, catty-corner from Silk City Diner is expected to be completed by September. Will we see another warehouse tenant move in, or will a new walkable mixed-use building replace it?
Gizmodo's Alissa Walker looks at some of the largest skyscrapers planned in cities around the country, and points out that Comcast's new tower will be the tallest building in the country outside of New York City or Chicago.
James Jennings reports that the Pier 53 park could open as soon as August 15, though that date is still unconfirmed.
The latest data from Brookings confirm the trend of poverty shifting from central cities to suburbs, with the surprising finding that "suburbs now have nearly as many poor residents in high-poverty neighborhoods as cities."
And GroJLart looks at the strange history of the Wayfarer's Lodge (now an apartment building) and uncovers a fun trivia fact: "Marsh determined that a homeless man in Philadelphia in 1902 made an average of $1.15 a day begging in the street (Marsh himself dressed as a vagrant and tried it for a day) and that each one only needed 5 cents for a night's stay at a flophouse, making the Wayfarer's Lodge not worth the effort of the labor test."