August 12: 22nd St bike lane vs. ward politics | Pop-up realism | 7th cheapest state for car ownership | Still-affordable Philly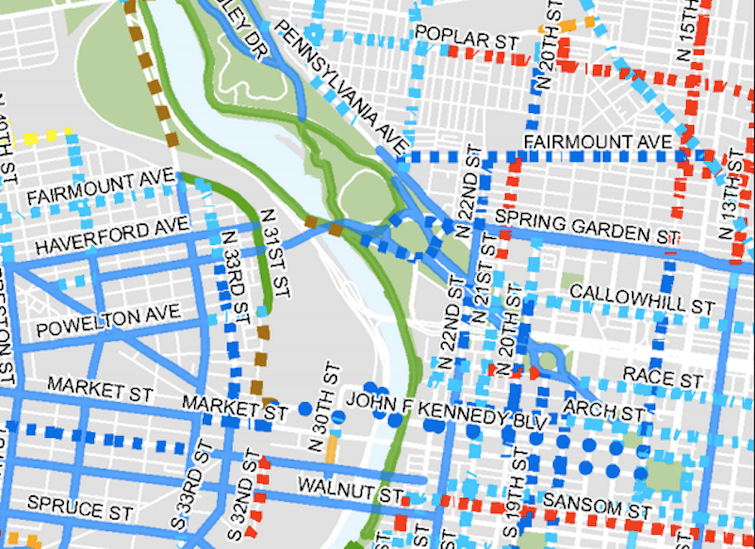 The city's 2012 Pedestrian and Bicycle Plan says that 22nd Street's bike lane is supposed to be extended north of Spring Garden to Fairmount when the street is restriped, but ward politics may stop that from happening. Ordinarily, the Streets Department would have painted the lane when they repave the street soon, since it won't take away parking or a travel lane. As Nicholas Mirra explains, drivers informally treat this section of 22nd as having two lanes because it's so wide, but it's not actually striped that way. At-Large Councilman and ward leader Bill Greenlee is claiming that there is neighborhood opposition to the bike lane, and has told constituents that he believes reducing the level of service for cars would make the street less safe.
Jonathan Zimmerman, Professor of History at NYU, looks back at the 1964 riots in Philadelphia and the failure of urban renewal policies, which "actually decreased the amount of available space in places like North Philadelphia and it actually increased costs for families and worsened the overall housing stock."
Important point from Devin Turner at This Old City on the promise of a pop-up "industry" for emerging commercial corridors: "Pop-up stores, like pop-up parks, are the realist's response to soft (or potentially soft) demand."
Pennsylvania is the 7th cheapest state for car owners based on gas, insurance, and repair spending, according to a new study by personal finance site Bankrate.com. Interestingly parking, one of the highest costs of car ownership, isn't included in the study. Philly's residential permit parking wouldn't add much to the total, but most parking costs tend to be priced into other goods and services, rather than paid directly by motorists.
Philadelphia's housing affordability conversation often centers on neighborhoods that are very close to Center City, but from a regional perspective, most sub-markets in the Philly metro are still very affordable, and we aren't experiencing the kind of insane price spikes metro New York and San Francisco are experiencing in their suburbs. "According to RealtyTrac, the region's median home price in April 2014 was $81,675, and the median household income was $35,801."