At the Walnut, caught 'In Between' two worlds
Ibrahim Miari grew up Jewish and also Muslim, and stands between two cultures.
Listen
2:36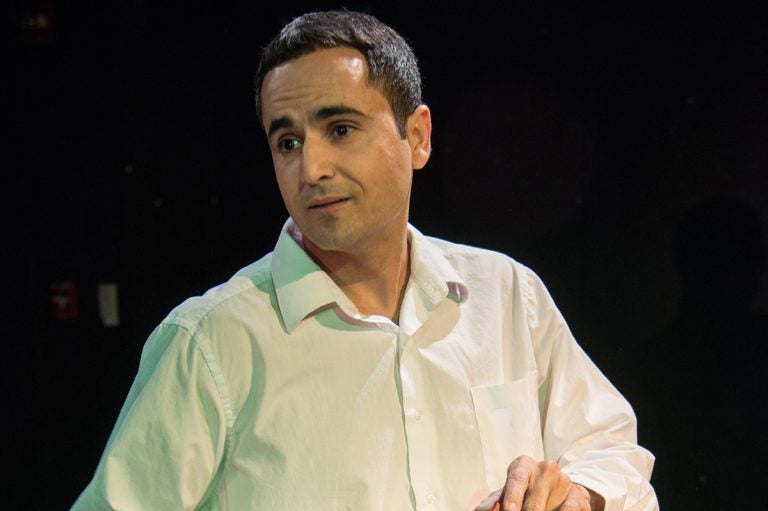 The writer-performer Ibrahim Miari grew up in Israel, the son of a Palestinian Muslim father and an Israeli Jewish mother. On first hearing this, you might think, how cool. Ancient Semitic cousins, current political enemies, unified in body and soul: If you dream of peace this is how it may look.
Not to Miari. The reality for him — or at least for the man he portrays in his thoughtful and thought-provoking play "In Between" — is far different. He stands between two identities, owning both yet a member of neither.
Miari's one-man play, ripe with references to both cultures, challenges us to consider the meaning of identity and what it is to belong. It's classified as "semi-autobiographical," so it's impossible to tell whether the characters are real depictions, theatrical ones or a mixture of the two. But it's clear that the story he builds during his 70-minute one-act is very real to him.
If you're one of the Walnut's 50,000 or so regulars for the main-stage season, you saw Miari this past winter in the stage company's production of "The Humans." He was excellent in that ensemble. Now, by himself and performing his own play in the Walnut's intimate third-floor space, he breaks out into a host of characters he interprets precisely: an insistent Israeli airport interrogator who finds him suspicious probably because of his looks; his mother who wants him to thrive as a Jew in a Jewish school; his father who wants the same for him but as a Muslim in a school for Arab kids; his Jewish fiancé's mom who tries hard not to be awkward; and with the help of a life-size puppet, a rabbi, an imam and a Buddhist spiritual leader.
All of these characters accept him only for what they wish him to be; only his Jewish fiancé, in real life a woman he met as a fellow counselor at a Canadian summer camp, seems to accept him for himself. Miari grew up in a Jewish school in Israel as "Avraham" until eighth grade, when his new enrollment came with a name change to "Ibrahim." Even though the shift eventually found him identifying primarily as an Arab, Jewish tradition is matriarchal and having a Jewish mother means he's Jewish no matter what. He calls himself, in understatement, "a demographic problem."
Miari performs "In Between" with skillful movement – he spins a lot, just as he goes around in circles in life. His face is rich with expression, not just for the different roles he plays but in his pain as leaders of various faiths refuse to wed him to the woman he loves.  Elena Araoz directs the show, whose lighting by Alyssandra Docherty helps Miari create several moods, and sound by Nathan Leigh seals them in place. It's a short show that's rich in thought.
_
"In Between," produced by Walnut Street Theatre, runs through Oct. 28 at the Walnut's Independence Studio on the third floor of the theater, on Walnut Street between Eighth and Ninth Streets. 215-574-3550 or walnutstreettheatre.org.  
WHYY is your source for fact-based, in-depth journalism and information. As a nonprofit organization, we rely on financial support from readers like you. Please give today.