At Arden Theatre's gala to award Stephen Sondheim, surprises planned and unplanned [photos]
Listen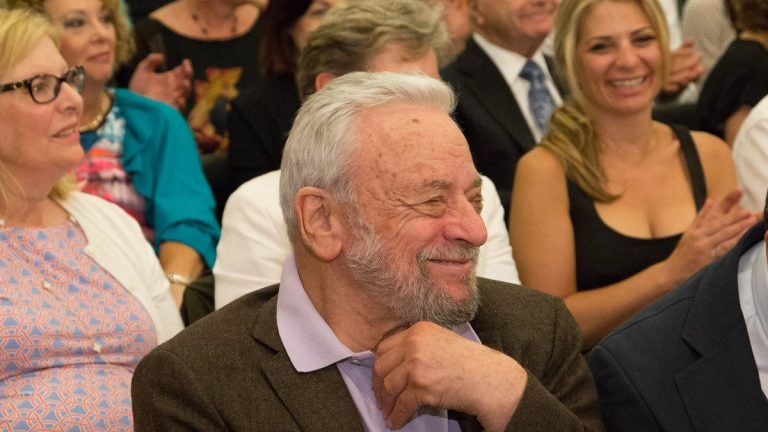 Everything was going swimmingly for the Arden Theatre Company as its gala evening was beginning last night. And it ended with an exhilaration no one could have planned.
The Arden was presenting its first-ever Master Storyteller Award to the master of the American musical, Stephen Sondheim. At Zahav restaurant, Sondheim and about 80 others who paid $1,000 a plate, were dining on lamb and a selection of appetizers.
Back at the Arden on Second Street, people were beginning to file in early for an 8 p.m. concert that would honor Sondheim with 30 performers and presenters, a 14-piece orchestra and a post-concert reception. Two-hundred twenty-five people had purchased tickets, $250 a piece. The performers were local pros with resumes including now-classic Sondheim shows like "Sweeney Todd" and "Into the Woods" and "A Funny Thing Happened on the Way to the Forum." The orchestra was larger than the one accompanying the Arden's current production of Sondheim's "Passion." Everyone was dressed. Backstage. Ready.
And then, powerless.
Electricity in the air, but nowhere else
Just before 7, an electrical outage hit a portion of Old City. People filed into an Arden lobby suddenly illuminated by only the dwindling daylight and a few candles. Their numbers grew, they wandered round mixing and eating butlered hors d'oeuvres meant for later, and everyone wondered what would come next.
Live theater can be exciting because anything can happen, but exciting was probably not the word that came to mind when associate artistic director Matthew Decker placed a call to producing artistic director Terrence J. Nolen and his wife, managing director Amy L. Murphy, both dining with Sondheim and the donors. Decker, the director of the concert, delivered the bad news, which then was passed on to Eileen Heisman, who led the committee for the new award.
"At first, I thought it was a joke," she said. "They said we were No. 1 in line at PECO, but I thought, 'Number one? What does that mean?'"
So did everyone else, snapping into action in case the power remained out too late for the concert to happen. (It did.)
"There we were, all gathered in a dark theater," said Decker. "What are we going to do? We made a plan."
Later, he would look at all the action none of the concert-goers in the lobby could detect, and think, "This is what theater does."
The show must go on
There'd be no time for a full concert, and with no electricity, plans would have to be revamped quickly. Decker and Nolen immediately began cutting the concert in half, over the phone, continuing to decide on cuts as Nolen rode to the theater from dinner at Zahav. Except for pianist Amanda Morton, who would handle the accompaniment alone, the orchestra was sent home. So were the artists whose numbers were no longer to be done.
In the Arden lobby concert-goer Betsy Oliphant, the advertising director of the marketing group Visit Philadelphia, contacted Amy Murphy at Zahav. "I texted, 'Tell me what I can do to help,'" Oliphant said. She texted back: "Pray."
Meanwhile, the Arden staff scrambled to set up a new venue — the stage company's large scene shop in its education building several doors north on Second Street, where the power was unaffected. They had to remove worktables and equipment, set up a stage and rearrange as much as they could to make space. Then they began grabbing chairs from all over the building and placing them in rows — aided by volunteers who left their $1,000 dinners to, essentially, move chairs around.
At 8:45 p.m. Murphy entered the Arden and, from the stairs to the second-floor theater, announced to the crowd below: "It's not the event that was beautifully staged … but we will have as great an event as humanly possible."
She asked them to move onto Second Street and into the other Arden building up the block. "The show must go on!" someone hollered from the audience, and a noisy cheer went up.
Now everyone has a story to tell
From that point, everything seemed remarkably organized — even though it was the sort of theatrical save people mostly only hear about. Members of the Arden staff found flashlights and lined Second Street every few yards so they could guide concert-goers through the rain and to the scene shop. More staffers directed people inside the building. At 9 p.m., an hour late, Nolen took to the stage and looked out over an audience sitting under industrial fluorescent lights — Sondheim in the front and two-by-fours, scraps of building materials and other set-building implements lining the sides.
"Our mission is to tell great stories by great storytellers, and that mission hasn't changed," he said. "The most perfect recipient of our first master storytelling award is Stephen Sondheim."
Again, the crowd cheered.
"He has shown us how an entire story can be told in a single song — and in single line."
Sondheim watched raptly, and applauded generously, as some of the region's most visible performers sang from his shows: "Merrily We Roll Along," "Sweeney Todd," "Company" and "Sunday in the Park with George." Arden's teen ensemble later joined them for a finale. But before that, composer-lyricist Jason Robert Brown spoke of Sondheim's twists on lyrics and music, introducing "my hero, Stephen Sondheim."
Sondheim, a young-looking 85, told the audience that if he were running a gala and concert "and the lights went out and the electricity stopped, I would be hysterical. Terry Nolen was not. And that's just one reason you should support the Arden. It's in good hands.
"I want to thank you all for supporting this wonderful organization that does great work. I would go on, but I would start to cry," said the winner of eight Tony Awards, an Academy Award, a Pulitzer Prize and others, including his newest from the Arden. After the hour-long concert, the crowed — buoyed by being part of a night of surprises both planned and not planned — walked back to the Arden's main building, now re-electrified, for a reception.
Philadelphia reception a sort of homecoming
The Arden, and specifically Nolen, are among the nation's most notable regional producers and interpreters of Sondheim's work, with 13 productions in the company's 27 years. Sondheim has never seen one of them, but receives tapes from the theater. Years ago, when the Arden was attempting to raise funds for a full orchestra for one of the shows, Sondheim wrote a letter supportive of the company — a much cherished tool for raising the money. Last year, Nolen interviewed Sondheim on the stage of the Grand Opera House in Wilmington, and the two talked about the composer's work, evolution and techniques.
Sondheim has Philadelphia-area roots. He was born in New York but raised from age 10 near Doylestown, where he lived with his mother after his father left them. The celebrated composer Oscar Hammerstein II, who had a home in nearby New Hope, eventually became the young Sondheim's mentor, and Sondheim was treated as a member of the Hammerstein family.
—
Disclosure: The Arden Theater Company is a supporter of WHYY.
WHYY is your source for fact-based, in-depth journalism and information. As a nonprofit organization, we rely on financial support from readers like you. Please give today.