As Philly moves closer to supervised injection site, Gov. Wolf remains opposed
"It's not a workable solution to this problem," Pennsylvania Gov. Tom Wolf told WHYY recently.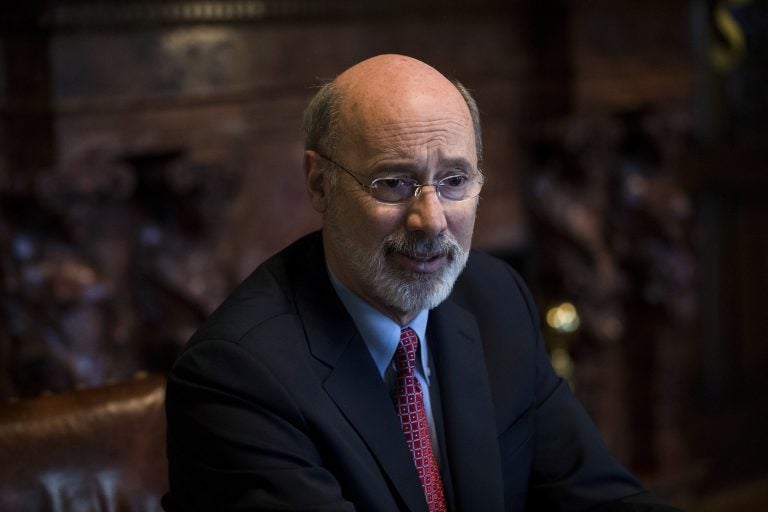 In forming a nonprofit last week to oversee a supervised injection site in Philadelphia, public health advocates got closer to what may be the opening of the first such site in the country.
But as city leaders express support for the private entity's progress, top state officials remain unwilling to get on board, resistance that may put Philadelphia on weaker footing if federal authorities move to crack down on the planned facility, as the Justice Department has promised.
"It's not a workable solution to this problem," Pennsylvania Gov. Tom Wolf told WHYY recently. "The course that I think we ought to take, and what I'm doing at the state level, is to figure out ways to get people to stop wanting to use those drugs," Wolf said, adding: "I would not want to be guilty of spending any public money to give people the sense that this is something that's OK. I just don't think that's a good idea."
Wolf's concern, and also why Pennsylvania Attorney General Josh Shapiro, both Democrats, oppose Philadelphia's steps toward launching what advocates call an overdose prevention site has to do with a federal drug law from 1986.
The so-called federal crackhouse law forbids the opening of a facility "for the purpose of manufacturing, distributing, or using any controlled substance."
Violating the statute could trigger maximum punishment of 20 years in federal prison, hefty fines, and the seizure of property, Deputy Attorney General Rod Rosenstein told WHYY in August.
Until federal law changes, Wolf and Shapiro say they cannot support a supervised injection site, even though Philadelphia officials estimate the facility could keep about 75 more people alive each year and save millions of dollars in health care costs.
But board members of Safehouse, the newly-formed nonprofit, claim the federal crackhouse law was never intended to apply "to a good faith, public health approach to overdose prevention services" like a supervised injection site, according to a document Safehouse has circulated internally.
Ronda Goldfein, the executive director of the AIDS Law Project of Pennsylvania, who is a Safehouse board member, said Philadelphia has a history of creative public health initiatives, and that state and federal prosecutors can exhibit "prosecutorial discretion" and choose not to storm the site because it is providing emergency services to people in the throes of addiction.
If federal prosecutors still decide to try to shut down Safehouse once it opens, the nonprofit will be ready to defend itself, Goldfein said. The group has assembled a mini army of legal experts to figure out how best to keep Rosenstein's prosecutors at bay.
"We have been meeting with teams of lawyers. We have civil practitioners, criminal practitioners, we have constitutional scholars, we have a former Department of Justice lawyers, and we have been looking at all of the issues," Goldfein said. "We're on the move."
J.J. Abbott, a spokesman for Wolf, said though the governor is not in favor of supervised injection site in Pennsylvania, he will not get in the way to stop one from opening. Wolf will defer to the judgement of state and federal law enforcement agencies, Abbott said.
"Gov. Wolf's continued focus is on saving lives by getting people into treatment and recovery, expanding access to naloxone, and expanding prevention and educational programs," Abbott said.
If Wolf would switch his position and back the effort in Philadelphia, the legal defense could become stronger, said Leo Beletsky, a lawyer and drug policy expert at Northeastern University.
The best case scenario would be for Wolf to sign a law sanctioning the site after a bill passed the Pennsylvania legislature, a development that looks remote, especially since Republicans control both houses in Harrisburg.
In California, lawmakers passed a bill that would have been the first in the country approving a supervised injection site pilot program, but Gov. Jerry Brown vetoed it, saying he worried the effort would enable drug use.
Beletsky said the second-best situation for public health advocates in Philadelphia would be for Wolf to act administratively, declaring a public health emergency and passing a rule giving the city his blessing to move ahead with Safehouse.
Wolf, however, is not willing to go there. Does the election season have anything to do with it? Beletsky thinks so.
"I think that the legal concerns, frankly, are a smokescreen for something that they see is politically inexpedient," Beletsky said.
Meanwhile, Philadelphia continues to have some of the nation's purest and cheapest heroin in the nation and the crisis is worsening, having claimed more than 1,200 lives in 2017 alone.
City officials have declared Kensington, the epicenter of the opioid crisis, a disaster neighborhood and ordered emergency operations centers to open there to better assist with the scores of opioid-addicted people whose basic needs are often not being met.
"At a certain point it becomes, if not us, then who?" asks Goldfein. "If not here, then where? If it means that we go first and we're out on a limb a little bit farther than others, so be it."
—
Dave Davies contributed to this story.
WHYY is your source for fact-based, in-depth journalism and information. As a nonprofit organization, we rely on financial support from readers like you. Please give today.