Army-Navy game fans try to keep the politics at home
Updated 9:30 a.m. Sunday
Heidi Snyder describes the football rivalry that is the Army-Navy game as "America on steroids."
She came to Philadelphia by coach bus Saturday with friends and family, 40 people in all — all with some tie to the military world. It's been a tradition for the group for 20 years.
"This is the most patriotic event in the entire country where everybody is just cheering for all those men and women who decided to serve," said Snyder, whose son graduated from the Naval Academy earlier this year and is now on active duty. "It's the most fabulous patriotic event. You can't come here and not be proud."
The thousands who flocked to Lincoln Financial Field for the 120th annual tilt between the Black Knights of Army and the Midshipmen of Navy seemed to agree. And for the second year in a row, President Donald Trump attended the game. Just one day after the House Judiciary Committee voted to approve two articles of impeachment against him, Trump was greeted by a rousing crowd of cheers when he walked onto the field. He initiated the traditional pregame coin toss while sporting a red "Keep America Great" hat.
Don Carlson, Jerry Stahl, and Mike Brennan (left to right) graduated from the Naval academy in 1972. They've been coming to the annual Army-Navy game together since they were cadets. Today they traveled from Maryland, South Carolina, and Washington DC to watch the game together in Philadelphia, Pa on December 14th 2019. (Emily Cohen for WHYY)

President Trump joins the thousands gathered at Lincoln Financial Field for 120th Annual Army-Navy Game. (Emily Cohen for WHYY)

There was the occasional Trump 2020 banner amid team flags at the tailgates, and the president led the coin toss. But patriotism was the point, many said. (Emily Cohen for WHYY)

James Whiteside (left) served in the Army from 1993 until 2001. He started coming to the Army-Navy Game when his friends, Danielle and Tom Dologos, gifted him with tickets a few years back. (Emily Cohen for WHYY)
Many in the military avoid broaching the topic of politics. Still, there were a few Trump 2020 banners among the Army and Navy flags flying from cars and tents at the parking lot tailgates.
Both the U.S. Military and Naval academies are investigating after multiple reports on social media show students in a pregame video flashing a hand gesture that's become associated with white power, according to multiple media outlets including the Philadelphia Inquirer.
Just wanted to enjoy the #ArmyNavy. Didn't expect or want to see the White Power symbol thrown up by cadets on national television. pic.twitter.com/GwQ27QDEGk

— Fella (@BruthaManTho) December 14, 2019
The Anti-Defamation League added the gesture — which is also often used to say "OK" — to its "Hate on Display" database in September.
The hand gesture is also associated with the "circle game," in which someone makes a circle with their fingers and holds it outside of the other person's view, trying to convince them to look at it.
Dave Gilles spent 15 years in the Army in the 1980s and '90s. He was stationed in Berlin doing intelligence during the Cold War. The game, for him, is about the shared experience.
"What's great about this game is that everybody on the field is willing to die for everybody watching them play football," said Gilles, who now lives in the suburbs of Washington. "It's a 100-plus-year tradition. What's best about it, no matter who wins, they both sing their alma maters at the end to each other. It's a big salute to military."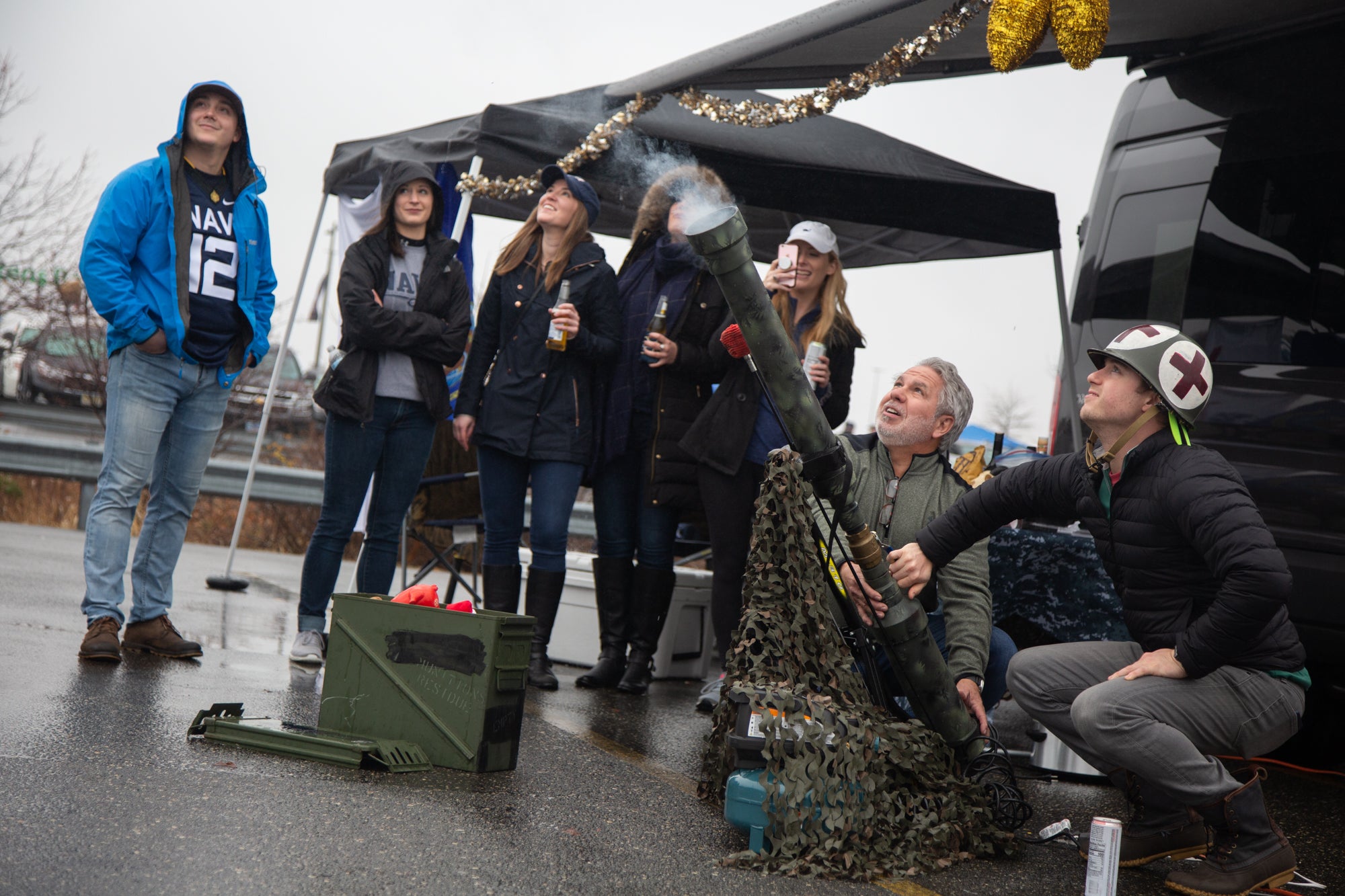 Last month, Trump stirred controversy for pardoning officials who had been charged with war crimes. Some people, including Gilles, think that under the current White House administration, the role of the military is being politicized.
"It should be these 8,000 folks with these families that are willing to serve, and this tradition should be the first thing we think about before and after the game. Not anything in a political sticker, bumper sticker or whatever. This isn't some pageant."
Allen Luzak, however, said he views the president as a strong supporter of the military. Also last month, Trump announced a policy change that would allow athletes at the armed services academies to be able to play professionally after graduation and put their active duty on hold.
"When you come here, the patriotism oozes through the parking lot and the stadium, and it's such a great day," said Luzak, who is from Lewes, Delaware. "It's great to see him here amongst everything that's been happening recently. It's just good to see him, and he's on friendly turf here."
Just a few minutes after the game started, about a dozen people from the Philadelphia chapter of the activist group Refuse Fascism arrived at 11th Street and Pattison Avenue with a large orange banner that read "Trump/Pence #OutNow!"
Sam Goldman, an organizer with the group, said that 12 cities across the country were hosting similar protests on Saturday. The local event started at Rittenhouse Square, and participants took the Broad Street Line down to the stadium for Trump's appearance at the game.
Goldman said Trump is seeking to remake the military "as a tool for fascism."
"There is a divide in the military. There's a divide amongst the people," Goldman said. "The loudest, most passionate voices you will see, you will hear are those who want kids in cages, who want environmental devastation, who want to see women thrown back into the dark ages, who want to see trans people erased."
But as Marie Zambardi sees it, many of those issues plaguing the country aren't what the game is about. When she watches the planes fly over before the game starts, she thinks of her 93-year-old father, who served in World War II.
"Considering the state our country is in right now, it's great to have everybody coming together and having a great time for a few hours," Zambardi said. "I think it's all put aside on a day like today. Everything is completely put aside."
Navy beat Army, 31-7. It was Navy's first win in the rivalry since 2015.