April 5: Penn's Landing Park | stalled Enterprise development project | Nutter on education | First Friday Weekend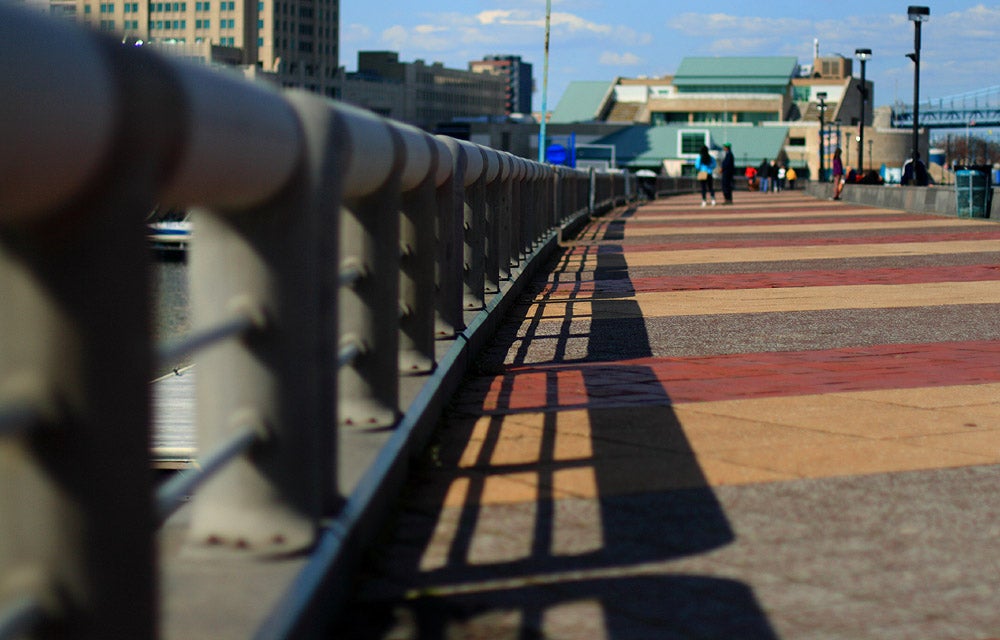 Happy Friday Streeters!
It is almost hard to imagine a green park stretching over I-95 and connecting Old City with the waterfront, but the new Penn's Landing Park project is indeed moving forward. This week the Delaware River Waterfront Corporation hired Hargreaves Associates to create a redevelopment plan for Penn's Landing. Hargreaves Associates has offices in San Francisco, Cambridge, New York and London and is responsible for London's Queen Elizabeth Olympic Park. PlanPhilly's Kellie Patrick Gates reports that the $425,000 contract covers engineering, feasibility and design work.
City Paper calls our attention to the vacant lot across from the 46th Street El station in West Philly and asks if the nonprofit, The Enterprise Center (TEC), responsible for razing the lot will ever get its act together and build the $75 million transit oriented development project it has been talking about since 2000 or if it will get weighed down by financial woes and land battles.
In a special edition focusing on "Philadelphia's talent dividend," Flying Kite shares a Q&A with Mayor Michael Nutter on why education is one of his top priorities and what he's doing to increase educational attainment. Nutter talks Mayor's Office of Education, Philly Goes to College, College Coach Campaign and Mayor's Returning to Learning Partnership. The rate of residents 25-years or older with a four-year degree is roughly 24 percent, up about six percent since Nutter took office. He wants to see that total increase into the mid-30s by 2018. "We've made some progress, but we're not satisfied with where we are," Nutter said.
In less positive education news, The Notebook reports that two principals have surrendered their administrative titles as a result of the nearly two-year investigation into possible cheating on standardized state-wide testing.
This weekend marks the first First Friday Weekend – an expansion of Old City's popular First Friday offerings throughout the entire weekend. As always, Uwishunu has the lowdown on where to catch some of the First Friday, and now First Friday Weekend, highlights.
The Buzz is Eyes on the Street's morning news digest. Have a tip? Send it along.