'Anything is fair game' in Delaware U.S. Senate race
Listen
4:35
Challengers to Delaware's senior U.S. senator have hinted at and whispered about allegations that Tom Carper hit his former wife, Diane, four decades ago. Carper admitted to the incident as a one-time thing in a 1981 deposition that has haunted his campaigns from the shadows ever since.
"The issue has been raised, not every campaign, but every second or third campaign," Carper said in an interview at a Democratic campaign office in downtown Wilmington. He said it's usually brought up when his opponent is "desperate to find an issue to help propel them to the top."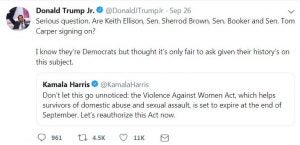 Republican challenger Rob Arlett has poked around the issue in recent weeks. In September, he liked a Twitter post by Donald Trump Jr. that questioned whether Carper would support the reauthorization of the Violence Against Women Act based on his history on the subject. Arlett directly questioned Carper about it during their first debate Oct. 17 at the University of Delaware.
"You are now on record, it's now public information, that you had abused your former wife, and there was a lie for 19 years about that, it was a big cover-up," Arlett said before Carper interrupted, calling the accusations "baloney."
"I owned it, I didn't hide it. It was public knowledge," Carper said.
Weeks earlier, as Arlett celebrated the opening of his New Castle County campaign office, he talked about how much he would talk about the 40-year-old incident.
"As a campaign, I would say probably not a whole lot," he said. "To me, anybody who strikes another person, especially a female, I would question who they are … Is that who we want in Washington, D.C.? It's not up to me, it's up to the voters of Delaware."
Just a day after that first debate, Carper said he wasn't surprised by his opponent's tactics.
"I think in the day and age we live in, anything is fair game," he said. "We all make mistakes. God knows I made my share of them. I made one 40 years ago that I'm not proud of, I apologized for, learned from it, and basically owned it, and said 'I won't make that mistake again.' "
During the UD debate, Carper said this line of attack has backfired on every opponent who has used it against him.
"It didn't work 30 years ago, it didn't work 20 years ago, it didn't work 10 years ago, and, you know what? It's not going to work this time either."
Back in his campaign office, Carper said there's a reason Delaware voters won't respond to Arlett's attempt to call him an abuser. "I think here in this state, people know me pretty well," he said.
To say Delaware voters are familiar with Tom Carper is an understatement. He's been the state's most successful candidate, serving in statewide elected office since becoming state treasurer in 1976. Since then, he's served five terms in the U.S. House, eight years as Delaware's governor, and he's now vying for his fourth six-year term in the U.S. Senate. For Carper, all that experience is a plus. "One of the nice things about this being a small state, you know people. You know one another, and that includes our elected officials."
Arlett and Delaware GOP chairman Mike Harrington see Carper's lengthy time in office as a negative.
"I hope that the public will put somebody in there new, a fresh face, somebody with energy that will represent the people of Delaware and not necessarily the big money people across the country," Harrington said.
But after more than 40 years in elected office, Carper has public support that shows no sign of fading. His vote totals in recent elections show his dominance over all contenders. Six years ago, 66 percent of voters picked Carper over Republican Kevin Wade who got only 29 percent. Even last month, Carper easily held off a primary challenge from progressive newcomer Kerri Evelyn Harris with 65 percent of the vote in a race that even the New York Times said threatened to "to Rip Apart [Delaware's] Centrist Political Fabric."
And it remains a tough hill for Arlett to climb. A September University of Delaware poll of likely voters found Carper ahead 61 percent to Arlett's 24 percent. But the challenger remains undeterred, even in New Castle County where registered Republicans account for only about 23 percent of all voters.
"I wouldn't say challenge, I would say it's the biggest opportunity in my mind because people who don't like Rob Arlett don't know Rob Arlett," he said of himself. "We want people to know Rob Arlett and his family because once we do that, I'm confident we will be victorious on Nov. 6."
Arlett casts himself as the outsider to Carper as the career politician. He was first elected as Sussex County councilman in 2015, defeating Republican incumbent Vance Phillips in the primary. Phillips was facing a lawsuit in the alleged rape and abuse of an 18-year-old girl. That lawsuit was settled out of court.
More recently, Arlett drew some national attention when he was named the Delaware chairman of the Trump campaign. Arlett hosted then-candidate Trump during a campaign stop in Harrington in April 2016. His early support for President Trump helped him land a role in planning the inauguration. But in a midterm election that traditionally leans away from the party that controls the White House, Arlett's close ties to Trump could leave him even more vulnerable than other Republicans in Democrat-dominated Delaware. Trump lost to Hillary Clinton in Delaware 53 percent to 42 percent.
But Arlett said he isn't concerned about that. "I don't worry about the national politics, my focus is in Delaware, and again bringing new opportunities for our families."
Democrats, on the other hand, see Trump's influence in Arlett's campaign style, particularly the attack on Carper for hitting his wife. "It's an unfortunate part of their playbook, but it seems to be the only part of the playbook they know particularly well," said state Democratic Party executive director Jesse Chadderdon. "The mood and the climate and the energy that seem to be mounting among the Democrats is real, and it could be a benefit to us."
Carper and Arlett will meet face to face for at least one more debate. The two will square off in a forum hosted by WHYY and WDEL on Oct. 30 at 6 p.m. at Theatre N in downtown Wilmington. It will air on WHYY-TV  Nov. 4 at 2 p.m.