Allentown Mayor Ed Pawlowski found guilty on 47 of 54 felony counts
A federal jury has found Allentown Mayor Ed Pawlowski guilty of corruption.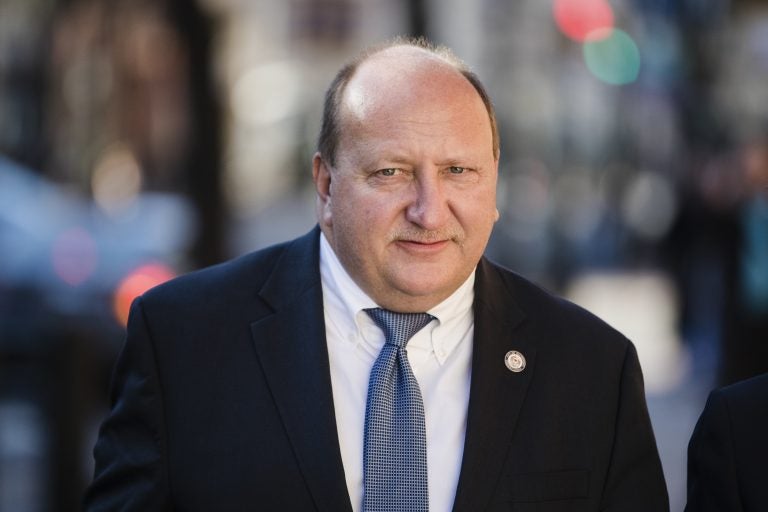 Updated: 12:42 am
After deliberating for two days, a federal jury found Allentown Mayor Ed Pawlowski guilty of 47 of 54 counts of felony corruption Thursday evening, finding the mayor sold his office for campaign contributions in a pay-to-play scheme.
Pawlowski, 52, had fought the charges — which included corruption, bribery, conspiracy, fraud, extortion, and lying to the FBI — and testified before the jury on his own behalf.
After a two-year investigation that brought down many of Pawlowski's closest staff, the FBI indicted the mayor himself in July.
When the verdict was delivered, the mayor of the state's third largest city leaned forward and dropped his head into hands. When his mother-in-law reached out to console him, he started to cry.
Pawlowski's wife, Lisa, became unconsolably distraught in the wake of the decision and collapsed. Paramedics were called, but she denied their medical attention.
Pawlowski, who is credited with helping revitalize Allentown's downtown, was elected to an historic fourth term in November, well after the charges were made public.
Now, the one-time U.S. Senate hopeful will need to leave office, although it's unclear exactly when that will occur.  The Allentown city charter requires a mayor to forfeit the office if convicted of a second-degree misdemeanor or higher.
Federal prosecutor Anthony Wzorek said Pawlowski should quote "do the right thing," but he declined to answer when asked if that meant the mayor should immediately resign.
Defense attorney Jack McMahon said it's too soon for his client to make that determination.
The trial was held in Allentown over the course of the past six weeks.
Pawlowski was under no obligation to testify, but said he wanted to take the stand. McMahon said he would put him on the stand again if he could do it over again.
"He's not some young kid that can't articulate himself. If I was a person, and he had these allegations hanging over his head, I'd want to hear from him. That was my thought process," McMahon said.
During proceedings, Pawlowski had deflected blame to campaign aides Mike Fleck and Sam Ruchlewicz, saying they made false promises to donors in exchange for campaign contributions.
Pawlowski distanced himself from their actions in his testimony. "I said, 'Oh my God, this is the type of stuff that people go to jail for, and I don't want any part of it,' " he said on the stand last week.
The prosecution's case rested on hundreds of hours of FBI recordings of conversations with Pawlowski that Fleck and Ruchlewicz secretly obtained during the investigation.
Earlier in the trial, the five-woman, seven-man jury heard testimony about Pawlowski attempting to cover up his actions by instructing his staff to "purge their servers" and sweep his office for listening devices.
The mayor claimed to be suspicious that the firefighters' union was spying on him.
McMahon said Pawlowski made a mistake by speaking to the FBI during the investigation without counsel.
"If there a lesson to be learned from that is to never speak to anyone without an attorney," he said. "That's the most important thing."
In a statement released shortly after the verdict was read, prosecutors said the case sends a statement to politicians who believe they are above the law.
"The jury has held Mayor Pawlowski accountable for selling his office to the highest bidder to fund his personal ambitions. Thinking only of himself, he deprived Allentown residents of their right to receive honest and faithful services from their municipal government," said United States Attorney Louis D. Lappen. "The mayor then tried to cover up his crimes by destroying evidence, lying to the FBI agents who were investigating him, and lying to the federal jurors who heard his case."
Wzorek said the verdict should put all public officials on notice that corruption will not be tolerated in Pennsylvania.
This type of behavior is not acceptable," he said. "The FBI will be doing their investigations to root out corruption."
Attorney Scott Allinson, Pawlowski's codefendant, was also convicted on two counts of conspiracy and bribery.
A sentencing date has yet to be determined.
WHYY is your source for fact-based, in-depth journalism and information. As a nonprofit organization, we rely on financial support from readers like you. Please give today.