After the storm: what to do with the 'sneckdown' intersections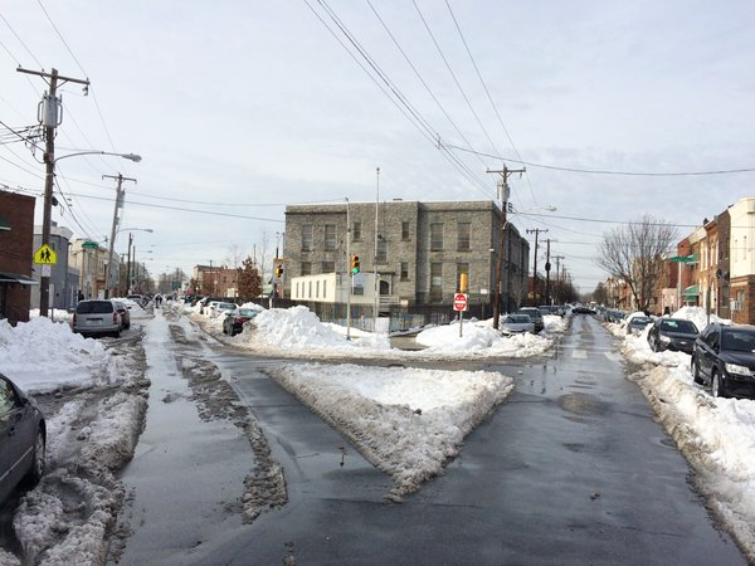 Another snowstorm, another flurry of stories about "sneckdowns"—the horrible-sounding portmanteau of "snow" and "neckdown."
Our colleague Marielle Segarra at Keystone Crossroads published an explainer on the phenomenon Monday, noting that these snow formations, which reveal the spaces on the street that vehicles don't use, have allowed Philadelphia and other cities to effectively pilot traffic calming ideas without committing any public resources.
At 48th and Baltimore Avenue, for example, University City District used snow formations as the basis for their pedestrian plazas near Gold Standard Cafe.
And on E. Passyunk Avenue, where sneckdowns abound, the Passyunk Avenue Revitalization Corporation used one of my photos to sell the Streets Department on a traffic calming plan for the intersection of 12th and Morris, which is now moving forward.
(Prema Gupta)

(Prema Gupta)

(Prema Gupta)

(Jon Geeting)

(Passyunk Avenue Revitalization Corporation)
This kind of information is especially valuable since the Streets Department recently introduced a process for neighborhood groups to request traffic calming changes. To help citizen planners understand what they might ask Streets for, here are ways to read three possible interventions from patterns in the snow, illustrated by reader-submitted photos from the recent snowstorm.
PINCH THE INTERSECTIONS
One phenomenon readers noticed was that the corners of many four-way intersections were fattened considerably by the snow, at minimal inconvenience to drivers. Cars tend to pass more slowly and cautiously through these intersections, which is a desirable outcome if traffic calming is the goal.
(Philip Green)

(Tanya Seaman)

(Jon Geeting)
Below is an example from Austin of what type of traffic calming change could follow from this. Street planners realized the turning radii were excessively wide at this crash-prone intersection, but before installing expensive concrete infrastructure, they decided to test a solution first with cheap materials like paint and plastic posts:
Snow isn't uniform at the corners where two one-way streets intersect: Two of the four corners tend to retain roughly a 90-degree angle bump-out, even as larger vehicles wear down the snow piles on the other corners. Not every corner of the intersection needs to accommodate wide turns, and the ones that don't could be ripe for curb bumpouts.
(Jon Geeting )

(Tanya Seaman)

(Jon Geeting)
"BOWTIE" PLAZAS
The most dramatic examples of sneckdowns occur in places where a diagonal street cuts across the grid at an angle, so avenues like East and West Passyunk, Ridge, Moyamensing, Point Breeze, Grays Ferry, Frankford, and Germantown all feature prime opportunities to create more pedestrian space, by extending the corners of triangular parcels further out into intersections.
Danielle DiLeo Kim of local planning and architecture firm Locus Partners dubbed these "bowtie" intersections back in 2013, as a helpful shorthand.
(Jon Geeting)

(Jon Geeting)

(Matt Skolnik)

(Jon Geeting)
Probably the best-known examples are next to Pat's and Geno's on East Passyunk. The cheesesteak lines extend out into these spaces, as patrons understand there is excess street that isn't necessary for moving traffic. (Interestingly, drivers in South Philadelphia also seem well aware of the sneckdown intersections along Passyunk and Moyamensing, and frequently use them for illegal parking.)
The traffic calming change suggested by these sneckdowns is an extension of the point of the curb further out into the intersection, such as one Passyunk Avenue Revitalization Corporation (PARC) proposed for the intersection of 12th and Morris, in front of A Man's Image. This kind of intervention improves safety for everyone on the road by moving the stop bars further forward, and allowing drivers to make eye contact across the intersection.
PEDESTRIAN ISLANDS
PARC ran into some opposition to a simple extension of the curb line, since that would have eliminated the option to make right-turns. Curb extensions are a somewhat easier sell at intersections where the intersecting streets are both one-way in the same direction.
When neighborhood politics won't abide a turn removal, a pedestrian island can be a good fall-back option. Here are a few examples from Moyamensing Avenue where vehicle traffic left behind an undisturbed island of snow.
(Philip Green)

(Philip Green)

(Jon Geeting)
Below is a version of the 12th and Morris plan that leaves the right-turning option intact, while filling some of the unnecessary space with a pedestrian refuge island.
PARC is looking to install new concrete in the first round, but neighborhood groups will probably want to look toward the cheaper University City and Austin examples to increase the likelihood of getting interim changes on the street quickly, while more expensive longer-term changes are considered.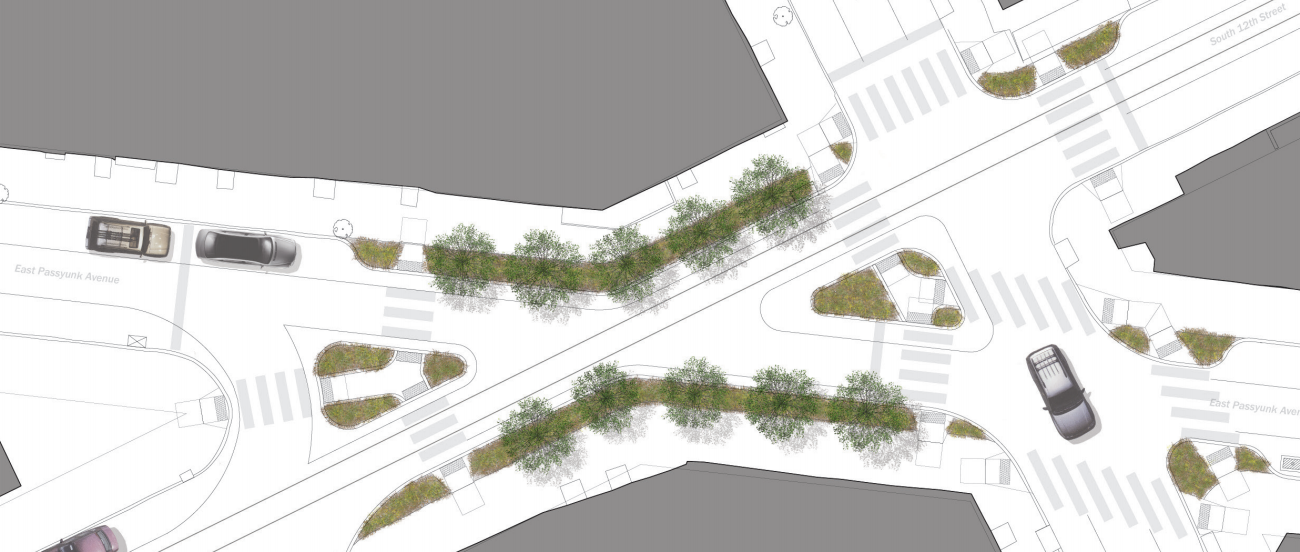 WHYY is your source for fact-based, in-depth journalism and information. As a nonprofit organization, we rely on financial support from readers like you. Please give today.