After latest fiery accident at Delaware refinery, residents say they're content to co-exist
Listen
1:20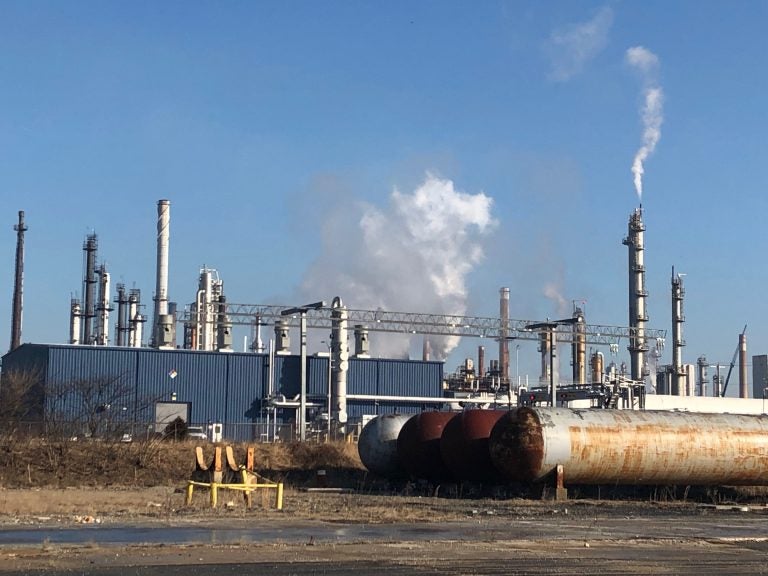 The fire that raged most of Sunday at the oil refinery near Delaware City was the latest major industrial accident at the 63-year-old plant by the edge of the Delaware River.
No workers were injured, though state officials said one firefighter suffered an injury unrelated to the blaze. While investigators from the plant and the state Department of Natural Resources and Environmental Control try to determine the cause of the blaze in the crude-oil unit, regulators stressed that air emissions did not reach unhealthy levels.
The fire was extinguished by 1 a.m. Monday. By 9 a.m., white smoke was pouring from the stacks as the business of refining crude oil went on.
Meanwhile, some of Delaware's City's 1,800 residents said they accept the risks of co-existing with a combustible industry.
Ashley Lubach reflected on Sunday's fire and living in a refinery's shadow while she pumped gas into her Subaru at the Valero station. She pointed out that a nuclear power plant also operates across the river in New Jersey.
"I was just getting back from the gym and I got out of my car and I looked up in the sky and there was a big ball of smoke,'' she said. "I called my husband, and he told me to grab my grandmother and a gas mask and run."
Asked if she donned the breathing protection and fled, Lubach said, "No, I was just hoping it would be OK."
The refinery has had fatal accidents in the past, and it's been fined hundreds of thousands of dollars for pollution violations. In October, three workers were hospitalized with burns, one in critical condition.
That history, as well as living in a town where the air sometimes smells like sulfur, often occupies her mind, said Lubach, who cuts hair for a living. Her husband, who works for a waste hauler, grew up in Delaware City.
"We're always worried about pollution and cancer. I feel like a lot of people get cancer around here,'' she said. "We have iodine pills just in case. We have gas masks. We have a little water supply. It's a little apocalyptic if you think about it. We're always ready to run."
Looking at the positives
Lubach said she loves Delaware City, refinery and all.
"It's like a small-town feel,'' she said. "There's only one stoplight, and the town cop waves at you every day. There's a bunch of restaurants. It's really nice to ride your bikes in the summertime, go bar hopping and listen to music."
Mishna Costango, a receptionist at the Pampered Pets salon along the water, said she understands the risks.
"It's a refinery and a dangerous place,'' she said while a co-worker ran a blowdryer over a poodle's coat.  "You know, people are people. They have accidents. People make snap decisions, and it's not the right one sometimes.
"If you live here, you know what happens. You just hope, since I know some people who work there, that nobody is getting hurt," she said. "I can move if I was that worried about it."
Some area residents said Monday they were unaware that a unit was ablaze most of the previous day and evening.
"I was taking a nap and missed the whole thing,'' one woman said. She later acknowledged she did look outside when she awoke and "saw black smoke, but that was it. It didn't smell funny."
Two brothers with identical long white beards who identified themselves only as Kool and Breeze said they were so exhausted from working a construction job in the morning that they were oblivious to the fire. They live in Port Penn, across the Reedy Point Bridge.
"We didn't even hear about it,'' Kool said. "I have no idea what happened yesterday."
He said he didn't mind living near the refinery "besides the smell sometimes."
Breeze agrees, but said he has chronic obstructive pulmonary disease and "has a hard time breathing sometimes when the air is real heavy."
Investigation continues
At the plant Monday, spokeswoman Lisa Lindsey said that "a thorough investigation" was underway by the refinery's latest owners, PBF Energy, which bought the plant in 2010.
Department of Natural Resources and Environmental Control Secretary Shawn Garvin said Monday that his investigators will take the information provided by the plant and conduct their own inquiry.
On Sunday, regulators conducted air monitoring and determined that "we were getting non-detect,'' Garvin said. "That doesn't mean that people weren't smelling odors, but we weren't getting anything at the levels that were an issue for the surrounding community."
"Our role moving forward will be investigating what happened and then taking whatever appropriate follow [is appropriate,]" he said.