The accused predator club: Moore puts the squeeze on Trump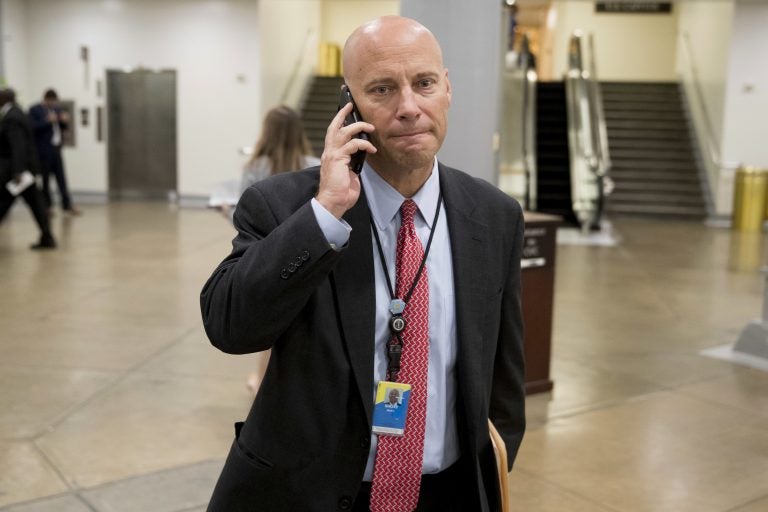 None of us would want Marc Short's job. Imagine working for Donald Trump, a credibly accused sexual predator, and being tasked with going on national TV to talk about Roy Moore, a credibly accused sexual predator.
On ABC News yesterday, Short was repeatedly asked whether Trump believed the women who say from personal experience that Moore, the GOP's Alabama Senate candidate, is a serial harasser. But Short had quite a dilemma. How could he possibly say that Trump supports the credibility of Moore's nine accusers, given that Trump has attacked the credibility of his own 16 accusers?
If the sickening Moore story has any upside, it's the fact that his scandal has put the spotlight back on Trump. One year ago, in the home stretch of the presidential campaign, women came forward to describe some of the worst moments in their lives. Cassandra Searles, a former Miss Washington, said that Trump "continually grabbed my ass and invited me to his hotel room." Jessica Leeds said that, while sitting next to Trump on a plane, he grabbed her breasts, tried to put his hand up her skirt, "he was like an octopus." Natasha Stoynoff said he pushed her into a room "and within seconds he was pushing me against the wall and forcing his tongue down my throat." Summer Zervos said he "thrusted his genitals" against her. And so on.
Trump's response, at a rally: "Every woman lied when they came forward to hurt my campaign. Total fabrication. The events never happened. Never. All of these liars will be sued after the election." (As I wrote last October, his threats to sue were "just empty bluster form a cornered animal." He never sued.)
Then the whole scandal magically went away, partially because it was trumped by so many others, partially because a pivotal percentage of voters didn't seem to care, partially because his Electoral College win cleansed American memories. But today, it's a fresh source of discomfort for the most unpopular first-year president in polling history – as evidenced by Marc Short's gig on the hot seat.
Is it even remotely possible for Trump to signal that he believes female accusers? Given his amoral track record, how can he take the high road on a moral issue? Let's watch his surrogate squirm.
Host George Stephanopoulos, citing Moore's accusers, asked Short: "Does the president believe them?"
Short: "It's best for the people of Alabama, that all the information is front of them, for them to make the decision."
Q (second try): "But I'm asking for the position of the president…Does the president have any reason to doubt these young women who are making the allegations?"
Short: "We have serious concerns about the allegations that have been made. But we also believe that all of this information is out there for the people of Alabama…The people of Alabama know best what to do."
Q (third try): "I'm asking you a direct question…You work for the president. Does the president believe the women or not?"
Short: "He has concerns about the accusations, but he is also concerned that these accusations are 38 years old. Roy Moore has been in public service for decades, and the accusations did not arise until a month before election…As I've said, we think it's best for the people of Alabama to make the decision."
Q (fourth try): "So, you're not willing to make a yes or no judgment on whether the president believes the women?"
Short: "I think I have answered your question three times now."
Q: "No. I think what you have said is, you have questions and concerns about the allegations."
Short: "We do…The people of Alabama will have a lot of wisdom in making the right decision (in the special election on) December 12."
Q (fifth try): "And the right decision is?"
Short: "The right decision will be what the people of Alabama decide."
Q (sixth try): "I know you think you have answered the question. And I understand that you're in a difficult position right here, but it's a very simple yes or no. Does the president believe that Roy Moore should be the next senator from the state of Alabama?"
Short: "The president, I think, has made his perspective very clear…He is going to let the people of Alabama decide."
Q (seventh try): "But he's willing to speak out on races all across the country. He's willing to endorse members of Congress. He's willing to endorse Senate candidates. Is he doing that here or not?"
Short: "You should certainly be able to infer by the fact that he has not gone down to support Roy Moore his discomfort in doing so."
Q (eighth try): "So he doesn't support Roy Moore?"
Short: "The people of Alabama will make the decision, not the president…We also believe that these allegations are arising 38 years after the date, and Roy Moore has the opportunity to tell the people of Alabama his innocence."
Q (ninth and final try): "But again, if dating a 14-year-old…is disqualifying, it comes down to a simple matter of whether or not you believe the women who made that allegation or not."
Short: "And right here, sitting here 40 years after the fact, I cannot have any more information to tell you one way or the other."
Stephanopoulos then said, "OK, we're going to have to move on."
Regarding Trump and his accusers, let's hope we don't.