Delaware AG Denn's plan to fight 'human tragedy' of opioid epidemic
Listen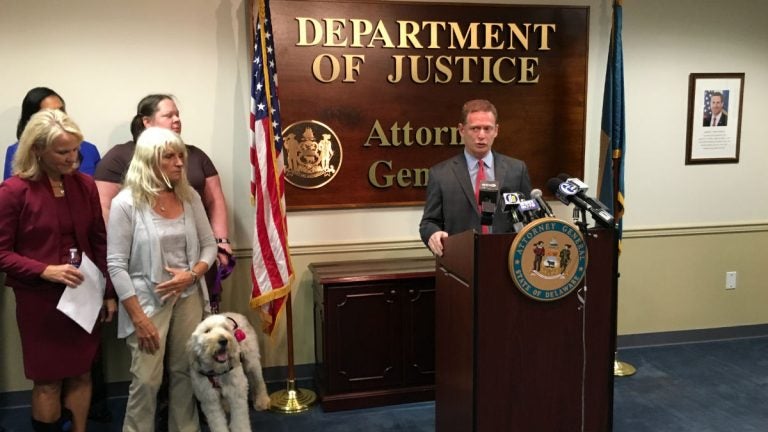 Delaware has one of the highest rates of drug overdoses in the nation. State Attorney General Matt Denn says it's time to make the fight against substance abuse a priority.
In 2016, 308 Delawareans died from overdose. Nearly half of those deaths were connected to heroin laced with fentanyl. The First State saw the second biggest increase in overdose deaths in 2016, and Delaware had the highest rate of fentanyl related overdose cases among all states reporting those numbers to the Centers for Disease Control.
"This epidemic is a human tragedy, a public health crisis, and a disaster for the criminal justice system," Denn said.
Denn's office released a report calling for lawmakers to use $4 million of state funds to expand the availability of treatment facilities that offer residential and outpatient treatment.
"There are 11,000 people in Delaware who need treatment for an opioid use disorder, about 6,000 people are getting treatment, so, we're treating just over half of the people who need treatment."
Other recommendations include encouraging insurance companies to cover alternative pain treatments other instead of just opioids. The report also calls for the creation of a 'recovery high school' for Delaware students fighting substance abuse. That's an idea backed by Don Keister of the group "Attack Addiction. Keister's son Tyler died from an overdose in 2012.
"I'm not a doctor, I'm not a lawyer, I'm just a dad who hasn't had a whole lot of experience, but I am an educator, and I can tell you that is something that's needed here in this state," Keister said. Keister, who is headmaster at a Caravel Academy in Bear, said he's got a business plan for a recovery high school and hopes to get support from state leaders to get it off the ground soon.
Denn's plan also calls for evaluating involuntary treatment for those people for whom other efforts at treatment have been unsuccessful. By the end of the year, the state Department of Justice will suggest regulations to help those who might only be helped by force.
While advocates say there has been much progress in the state in recent years, the increasing overdose deaths shows there is still a long way to go. "A lot of this is trying to build on what we've done, but it's also in the context of the death rate having increased notwithstanding all these efforts that we've been making."