A home-grown 'Messiah' sing-along marks 50 years in Philly
Listen
3:23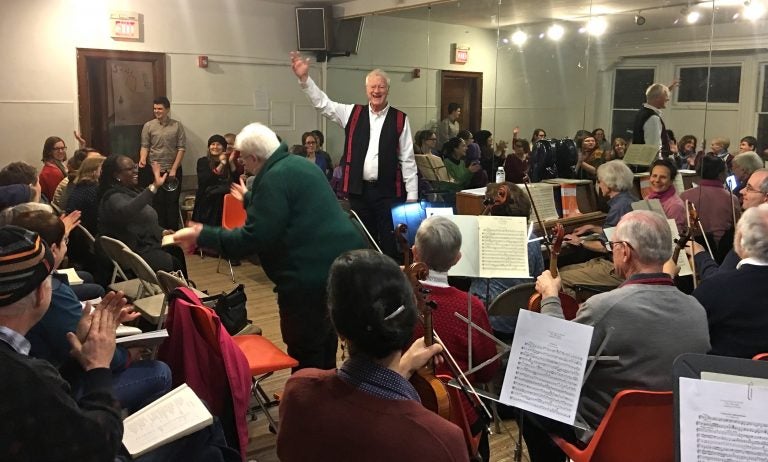 A beloved part of the holiday soundtrack is the "Messiah" sing-along.
Throughout the Philadelphia region, classical music groups and churches will be offering the opportunity to join in the singing of George Frideric Handel's iconic oratorio. Written in 1741, it's a massive work for orchestra, choir, and soloists, using texts from the King James Bible to tell the story of Jesus' life.
Fifty years ago in Philadelphia's Powelton Village neighborhood, George Lakey and his violinist neighbor thought it would be fun to spend an evening singing "Messiah" at home with a few friends.
"I'd been used to going to 'Messiah' sing-alongs downtown at the Academy of Music," he recalled. "We were surprised at how many people came, so we just kept it going, and as more people heard about it, they just kept coming."
As the event grew over the years, it moved to Lakey's next, larger home in Cedar Park, and then to the University City Arts League. This year, it takes place in Center City for the first time, at the meetinghouse at Friends Center on Cherry Street.
Lakey now co-hosts the event with his daughter Ingrid.
"I don't remember a time when there wasn't, leading up to Christmas, a 'Messiah' sing-in," she said. "When I was really little, I would come and sit on someone's lap for a few elements and then I'd go off and play upstairs. Then I started learning the music, and then taking on the role of host and welcoming people in."
The event, which draws a mix of professional musicians, amateur players, and music lovers, is resolutely informal.  It reminds George Lakey of his German heritage, where "hausmusik," making music at home, remains a popular tradition.
"I'm proud that we've been able to keep it informal even though it's grown so much," he said. "Some of the sections of 'Messiah' are ridiculously hard, and we'll get lost and stop and have a good laugh and then start at the beginning again."
But that good-natured approach doesn't mean they're just fooling around with the music. "We do the entire 'Messiah,' not just the Christmas section. Sometimes we do parts of it twice," noted the younger Lakey.
Keeping it informal means no rehearsals, and no planning the instrumentation beforehand.
"A lot of the fun of it is people trying different things, like the clarinet player who gets to play the trumpet part if a trumpet player doesn't show up," said George Lakey. One year, it was played on kazoo.
"It's very much, go with what you've got," Ingrid Lakey said with a laugh.
She credits the success of the singalong to the support the participants offer to each other.
"There's something really powerful about looking to each other as resources, rather than competition," she said. "It's a great thing to say, 'Oh, in the soprano section, I can tell that person really knows their part, I'm going to go sit with them so that I can really learn this.'
"I think it's something we're desperate for, to find ways to be in community with each other. It's about showing up as you are, and in our society there's not a lot of places where you can do that."
Over the next several weeks, there will be Messiah sing-alongs all over the Delaware Valley. The 50th anniversary of the Lakeys' sing-along takes place on Dec. 7 at the Friends Center, at 15th and Cherry streets in Center City.
WHYY is your source for fact-based, in-depth journalism and information. As a nonprofit organization, we rely on financial support from readers like you. Please give today.