CDAG's stand: form over function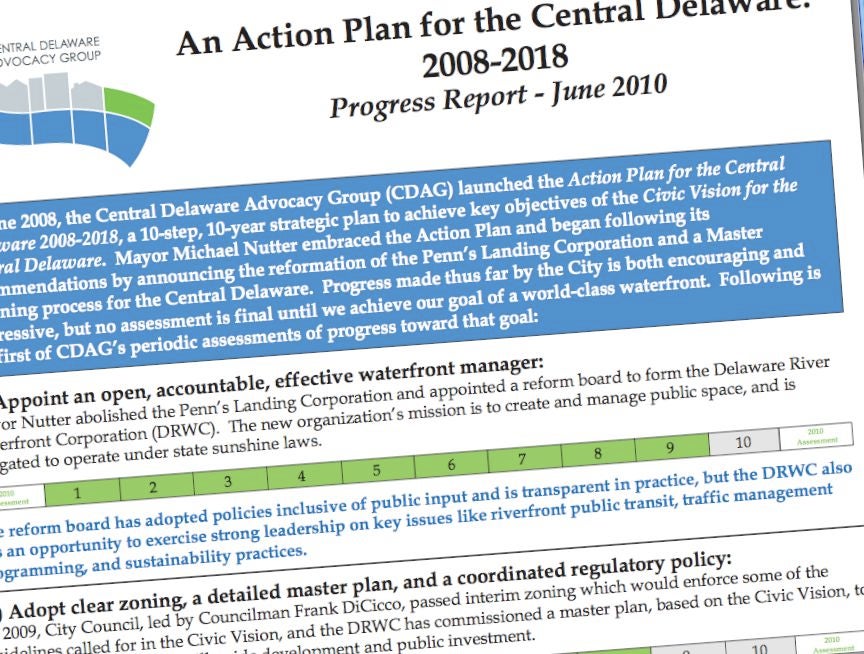 Sept. 10
By Kellie Patrick Gates
For PlanPhilly
Members of the Central Delaware Advocacy Group spent much of their Thursday meeting talking about how they should respond to the Pennsylvania Gaming Control Board's decision to send Foxwoods Casino back to the South Philadelphia riverfront.
Saying that board members needed to feel free to "vent" and also needed to strategize, CDAG Chairman Steven Weixler closed the meeting to the public and press. PlanPhilly talked to him and several other members later in the day.
In short, CDAG – an organization of representatives from waterfront civic associations and neighborhood groups that exists to lobby for the Civic Vision for the Central Delaware – will not tackle the issue of whether a casino is an appropriate use for the waterfront. They are focusing their lobbying efforts on form, not function. But the current form – the Plan of Development for which Foxwoods already has city approvals and the scenario the state Gaming Control Board told them to stick closely to – does not fit the Vision, said Weixler, who represents Society Hill. And CDAG will be taking that message to elected officials, the Delaware River Waterfront Corporation, the city planning commission and the gaming control board.
"The scale of the structure, the lack of animation along Columbus Boulevard, the way (the originally proposed structure) turned its back on the city and disregarded the street grid were serious flaws," Weixler said. The traffic that would be created by having both Foxwoods and SugarHouse on the waterfront is a major concern, he said, and Foxwoods' proposed fix – to widen part of Columbus Boulevard – would only serve to make the riverfront more auto-centric. The Civic Vision calls for decreasing car dependency in the area, and making it more bicycle and pedestrian friendly.
Foxwoods' gaming license is for the Columbus Boulevard and Reed Street location. Under pressure from elected officials, Foxwoods agreed to look at other locations, and eventually chose the former Strawbridge site on Market Street. Mayor Michael Nutter and other elected officials, along with city planners, liked this idea much better than the waterfront. While community opposition remained, the officials said Foxwoods at Strawbridge's would take advantage of nearby public transportation, entice out-of-town visitors to frequent the Convention Center and Center City Hotels, and would help renew Market East.
Foxwoods asked The Pennsylvania Gaming Control Board for a license extension. While the casino concern never officially asked for a relocation, PGCB members knew of the work to that end with the city. Included in the PGCB's order was the clear direction that Foxwoods should build at the waterfront site, and that it should bring forward a plan of development that was very similar to what was already approved.
CDAG will lobby the gaming control board to consider the Civic Vision – a blueprint for future waterfront development developed by PennPraxis after more than a year of public input – when it considers Foxwoods' new proposal, Weixler said. And the group will ask the Planning Commission to do the same, explaining to the board that the project, at least as proposed, does not fit into Philadelphia's urban fabric.
"If the gaming control board is going to engage in urban planning, it ought to be good urban planning. It ought to be logical, and it ought to be considerate of the environment the project is in," Weixler said, alluding to the fact that it was the board, not the city, that had approval over where Philadelphia's two casinos will be located.
CDAG member Joe Schiavo, who represents Old City, said that CDAG is "not assuming a radical position … the decision we made today was to create a statement that makes it clear that what we support are the principles included in the Civic Vision for the Central Delaware, and this doesn't fit. I agree with that position."
In fact, Schiavo said he could not have ethically supported CDAG lobbying that Foxwoods should be moved from the waterfront, because CDAG did not take such a position with SugarHouse – the casino slated for Delaware Avenue in Fishtown.
Schiavo said he has urged Old City Civic to take an official position on casinos, but it has not. It is clear that Old City is extremely concerned about the traffic that Foxwoods would bring to Columbus Boulevard, Schiavo said.
Old City residents use Delaware Ave./Columbus Boulevard to commute to Lowe's, Home Depot, Shop-Rite and other stores, he said. "We all experience a very slow drive," Schiavo said. "Those resources will no longer be practical to visit once Delaware Avenue is hosting the volume of traffic SugarHouse and Foxwoods will draw."
CDAG will be taking another look at the Foxwoods traffic studies – and a study commissioned by PennPraxis that said Foxwoods' analysis was flawed, Schiavo said.
While Schiavo said he couldn't support CDAG advocating for a new Foxwoods location, he by no means thinks it's too late for the casino to move.
"Why would it be too late? It's not as if they have a shovel in the ground. It's not even as if they have completely developed architectural drawings (for the original designs). They only have concept drawings."
Foxwoods should be talking to the gaming control board about a new location because of the traffic situation, Schiavo said. And those who want a casino might want to consider lobbying for a move. "If you're a casino advocate, you have to look at what this really means," he said. "Can this project generate the revenue the state and city want from it at this particular place?"
Foxwoods officials have said they are focused only on the riverfront location because that's what the gaming control board told them to do. Schiavo said the PGCB can't be blamed for that stance, considering Foxwoods never really explained the benefits of moving to them.
While CDAG will focus its lobbying efforts on form, not function, some of the organizations its members represent will be going further.
CDAG member Jeff Rush is also president of the Queen Village Neighbors Association. Preparing for a Thursday night meeting at which Foxwoods was to be a big topic of discussion, Rush said he's far from convinced that Foxwoods will meet the list of conditions and deadlines the PGCB attached to its two-year license extension.
"One option would be that they lose their license," he said. "If that happens, the siting selection process would go back to square one." Queen Village Civic will be lobbying elected state officials to reform the site selection process "so that a site could be found that potentially wasn't so onerous," Rush said.
Contact the reporter at kelliespatrick@gmail.com
WHYY is your source for fact-based, in-depth journalism and information. As a nonprofit organization, we rely on financial support from readers like you. Please give today.