Obama as planner sustains FDR parallel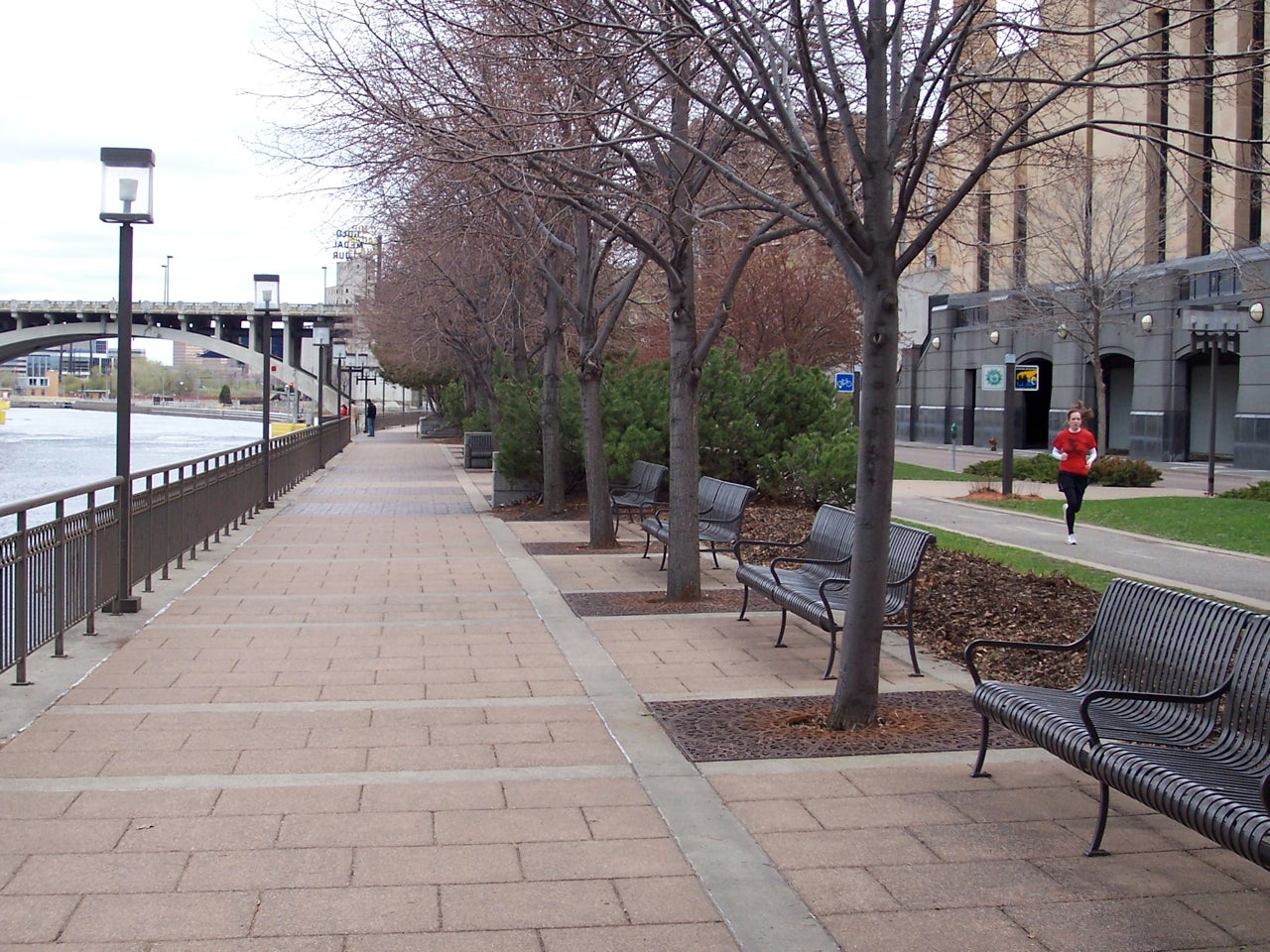 May 4, 2009
Previous APA coverage
By Thomas J. Walsh
For PlanPhilly
MINNEAPOLIS – Barack Obama may be the first president since Theodore Roosevelt to be from a big city, but he's also the first natural planner in many decades – since TR's cousin, Franklin D. Roosevelt, occupied the White House.
That was the theme of the opening keynote address to last week's national conference of the American Planning Association, held from April 25 through 29, by Jonathan Alter, senior editor and columnist for Newsweek. Alter is also a regular cable news talking head and is the author of "The Defining Moment: FDR's 100 Days and the Triumph of Hope."
FDR designed and built nothing less than the "architecture of personal security that came out of the planning impulse," Alter said, characterized by "hope, action and self-respect" – three attributes shown immediately in his first 100 days in office.
Now that Obama's first 100 days have come and gone, how does he stack up? Alter drew parallels and distinctions in the way the two presidents were and are, in their way, planners. Obama, in additional to his well-known abilities as an organizer, is also a sort of anthropologist, Alter said, and a true writer with a certain amount of writerly detachment.
"He takes some of the sting out of politics," Alter said. The "No Drama Obama" moniker and overall ethic is for real, he added, noting words often used to describe his temperament: "consistent" (Michelle Obama), insistent (his aides) and "persistent" (Obama himself).
FDR was more of a collector of ideas Alter said, with the New Deal emerging from what he called a "seat of the pants" process. Obama "is actually much more organized and his plans more coherent."
"He's definitely a big picture guy," agreed Gary Jastrzab, assistant executive director of the Philadelphia City Planning Commission. Obama is "very level-headed and very balanced. He just comes across very deliberately, and thinking things through, and recognizing multiple sides of an issue. Those are all characteristics of planners."
Jastrzab noted that the comparison between FDR's methodology and Alter's mentions of his failed experiments, along with Obama's enormous challenges, marked a striking difference from past opening sessions at APA conferences.
"It was a pretty serious talk," he said. "Previous ones have been more lighthearted and humorous, but always somewhat politically oriented, because that's kind of the ocean that we swim in."
That ocean was much less populated than the APA convention held in Philadelphia in 2007, when the number of registrants hit roughly 6,500. This year's event, like so many around the nation, was impacted greatly by planning departments' budget cutbacks and layoffs. Close to 6,000 were originally slated to be in Minneapolis, but the head count only made it to about 4,300, organizers said.
Deals and dealing
Both Obama and FDR enjoyed playing poker, which may be a minor commonality, but Alter said it denotes a certain type of leadership. A good poker player is a step or two ahead of their competitors, planning on the fly.
"You want to be the dealer. If you've been dealt a lot of bad cards by circumstance, you want to deal your own cards faster, and that's what Obama's trying to do," Alter said. "Ralph Waldo Emerson said, 'Events are in the saddle and tend to ride mankind.' You're either riding events or letting events ride you.
"I think this is true with what you do as well," he told the conventioneers. "You're either on the receiving end" of forces within the community, or local or state governments, "or you're planning … across boundaries, taking initiative." It's the kind of thing Obama understands is more difficult than it looks, he added.
A native of Chicago, Alter said that the name Daniel Burnham "was a household word," and that his father was riding his bike to work as far back as the '60s (Obama actually quoted Burnham recently, Alter said, regarding the importance of high-speed rail). His mother, too, worked for the city. He said the current economic and political environment in the United States is "a tremendously exciting time for planning," and quoted White House Chief of Staff Rahm Emanuel's now familiar refrain that "A crisis is a terrible thing to waste."
President Franklin D. Roosevelt was "what you would call an improvisational planner," Alter said. He always had a long-term vision, was described by contemporaries as "long-headed," and "could sort of see around corners down the road." Implementation of these broad plans he left to others, but FDR was planning a run for the presidency as far back as World War I, when he was assistant secretary of the Navy, Alter said.
"He was famous for what some people would consider these hare-brained plans," such as laying tens of thousands of floating mines in the North Atlantic to counter the threat of German U-boats. It didn't happen, "but he got points for trying," Alter said.
Dress rehearsal
FDR also "fancied himself an architect" of sorts, Alter said, and with the last of his family fortune (and over the objections of his wife and mother), he purchased the "ramshackle" Meriwether Inn in Warm Springs, Ga., for the purposes of convalescing from the polio that would eventually confine him to a wheelchair. But throughout the 1920s, he was intimately involved in planning a new clinic and a new community.
"In Warm Springs, he began this concept of not just designing the buildings and the local planning of that community, but lifting people up, and giving these polio sufferers a sense of hope and opportunity."
So from an early stage, well before he was president, FDR was able to combine "his vision of what to do with a sense of compassion," Alter said. "I saw that as a dress rehearsal for what he did as president of the United States a few years later."
By 1932, the nation was experiencing 25 percent unemployment, a conservative number since jobs held – and lost – by women weren't counted in those days. Challenged by journalist Ernest Lindley, Roosevelt invited him to write a speech that articulated a plan of action. The result was a mind-set embodied in the remarks Lindley penned for the president, imploring, "We need bold, persistent experimentation."
"Working the problem," with "try" as the new watchword, set the tone of what would become the New Deal, Alter said.
Later, after visiting the Depression-addled town of Mussel Shoals, Tenn., with Sen. George Norris, a "nationally planned construction" pilot project involving soil conservation and the generation of cheap, local power was hatched: The Tennessee Valley Authority. (Another reporter, saying the TVA seemed "neither fish nor fowl" and asking the president to further define it, prompted a famous FDR quote: "Whether it is fish or fowl, it sure tastes good to the people of the Tennessee Valley.")
The TVA eventually crumbled under its own bureaucratic weight, as did other programs laden with regulation and massive price-fixing, such as the National Recovery Administration. (Famous for its symbolic blue eagle and the phrase "We do our part," the NRA even policed the operations of burlesque houses, Alter noted. The U.S. Supreme Court later deemed the NRA unconstitutional).
Challenging planners
APA President Robert Hunter kicked things off at the convention by imploring the assembled to "step up and become leaders," encouraging them, when they returned home, to not just give oral run-downs of their time at the convention, but to submit full reports to city leaders.
"Take advantage of the opportunity, locally, to show that planners are leaders," Hunter said. "Planning is more than just a process – we talk about outcomes. Oftentimes I don't think our elected officials appreciate the process," but they do wake up when it is time to view the final product.
Hunter also said the APA's new branding and marketing campaign, started three years ago and now completed, would help the organization play a bigger and higher profile role in how cities and governments go about their business in the years to come. Accompanying that will be a new, "affiliated" APA membership status for elected and appointed officials – the people to whom planners make recommendations to.
"I think what you learn at a conference like this is to get a sense of what other cities' departments are doing," said Jastrzab. "Quite a few are suffering the impacts of the economy."
Philly contingent
So far, Jastrzab said the Philadelphia planning staff has not been affected by any layoffs, a situation that could change, though, as the new fiscal year approaches in the summer.
Four other Philadelphia Planning Commission staffers joined Jastrzab at the conference, representing the agency's sub-departments: David Fecteau (community planning); Beige Berryman (urban design); Nicole Cross (strategic planning and policy); and Martine DeCamp (development planning).
(Rookie Executive Director Alan Greenberger could not attend because of a scheduling conflict – he was due to be honored at an American Institute of Architects investiture ceremony last week, at the AIA's national convention in San Francisco. Greenberger was one of 112 AIA members elevated to its prestigious College of Fellows, awarded to veteran members who have made "significant contributions to the profession" in one of five categories. Greenberger was admitted on the basis of the category which states: "Made the profession of ever-increasing service to society.")
The Minnesotans
"We have a long, rich history of planning, and that remains strong today," said Minneapolis Planning Director Barbara Sporlein. "We have strong support for planning, by the city leadership, by the neighborhoods and the broader community." She also noted a strong regional planning function, which she characterized as "very unusual."
Sporlein welcomed the gathered planners by giving a quick rundown of the city's numbers (wait for the punch line): 389,000 people, 175,000 house units, 160,000 employees downtown, 30,000 downtown residents, 1,000 miles of streets, 182 parks, 100 miles of bike paths, 81 neighborhoods, 59 square miles, 54 citizen boards and commissions, 30 theaters, 25 business associations, 22 lakes, 13 council members, eight miles of skyways, seven hospitals, three major league sports teams, "and sadly, one United States senator."
Sporlein was referring to Minnesota Sen. Amy Klobuchar, a Democrat, but the joke of course is that the state's other Senate seat is still in limbo as lawyers for Democrat Al Franken and Republican Sen. Norm Coleman battle it out. (Coleman's term expired in January, and appealed to the Minnesota Supreme Court after numerous legal setbacks, each of which declared Franken the winner.)
Sporlein's small joke came just days before Pennsylvania Sen. Arlen Specter's switch to the Democrats, which could have potentially enormous consequences for urban affairs-oriented legislative initiatives – and thus big implications for city planners. Should Franken prevail as expected, he would be the 60th Democrat in the Senate, the level where his party would not need any Republican votes to overcome a filibuster for the balance of this Senate term.
No one in the room would prefer to work with two Democratic senators more than Minneapolis Mayor R.T. Rybak, who claims to be the first mayor in America to endorse Obama. The first APA conference since Obama's administration "takes place during a period … in which, for the first time in many generations, we have an administration in Washington that gets it," Rybak said. "This most difficult time in planning is the period of time in which we will change the American community."
As someone who has studied planning and wrote about it as a journalist, he added, "I have enormous respect for the work the people in this room do every single day. The wonderful news is that … for the first time in my lifetime, and I'm 53 years old, the popular culture of America finally gets what you do. And it is the time to 'make no small plans,' to make sure that people finally recognize that … the lifestyle we have had is no longer sustainable. The old way of doing things has literally run out of gas."
Understanding planners
It is important for planners, in the course of their work, "to re-weave the urban fabric of urban America," Rybak said, and to make sure that the lifestyle that his parents enjoyed – living, working and raising a family in the heart of a city – is possible in many other communities around the nation, not just the big cities.
"I'm sure there are people who say to you, 'Your work is wonderful, appreciated, important, but we're so sorry to say that it is no longer as critical because we have to get America back to work,'" said Rybak, who is one of those politicians with the gift of being affable even while making forceful statements. "Anyone who says that to anyone in this room doesn't understand what the people in this room do, and doesn't understand that the only way out of this mess, with the economy declining and so many other issues, is to do exactly what you do."
With climate change for instance, or our dependence on foreign oil for that matter, transit planning issues are critical, so "don't let anyone make you put that in the back seat," Rybak said. True innovation – and the creation of incubators of innovation that will nurse the national economy back to health, he said – can only take place in purposefully mixed, planned communities, like in cities.
Old houses for the new world
"In the new world, where [a city like] Phoenix is trying to re-engineer itself with light rail and more people living downtown to try and become the place Philadelphia already is," cities are "are the places where we can grow economic activity without growing the energy costs, because we are so efficient," said Mark Alan Hughes, Philadelphia's director of sustainability, interviewed last week on WHYY-FM's Radio Times program.
In other words, half of the necessary planning for projects being pushed by the Obama administration is already done, Hughes said. "The per capita greenhouse gas emissions from a place like Philadelphia is less than half, about 40 percent, of what it is in the country as a whole – because of the way we already live.
"If we can continue to harvest all those rowhouses," he added, the easiest way to save 20 to 40 percent in energy costs is not by building hydrogen cars to travel the same distances. It's in attic insulation in rowhouses.
That is the kind of "spirit of renewal, of possibility, that is invigorating, and that reminds [us] of what took place during the New Deal," Alter said.
He ended his own address by quoting Obama from the inauguration: "There are some who question the scale of our ambitions – who suggest that our system cannot tolerate too many big plans.
"Their memories are short. For they have forgotten what this country has already done; what free men and women can achieve when imagination is joined to common purpose, and necessity to courage. What the cynics fail to understand is that the ground has shifted beneath them."
Contact the reporter at thomaswalsh1@gmail.com.