Working together in Toronto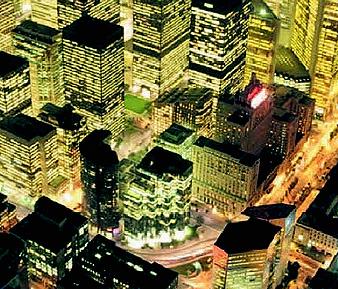 Mar. 5
By Kellie Patrick Gates
For PlanPhilly
Some of what's now done voluntarily for birds in Toronto will likely become mandatory for all new construction, starting this fall.
The city is putting together a list of guidelines that together are The Toronto Green Standard, which outlines "a new, environmentally sounder way to build," said environmental planner Kelly Snow. It's very similar to LEED, Snow said, but without the cost.
Under the Green Standard's ecology section are requirements for making developments more bird-friendly. Through fritted glass or other treatment, the windows in the first 12 meters of a building's height will have to be made visible to birds, Snow said. Twelve meters – or a bit more than 39 feet – is the average mature height of a tree, he said. "Birds tend to live right around the top of the tree canopy or below."
Toronto's planners are also working on a light pollution policy, Snow said. This would address both the issue of birds being attracted and confused by building lights and reduce energy consumption.
He wasn't certain if this policy would be something buildings had to follow, or if it would be voluntary and fostered by a public awareness campaign.
Toronto uses public awareness to convince building owners and managers to participate in the Lights Out program, Snow said. "What we have for the spring migration coming up, is we are running ads on the subway system," he said.
The ads target individuals who are headed to work in Toronto's buildings. "Our thinking is … if your awareness is raised, your colleague's awareness can be raised," he said. "We are assuming no one wants to kill the birds."
The city is working with the Toronto chapter of the Building Managers and Owners Association, or BOMA.
While Toronto's non-profit monitoring group, Fatal Light Pollution, or FLAP, has been around since 1993, the city has had a Lights Out program since 2006.
Since the beginning, Toronto BOMA has "absolutely been receptive," Snow said. "They are key. They help fund our ad campaign in the spring, and are fully behind it."
Like most business people, Snow said, BOMA members don't want too much regulation. That's why the voluntary aspect of the Lights Out program has appealed to them, he said.
The city also understands that for some buildings, going completely dark at night just isn't possible. "Our financial district is part of the global economy, and so some of these firms are up all night working," he said.
For businesses in that situation, the city suggests workers use task lighting instead of the overheads or draw the blinds.
Contact the reporter at kelliespatrick@gmail.com
WHYY is your source for fact-based, in-depth journalism and information. As a nonprofit organization, we rely on financial support from readers like you. Please give today.