Full slate for Zoning Code Commission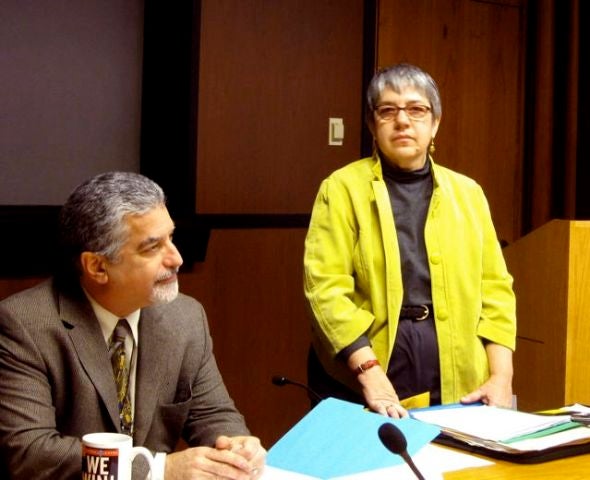 By Thomas J. Walsh
For PlanPhilly
The Zoning Code Commission started 2009 with an in-depth monthly meeting Wednesday, and commissioners were brought up to speed on progress being made by the team of consultants hired for the multi-year code reform project.
New Executive Director Eva Gladstein said that she had attended several of the code user interviews and was looking forward to the first of 10 community meetings, to be held Wednesday evening for the 7th councilmatic district. She said she's been working with some of the commissioners to observe how they've been operating in terms of voting, attendance and interaction with the media.
"We're going to start to get exciting and substantive reports from the consultants," Gladstein said. Concluding her remarks, she added, "I've been loving the job, so thank you all." Gladstein was officially hired into her position in December after a career working in various other urban initiatives and positions with the city.
Commissioner and land use attorney Peter Kelsen introduced the formation of a Civic Engagement Committee, soliciting volunteers from the ZCC and suggesting that members of the committee attend at least five of the 10 community input meetings.
ZCC Chairman and Planning Commission Executive Director Alan Greenberger explained that while the existing Work Plan Committee reports on internal processes, the new group would be reporting on external matters and how the public is responding to the zoning reform efforts. Several commissioners expressed support for the idea, and a motion was passed to create the new Civic Engagement Committee.
Speeding up the ZBA backlog
The Planning Commission's head of development, Bill Kramer, briefed the ZCC on the new "consent calendar," in which minor requests to be considered by the Zoning Board of Adjustment – such as roof decks, signage, certain changes to comply with the Americans with Disabilities Act or even cell phone towers – are filtered on to one list. The list would then in theory be approved in one large block, thus saving much time and helping to clear the ZBA's big backlog of cases.
Items for the ZBA consent calendar would be added by the city's Department of Licenses & Inspections upon recommendation by the Planning Commission. They would only be requests that raise not a single protest from neighbors or the city – if anyone raises an issue about a particular site, the request would be pulled off the consent calendar and heard separately.
"This is an experiment," said Greenberger, adding that it was created with Susan Jaffe, chairwoman of the ZBA. But Jaffe, who also sits on the ZCC, said that while it was true that she had significant input into the concept, she was surprised that it was getting an airing at Wednesday's meeting.
"This is the first I'm hearing of the list," Jaffe said, expressing additional concern that cell phone towers were included, since they often spark protests.
L&I Commissioner Frances Burns said she regretted any miscommunications between the agencies, but that the effort behind the consent calendar was off to strong start.
Zoning attorney Richard Demarco suggested creating language for the consent calendar in consultation with the city's law department, as one pitfall of the measure is that aggrieved parties could claim that a zoning change was rushed through the process, or pre-determined. "That doesn't benefit anybody if it comes back on appeal," he said.
After other concerns were expressed by ZCC members Wendella Fox, Greg Pastore, Andy Toy, Natalia Olson de Savyckyj and Councilman Bill Green, Greenberger suggested suspending the discussion of the consent calendar for the time being. "This is a start," Jaffe added. "If it isn't working, we'll change it."
Code evaluation report
Kirk Bishop, from Duncan Associates – one of the four consulting companies involved with the code overhaul – gave the commissioners some preliminary findings and observations, and said things were proceeding apace. One conclusion that gathered a solid laugh: "The ordinance is difficult to use."
"We can confirm," Bishop said, that the zoning code is difficult to navigate and understand, with few cross-references or pointers to other important information, and that the "organizational approach is not intuitive."
This, of course, is why the consultants are here, but it was pretty embarrassing nonetheless to hear from an out-of-towner that the code "could benefit from a standard table of contents and a detailed index," and that the current page format and numbering "does not aid comprehension."
Bishop said Philadelphia's 55 base zoning districts and roughly 30 "special districts" were confusing enough, but that there are even sub-areas of control within those districts. He said consolidation is a possibility in certain overlapping districts.
Other problems from the evaluation that don't necessarily come as a surprise to code users:
• An inconsistent handling of design issues
• Regulations that don't address the interplay between private development and the public realm (outside certain Center City locations and some special districts)
• Uncodified rules and guidelines that do not include specifics like Planning Commission policies or L&I interpretations
• An over-regulation of common-use zoning, resulting in a "staggering number of cases" for the ZBA
• The city's heavy reliance on discretionary review of zoning for community use projects and minor improvements
• The use of variances as a "development review / guidance technique"
"I'm just scratching the surface," Bishop said.
Greenberger suggested devoting the next monthly meeting – scheduled for Feb. 11 – to address these broad concerns and possible solutions.
Code users, community outreach
Tracy Tackett of the consulting firm CHPlanning said that 20 code user interviews have been done and that about 100 people have been interviewed.
"There's a lot of talk about process and procedures," she reported. "The process needs to be more predictable."
Beverly Harper of Portfolio Associates said that five of the 10 community outreach meetings to come have been confirmed.
ON THE WEB:
www.zoningmatters.org
WHYY is your source for fact-based, in-depth journalism and information. As a nonprofit organization, we rely on financial support from readers like you. Please give today.