Challenge of creating an urban supermarket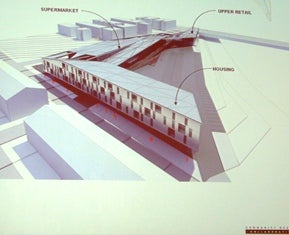 Oct. 27
Previous coverage:
By Kellie Patrick Gates
For PlanPhilly
Community leaders in one Philadelphia fresh food desert say they have made significant progress toward building an oasis.
Angel Coleman, acting executive director of the Girard Coalition, recently took a representative from a company that finds locations for independent supermarket operators on a tour of the prospective site at 31st Street and Girard Avenue site and the neighborhoods that a supermarket built there would serve – Brewerytown, Strawberry Mansion, Fairmount and others.
That part of the city has a mixture of household incomes, but many residents are poor and have no cars. There are small corner stores that offer dry goods and convenience foods, but since the last supermarket closed more than a decade ago, the only place to get fresh produce has been in some other neighborhood.
The lack of a grocery store also concerned the Westrum Development Company, which owns the site at 31st and Girard. Westrum has a nearby townhouse development, Brewerytown Square, and a supermarket would not only help current residents, but would make this part of the city, and the Westrum development, more attractive to new-comers. So Westrum joined forces with the group of community leaders, who call themselves the West Girard Supermarket Coalition.
Coleman would not identify the independent market firm, which she said is now in negotiations with Westrum. Nor would she identify the supermarket operator she met with nor the developers who've called to express interest in the site, whom she also refers to Westrum. Coleman said she won't name any names until there's a concrete deal, but she cannot hide her hopeful enthusiasm.
"It's looking promising," Coleman said.
Yet all involved in the effort know that much work and many challenges remain, many central to the physical traits of the proposed location: It's a 2.8 acre, triangular site. There's very little frontage on the busiest street. And it has a steep slope.
"If you don't have higher incomes, and you are missing the large footprint they are looking for, you're really in trouble," Coleman said.
That's just the kind of design challenge that the Community Design Collaborative's Infill Philadelphia was looking for. Food access was the topic for the annual collaboration this year, and the Westrum site was among the three projects chosen. Westrum's Jamie Lindsay, a land acquisition analyst, and Coleman worked with designers from Interface Studio Architects to create a conceptual design for a 35,000 square-foot supermarket. The goal was not to wind up with the final blueprints, but rather with something that would convince a supermarket operator that a profitable market could be built on the small, irregularly shaped parcel in Brewerytown.
Through the Infill project, supermarket experts were made available to the design teams, both as consultants during the process and as jurors to critique the designs.
One juror – Brown's Family ShopRite President Jeff Brown – said that some entrepreneur might find a way to operate a profitable grocery store at the site. But its small, irregular size, limited Girard Avenue frontage, and difficult access for delivery vehicles, among other factors, make it incompatible with the business models of stores operating in the area today, he said.
Yet, one consulting expert is the representative of the independent supermarket operators who recently went on that tour with Coleman. It was during the consulting that the company fell in love with the design, she said.
"To know that they are interested not just in our site but in the design, that's just delicious," Coleman said.
Design Collaborative program associate Carryn Golden welcomed the news that the site has generated interest. But she was also cautious: "While we're very pleased to hear that discussions for the Girard Avenue supermarket project are advancing, we know from past experience, that this will likely be a long and complex process," she said.
Brown's Family ShopRite president Jeff Brown was familiar with the site even before he studied it and the design as an Infill juror. His company wants to build a store in the area, and management looked at the site, but rejected it.
"I think North Philly needs a grocery store, and should have one, somewhere. But not this site," he said. "We have a lot of stores in underserved areas, and we can make it work. But this site has too much, physically, going against it."
The site is really best suited for walkers and bikers, he said. There isn't room for enough parking, even considering that many residents don't drive.
Operators will want frontage on Girard Avenue, he said. "You could have a sign on Girard Avenue, but stores do the best when you can see the store from the main road." It would also be difficult to get delivery trucks onto the site, Brown said.
A smaller grocery store might work, something like a no-frills bargain-priced store with limited selection or a high-end, organic market. But the community coalition and Westrum want a store that occupies the middle ground between basic and swank.
There is a lot of diversity among the population the supermarket would serve, Westrum's Lindsay said. People of various financial means and different ethnicities would be customers, and she wants the supermarket to reflect that – both in the terms of the prices it charges and what type of foods it would carry.
Brian Phillips, principal architect with Interface Studios, said Brown told the group that most supermarket operators want the front door to face both the main thoroughfare and the parking lot. They also want just one entry point, which helps with both store flow and security.
Phillips said it didn't make sense to have the parking lot facing Girard Avenue – urban design calls for buildings to meet the street. The frontage on Girard is also small.
A parking lot for 120 cars is instead in the back, along the railroad tracks and hidden from the street. The entry faces that lot. There is also a large pedestrian walkway that connects the site to the neighborhoods and to Brewerytown Square – the Westrum Development.
In addition to the size and shape of the site, the 23-foot grade change also presented a design challenge, Phillips said. Under normal circumstances, the grocery would be at street level on Girard. But instead, shoppers would see some smaller retail establishments – things like a coffee shop and a drycleaner. The Supermarket frontage is on 31st Street. But, Phillips said, it will be obvious from the signage and name of the development – it's called Market 31 – that a supermarket is the anchor of the mixed-use development.
"There was no way to get a front entry off of Girard. You could force something onto the site, but if you did, it would compromise everything but the grocery store. We are deferring to neighborhood, to good urban building," Phillips said.
His firm worked on – and eventually did the builder's plans for – a residential development that was part of an earlier Infill project in 2005. Phillips hopes to do the same with this project.
Some design elements could and would likely be changed to meet the specific needs of the supermarket operator, Phillips said.
That makes sense to Westrum's Lindsay. "We'll make adjustments once we have an operator," she said.
Brown said he likes the design. (So does the Philadelphia chapter of the American Institute of Architects, which gave it an award earlier this month.) The concept is interesting and tackles the problems of the site, as much as is possible, he said. And while he knows of no grocery store in existence in Philadelphia that he thinks could successfully operate there and meet the community's needs, an entrepreneur with different ideas might be willing to give it a try.
An independent operator or entrepreneur is the site's best hope, said Don Hinkle-Brown, who manages the Pennsylvania Fresh Food Financing Initiative, one of the partners in the Infill project. (The Fresh Food Financing Initiative, a program of the state's Department of Community and Economic Development, was created by Rep. Dwight Evans.) Hinkle-Brown is also president of The Reinvestment Fund, one of the organizations that manage the Financing Initiative. His agencies provide funding to projects that most banks wouldn't touch, in the form of low-interest loans, grants, and assistance with federal programs. Through that effort, 61 new stores have opened in underserved places.
Jeff Brown, of Shopright, is absolutely right that the site is awkward, and that there is no supermarket operating anywhere like it in Philadelphia, he said.
But there are smaller-foot print stores in other U.S. cities, like New York and Washington, he said. Some have multiple stories. Some are in basements. Some have special, smaller carts, because the usual variety wouldn't fit.
And this sort of thing is de rigueur in Europe.
"If this were Switzerland, it would have been built yesterday," he said of the proposed store. "European urban environments have figured out how to do smaller spaces. In a lot of America, we still allow the car to dominate. And even in urban environments, we want big rectangles."

Hinkle-Brown believes an operator could be found. There are grocers in New York who want to bring their smaller-scale model here, he said. And if a store did open on the site and become successful, it would offer a new model for other high-density neighborhoods, he said.
And Infill's design is so interesting, Hinkle-Brown said, that people from other neighborhoods might choose to shop there just to see it.
But Hinkle-Brown said it is important to focus efforts on bringing a store to the underserved neighborhoods, whether or not it is with this design and at this site.
"I don't believe it's appropriate to get too many hopes up about 1 piece of dirt," he said.
The interest is a good sign, but there's still a long way to go before an operator signs on, negotiates an agreement of some sort with Westrum, and gets financing and the necessary approvals to build.
Adam Lang, a board member of the Brewerytown Sharswood Neighborhood Association and its representative to the Supermarket Coalition, agrees that the specific site doesn't matter. "The important thing is having a grocery store in the neighborhood."
The area's last full service market was located at 27th and Girard. And that's another site the community has its eyes on. Hinkle-Brown does, too. "If we end up having somebody say, 'I want 27 and Girard,' we'll be all over that," he said.
Coleman said she talks to developers about that site, too.
But Lang has talked to the owners of the former supermarket site about bringing a new supermarket there, and they are just not interested, he said.
That doesn't surprise Hinkle-Brown, who noted that grocery stores usually pay relatively low rents. But there's always room for negotiation, he said.
There's also an effort to start a food co-op in the community. The 31st and Girard project would be eligible for Fresh Food Financing Initiative, since all three of this year's Infill Philadelphia projects were selected based on eligibility. And Hinkle-Brown said a co-op – so long as it wasn't just members-only who could shop there, could be, as well.
Lang said it's not just the interest in the Infill design that makes him feel like the Supermarket Coalition is closer to success than it's ever been.
In March, he organized a candidates' forum for the Coalition, and all pledged to find money for the Supermarket project. Other elected officials made similar promises at a recent Brewerytown Civic Association meeting, he said.
Meanwhile, for at least part of the year, there is some fresh-food relief for the West Girard neighborhoods. The West Girard Community Council began running a weekly farmers' market several years ago. Its success underlines the community's demand for fresh produce, Coleman said, and demand outpaces supply.
Contact the reporter at kelliespatrick@gmail.com
WHYY is your source for fact-based, in-depth journalism and information. As a nonprofit organization, we rely on financial support from readers like you. Please give today.