PREIT's piece of Foxwood's plan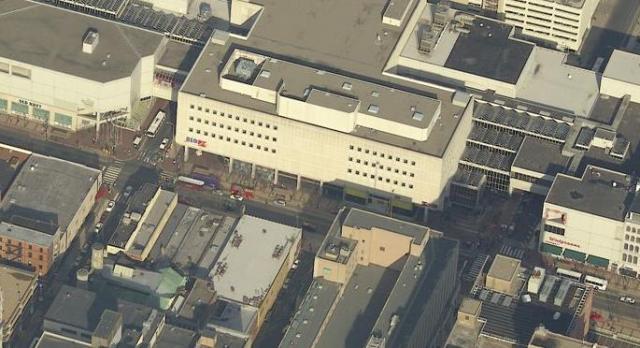 Oct. 2
By Kellie Patrick Gates
For PlanPhilly

More than a year before Foxwoods Casino officials began examining a possible move to The Gallery at Market East, The Pennsylvania Real Estate Investment Trust, commonly known as PREIT, was working on a plan to revamp that property.
Now PREIT is revising those plans to accommodate a casino, Joseph Coradino, President of PREIT Services, LLC and PREIT-RUBIN, Inc., said in a brief interview while he headed to Wednesday's Phillies game.
He thinks the proposed casino and other changes to The Gallery would dramatically improve the Market East corridor – the same, so-far-elusive goal that city and state officials talked about last month when they announced that Foxwoods was investigating a move from its proposed waterfront location to The Gallery.
"Market East is kind of the last frontier," said Coradino, who holds a masters in urban planning and finance from the University of Arizona and did his undergraduate work at Temple in urban studies. "Even North Broad Street has experienced more of a positive economic growth than Market East."
Andy Altman, Philadelphia's deputy mayor for commerce and planning, said he also would want to take a holistic view of the casino project, a revamped Gallery, and what could be done to transform that part of the city.
"I think it could be exciting," he said. "It's a good opportunity to do thoughtful planning for the whole area." But, Altman said, that opportunity has to be balanced with the concerns of the community.
Coradino would not detail either PREIT's Foxwoods plans or those for The Gallery as a whole, saying they were far too tentative at this point.
"They are lines on paper that are being re-evaluated and critiqued and juried on a regular basis," he said.
______________________________________
SPOTLIGHT
Joseph F. Coradino
Age 56; Trustee since 2006
President of PREIT Services, LLC and PREIT-RUBIN, Inc. since June 2004 and Executive
Vice President-Retail Division since 2001.
Director of A.C. Moore Arts & Crafts, Inc. since 2006
______________________________________
In very broad terms, he said that PREIT is interested in attracting new and different tenants to The Gallery, such as restaurants. Some existing businesses would have to move to make way for Foxwoods. Coradino said it has not been determined which ones, or whether PREIT would help them relocate. Currently, the mall is anchored by Kmart and the Burlington Coat Factory.
If Foxwoods were to locate at The Gallery, it would bring more people to the shops, Coradino said. But The Gallery's tenants would not be an assemblage of businesses designed to cater exclusively to casino-goers.
Foxwoods would "drive traffic" to The Gallery, he said. But "casinos are busy at night and on weekends. We want to be more than that."
Within the 1.08 million-square feet of Market East, there's room for other kinds of retail, he said. "I think we want to accomplish something that will be additive in terms of the customer base of The Gallery, so that we realize patronage from the new Center City residents, visitors to the Historic District, from the Convention Center expansion, and the commuter. We want to do something that will embrace all of those constituents."
Altman has been part of the discussions between PREIT, Foxwoods and the city. At this point, he said, design principles and concepts are more important than any particular sketch because the sketches are so preliminary.
So far, he said, the principles he is hearing from PREIT and Foxwoods match up with the city's hopes for the area. Altman said he would hope the final plan would "open up The Gallery with street-level restaurants and retail" and would essentially be "reskinning the building, turning the box inside out."
"The sense I get from them and their design team is that's what they want to accomplish," Altman said. But a lot of work needs to be done – including a study to determine what physically can be done with the existing building. "It's one thing to say it, it's another thing to see how to actually make it work," he said. "You can have great design intentions, but there are any number of technical issues to work through."
Community groups in Chinatown – and city leaders – want more information about what Foxwoods at The Gallery would look like. Some have already come out against the proposed casino.
Terry Gillen, senior advisor to Mayor Michael Nutter for economic development and his point person on casinos, said Foxwoods has been told the city wants drawings that are ready for the public by Friday. Gillen would like to present drawings to the public at a Chinatown forum next week.
On Monday, Foxwoods showed the city some very preliminary sketches, for discussion purposes only – casino representatives took the drawings with them when they left the meeting.
"Those are our designs," Coradino said when asked if he'd seen the tentative drawings. "They would be the tenant."
Would more detailed drawings be in the city's hands by week's end? Coradino said he wasn't certain.
"We will be presenting alternatives," he said, but they may or may not be at the point where the city can take them public.
"There is a great deal of pressure on the process," Coradino said. PREIT "wants to move as quickly as possible, but we also want quality." PREIT officials are locals, he said. "We don't take a plane at the end of the day – we want to do something we all can be proud of and that will promote additional economic growth."
When the plans are ready for the public, there will be room for changes based on public input, Coradino said. PREIT wants that input, he said. But the drawings will also depict something that PREIT wants and likes. "If we present something that we're not happy with, we'll have something designed by committee. And I don't think we want to get there."
After the public comments, PREIT will weave the feedback into the design and then present a final version to the city, he said.
Coradino laughed when asked if the arrangement with Foxwoods was similar to those on real estate signs promising would-be buyers that the seller would "build to suit."
But PREIT is now holding meetings with architects and engineers to determine what the casino would look like, where exactly it would be, and how high it might rise above the current structure.
The Gallery was built with three "designated pads" designed to hold additional floors. Two are at the western end of the property, and one is at the eastern end. Experts are now determining just how much extra load those supports can manage, Coradino said. But that doesn't mean Foxwoods would be built to those maximums.
The Pennsylvania Real Estate Investment Trust was founded in 1960. It owns 55 retail properties, including 33 shopping malls, mainly in the mid-Atlantic States.
Altman said that at this early stage in the process, PREIT and Foxwoods have mostly been working on getting their ideas together while the city and City Council have been working on getting what information they have out to community groups and devising a process by which the plans for Foxwoods would be reviewed.
Altman said that citizens who come to next week's meeting will learn about Foxwoods' and PREIT's intentions, but he did not know if they would see drawings.
"Even at this point, sharing design intentions with the community is important, so that they have a sense of where (Foxwoods and PREIT) are coming from – even if it's not exactly what it will be," he said. "But that ultimately translates into many different potential designs."
Altman said he would only endorse showing preliminary sketches next week if they had evolved to the point where they have a likely resemblance to the final product. Otherwise, people could get hung up on a design that really is never going to happen, he said.
The Planning Commission will play a lead role in the evaluation of the plan for Foxwoods Casino, Altman said, and there will be opportunities for public input.
"Design issues are going to matter, and there are a lot of other things the Commission would ultimately need to evaluate. We're going to need to understand traffic and transportation and community issues," he said.
But no one knows yet just how many meetings there will be, or when they will start, or all the information the Commission will require for its evaluation, or how City Council and the Planning Commission will work together.
"We still haven't worked out what the process is going to be yet," Altman said. "We don't have plans in front of us yet – they didn't leave anything with us – it's just so preliminary."
Contact the reporter at kelliespatrick@gmail.com
WHYY is your source for fact-based, in-depth journalism and information. As a nonprofit organization, we rely on financial support from readers like you. Please give today.