Planning, development disparity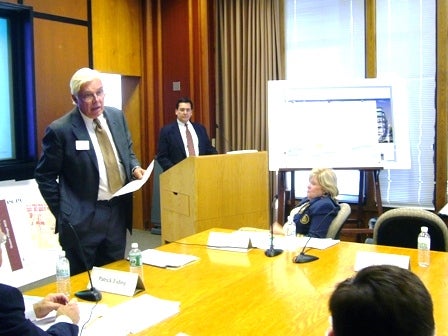 Craig Schelter addresses Planning Commission in October

July 8
By Thomas J. Walsh
For PlanPhilly
There have been several short-term effects from the Nutter administration's changes to city agencies, actions such as giving defibrillator-like jolts to the City Planning Commission, imploding the Zoning Code and demanding the keys to City Hall's rubber stamp closet. One of them has been to raise the curtain on a problem that has existed for decades between two constituencies – planners and developers – who, by the nature of their work, ought to be very familiar with each other.
They aren't, in general, with a few major exceptions. But because of the shakeups at the city agencies, if they don't know each other very well now, it's likely they will, and sooner rather than later.
It won't be a hurdle that's hard to overcome. Many senior commercial real estate professionals in the region have city planning chops, if not college degrees in the discipline. A number are veterans of quasi-governmental organizations like the Philadelphia Industrial Development Corp. (PIDC), and so are at least familiar with the commission and its history.
But the opposite is less common. Many respected Planning Commission staffers have been with the agency for more than 20 years, and because of a process that steered landowners and builders to first bring their projects to City Council members rather than the commission's home at One Parkway, some of the major players among the region's developers are largely unknown to them. And though planners and developers may know the same people at the city's Water, Streets and Licenses & Inspections departments, all parties interacting in tandem has been rare.
Sarah Thorp / Brad Maule photo
"I think it stems from a problem that Philadelphia has had with the development process for many years, and it's become more real in recent years," said Sarah Thorp, executive director of the Delaware River City Corp., a nonprofit implementing a master plan along the river in Northeast Philadelphia. The group's plan picks up where the PennPraxis plan ends at Allegheny Avenue and extends north to the Bucks County line.
"Developers would go to their council person, then go to the neighborhood civic associations, and then only afterward go to the Planning Commission and say, 'We have the support.' They would do what they wanted and shove it through. The Planning Commission was not empowered by the city."
On the other hand, Thorp said, "It has been extremely cumbersome for developers" to navigate the city's zoning bureaucracy over the past decade, "so they did what they needed to do to get it through the machine that is the Philadelphia city government."

With change, friction
This unfamiliarity also seems to be the case with career academics involved with city planning at the University of Pennsylvania and PennPraxis, and the Central Delaware Advocacy Group. The push for a 10-year, 10-step Action Plan for the Central Delaware River waterfront, unveiled June 26 and publicly embraced that evening by Nutter, has left some developers shaking their heads, though not so much in dismay. In fact, a few say they admire the initiative. What they wonder is how realistic some of the goals are, in terms of the willingness of the waterfront's private owners to cooperate, and in terms of the availability of public money, short-term or over the long haul.
Craig Schelter, a former Planning Commission director (he was with the commission from 1968 to 1983) and former executive vice president of PIDC, now owns Schelter & Associates, an economic development and city planning consulting firm. If there's one guy in town who knows both sides of the planning and development coin, it's him. An affable and enthusiastic man who seems to know everyone in town, he has not been shy about questioning the PennPraxis plans.
Last August, he said the waterfront proposal's feasibility was "Alice in Wonderland," and warned it might "raise a false expectation." In November, after hearing PennPraxis executive director Harris Steinberg deliver an address on the group's "Civic Vision for the Central Delaware," Schelter told PlanPhilly that Steinberg said only what the audience wanted to hear. "Nobody here wanted to ask the next questions. I think maybe 10 percent of this land is publicly owned. The rest is private. Start plotting streets on here – you've got to have an acquisition strategy, and I haven't seen one."
The ownership of the Central Delaware waterfront is still the main issue, according to Schelter and a handful of developers who spoke off-the-record about the Action Plan.
"There's one huge difference between William Penn and where we are today," Schelter said recently. "And that's that William Penn owned all the land. He could do what he wanted with it.
"I clearly have some serious concerns about what's in the plan," Schelter continued, speaking to PlanPhilly while vacationing with his family. "I've read it, and there's a lot of stuff there that … the devil is in the details." The idea of the 100-foot greenway, for example, is zoning overkill, he said. "Both New York and Boston are between 15 and 60 feet, and we've already got a [zoning] category that says 50 feet. This has big implications for a lot of sites."
While in Manhattan a short time ago, Schelter said he was on the Hudson River walkway in the heart of the rejuvenated Meat Packing District near 14th and 9th streets. "I went and paced off the width, and it was 55 feet. I was like, 'Wait a second. New York, with all its intensity and density, why would [Philadelphia] go to 100 feet?' It's the same thing in Boston. My quarrel is not with the notion of a connection but the idea of the scale of it."
The Praxis plan states that a 100-foot greenway (or not more than 20 percent of the property) would greatly enhance river water and habitat quality.
Where the streets have no name
Part of the Action Plan is to extend streets, those that now dead-end at I-95 or Columbus Boulevard, right down to the river to increase public access. Again, the question is who will pay, Schelter said. The owners? What if they have other ideas for their property, or have already committed to plans with a builder or another buyer? The city? Does that mean increased taxes? If so, for whom?
In his new role, some of Schelter's clients are these very owners. He is now also working with the Development Workshop, a not-for-profit trade organization designed to promote real estate development in Philadelphia and to help the city create construction and permanent jobs, increase the tax base and support development in the context of vibrant, safe neighborhoods.
The Workshop's members – a group of developers, lawyers, appraisers and commercial real estate professionals – "are basically landowners in the area and greatly affected by any of the action that takes place here. We are making our views known for what we hope will be realistic planning decisions that are doable in the marketplace."
"There's a huge disconnect between the Planning Commission and developers, no question," said Thorp, who, like Schelter and Steinberg, is a member of the Design Advocacy Group of Philadelphia (http://www.designadvocacy.org/about/members.asp). "There's this large parcel in the middle of the waterfront that nobody's cared about for 50 years. But developers will benefit [from the Action Plan] because they will know what the commission wants, and not spend millions if it doesn't make sense to do so. Change is always difficult. It's going to be a painful process."
Misaligned priorities in this wire-meshed, public and private sphere of influence are hardly a new phenomenon, even with regard to the efforts of PennPraxis. However, the lack of a dialogue between two communities – planners and preservationists, developers and landowners – is proving to be a persistent fly in the ointment in the wake of the mayor's popular rallying cries for reformed city planning, zoning and redevelopment agencies.
As the Center City District's Paul Levy said in November, one way to navigate problems between planners and owners would be to establish a quasi-public agency – a nonprofit or a city agency – to create the public spaces and infrastructure called for in the plan. "The key is for every developer to know who they're negotiating with and what the rules are," Levy said at the time. "There needs to be an entity with the authority to implement those deals."
That may happen if there is success with Action Plan item number one: reforming the Penn's Landing Corp. Nutter pledged to do that, and even started referring to it by another name.
The mayor on point
Several development executives, including Schelter, said with a low chuckle that voicing their concerns has been a thankless task in light of all the no-nonsense directives and feel-good vibes generated by Nutter.
The mayor's backing of the PennPraxis Action Plan on June 26, what he called "a Declaration on the Delaware," was his third major public speech in a span of nine days, in which he:
• Reiterated his resolve to remake the Planning Commission into the nation's "preeminent" planning agency and the new, mandatory first stop for all city development http://www.planphilly.com/node/3334
• Heralded the arrival of the city's first deputy mayor for sustainability (another Penn academic with a deep background in planning, Mark Alan Hughes) http://www.planphilly.com/node/3354
• Endorsed "many of the recommendations" put forth in the Central Delaware 10-point plan, including the appointment of new members to the board of the Penn's Landing Corp. within 30 days (and perhaps renamed the Delaware Waterfront Corp.), with meetings open to the public http://www.planphilly.com/node/3394
It's been a heady time for civic boosters of a reconfigured Penn's Landing, and supporters of bike trails, public parks and green spaces where there are now fenced-off rotting piers, empty factories or just dead space.
"For too long, developers have been cast adrift in the choppy waters of an under-regulated development process," Nutter said at the Independence Seaport Museum that night. "We want clear rules for development and we know that with clarity comes new investment." He said a detailed and comprehensive master plan for the riverfront is "urgent," and that he wants it to start "immediately."
In the midst of another demand by the mayor – a long-sought re-crafting of the city's antiquated zoning code that has been universally applauded – Nutter also called for "an interim zoning law for the waterfront that supports our civic vision and the goals of the Action Plan. We must protect public access and public space. We need setbacks and development with active ground floors. This interim zoning measure is the metric upon which we can rationally assess development proposals in the short range."
Nutter said the Planning Commission is working with Councilman Frank DiCicco to introduce legislation on the interim zoning to present to City Council when it returns to session in September.
And, pledging visible progress for the waterfront, Nutter said the city will lead the effort to create a green space at Pier 11, at the foot of Race Street, and to create an interim bike and running trail along the riverfront that would be accessible before the end of the year. Citing $250,000 that Levy, of the Center City District, said was available to start the trail work, the mayor said the city "will match current funding dollar for dollar." (He also asked the foundations that funded PennPraxis to further invest in the Action Plan.)
Schelter said that fixing up Pier 11 as a public park is "terrific, but there's also the Great Plaza at Penn's Landing, and there's a major ethnic festival there just about every weekend in the summer." He said that both things can be done, but to say that there are only two parks that can be greened, or spruced up immediately, is incorrect.
"When the Great Plaza was done, I was intimately involved in that," Schelter said. "I planned it and then moved to PIDC when it was built. Knowing what that takes, I'm curious as to how some of these other suggestions are going to be implemented."
Moving on
"PennPraxis could have done much better by involving developers more," Thorp said. "Developers could have helped by getting involved more. It's been much more incendiary, this process, rather than conciliatory. It's a bit damaging to what we all want from the process. More economic development is what we want."
On the night of June 26, DiCicco and Steinberg told the audience they had kept the development community apprised of both the Civic Vision for the Delaware, as well as elements of the Action Plan.
Worth noting is that in the reporting of this story, eight professionals, including Schelter and Thorp, were interviewed over what totaled at least three hours of conversations. (Harris Steinberg is out of town on vacation and was not available for comment.) Easements were discussed, along with the implications that extended streets would have on storm water runoff and the city's sewer system. Whether it makes sense to compare Philadelphia with New York was talked about often.
Traffic patterns on Columbus Boulevard, the issue of I-95 and general walkability were consistent topics. An interesting point was made that Philadelphia has not one waterfront but several – at least three, counting the Delaware and the two banks of the Schuylkill. (But more like a half dozen if you count Northeast Philly and the stretch of the Schuylkill running north from the Art Museum.)
So maybe it was just too obvious of a looming question mark, but not one of them mentioned the two casinos planned for the waterfront – which, you might have heard, have been generating news again of late.
Contact the reporter at thomaswalsh1@gmail.com
WHYY is your source for fact-based, in-depth journalism and information. As a nonprofit organization, we rely on financial support from readers like you. Please give today.