30th Street Station District draft plan: Reopen SEPTA tunnel by 2020, cap rail yards by 2050
The 30th Street Station District team released a draft plan for overhauling the station and the surrounding area in advance of the plan's penultimate public feedback meeting, which will be held this Wednesday, March 16th from 4 to 7 p.m. at the station.
In its draft form, the plan calls for reopening the tunnel connecting 30th Street Station to SEPTA's nearby subway and trolley station, building two new bridges over the Schuylkill River, opening a new intercity bus terminal, expanding public space surrounding the station, and launching new retail options inside.
Most ambitiously, the draft plan calls for covering the rail yards and Northeast Corridor lines next to 30th Street Station with a partial cap, allowing for the development of an expensive new neighborhood above.
Bird's eye view rendering of what the 30th Street Station District might look like in 35 years

(30th Street Station District Plan)

Rendering of a aerial view of a redeveloped 30th Street Station District. (30th Street Station District Plan)
The 30th Street Station District plan is being devised by Amtrak, Drexel University, Brandywine Realty Trust, SEPTA, the University of Pennsylvania, University City District, and others.
Drexel and Brandywine are also partnering on the Schuylkill Yards development, across 30th Street from the station.*
30th Street Station's $5.25 million planning process includes a $4 million engineering study on covering the rail yards; an earlier study by some Penn graduate students estimated the cap would cost over $3 billion.**
Philadelphia wouldn't be the first city to cap an active rail yard. Chicago covered a yard to build Millennium Park, and New York capped Hudson Yards. Washington DC is a bit further along in developing Burnham Place, a planned cap over Union Station's rail yards and Northeast Corridor tracks.
(30th Street Station District Plan)

(30th Street Station District Plan)
But to put things into perspective in just how massive the 30th Street Station District's draft plan is: Burnham Place would be 14 acres; Millennium Park is 24 acres; Hudson Yards, the largest private real estate development in New York City's history, is 26. The draft plan for 30th Street Station would cover somewhere between 50 and 70 of the 88 acres of rail infrastructure north of the station.
Millennium Park cost $495 million. Burnham Place is estimated at $1.5 billion, and Hudson Yards a staggering $20 billion, with nearly $1 billion coming from NYC taxpayers. Schuylkill Yards, which does not involve any capping, projects $3.5 billion in construction costs. Like Burnham Place and Hudson Yards, 30th Street Station's cap would be paid for mainly by private investors, who would cover its costs in exchange for rights to build huge skyscrapers on top.
In order to make financial sense, the expected rents from commercial and residential tenants in the buildings above the yards would need to be extremely high. That wouldn't just require higher property values in the surrounding area — it would require significantly higher rents across all of the greater Center City and University City area, otherwise firms would locate slightly further away for significantly cheaper.
In a previous interview with PlanPhilly, Drexel President John Fry described developing Schuylkill Yards as a first step in proving to investors that covering the rail yard makes financial sense.
Capping the tracks "would be too big a risk to try by itself," said Fry. "But if we have 20 years of progress in this area, I think it will presage something that can happen there."
The 30th Street Station District draft plan calls for beginning work on a cover around 2030 and finishing construction by 2050.
In effect, the draft plan, in conjunction with plans for Schuylkill Yards, presents a roadmap for dramatically increasing property values in the area surrounding the station's rail yards over the next 15 to 20 years.
At the same time, Drexel and Brandywine have committed to developing Schuylkill Yards inclusively, without "disrupting the fabric of [the surrounding] neighborhoods."
(30th Street Station District Plan)

The physical framework – the previous iteration of the plan – shows more rail infrastructure capped and another pedestrian bridge
The draft plan doesn't make many changes from the physical framework released in December—a city block-sized cover over SEPTA's elevated regional rail lines was scrapped, along with an extraneous pedestrian bridge over the Schuylkill River (there are still two pedestrian/bicycle bridges in the draft).
Instead, the draft largely builds upon the framework, offering a more fleshed out vision of some of the improvements and, for the first time, a timeline for implementation. The plan is set to be finalized by the end of the year, following a fifth and final round of public feedback a few months from now.
The draft's first recommended action: reopening a tunnel connecting 30th Street Station to SEPTA's nearby subway and trolley station. Ever since the underground passage was closed following an assault in the 1990's, passengers have had to walk outside and cross 30th Street to get between the two stations.* Reopening the tunnel was not included in any of the three initial alternatives proposed, but was included in the framework after the public overwhelmingly demanded it.
"The most lauded aspect of the station framework was the new underground connection with retail between the Station and SEPTA's subway and trolley services," reported a summary of stakeholder feedback.
Rendering of the new entrance to reopened tunnel between 30th Street Station and SEPTA's subway and trolley station (30th Street Station District Plan)

(30th Street Station District Plan)
Currently, SEPTA's twelve-year capital budget does not allocate any money for reopening its tunnel at 30th Street Station, but funds could be shifted from other projects in the next budget.
In addition to the tunnel, the plan's Phase 1 calls for reopening the North Concourse as a passenger facility, increasing access to Amtrak and NJ Transit platforms below and providing access to the vacant East SEPTA Mezzanine slightly above, which should help prevent the platforms occasional overcrowding.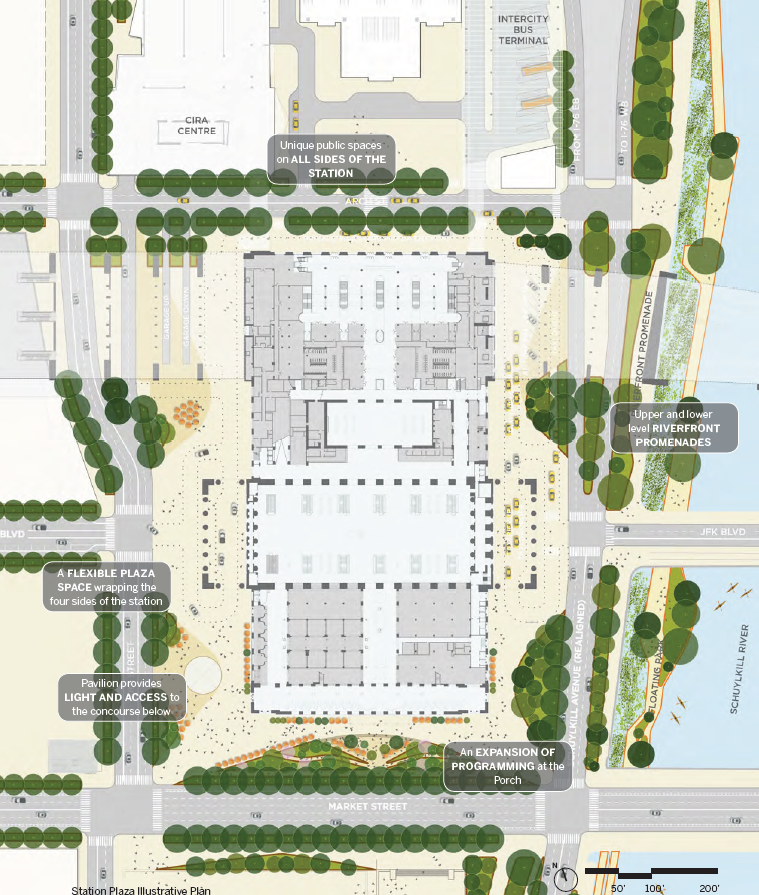 Phase 1 also includes station plaza upgrades to ultimately quadruple the station's public space, adding new retail inside the station, and realigning the I-76 onramp. All told, Phase 1 is expected to last until after 2030. Compared to capping the rail yards, all of Phase 1's improvements are less ambitious, and thus more likely.
Some elements of the 30th Street District's draft plan and Schuylkill Yards' plans don't seem to line up just yet. Schuylkill Yards' first proposed building, located just west of the Station and fronting the part of JFK Boulevard where passengers for Megabus and Boltbus currently board and alight, is tentatively scheduled for 2018. That development, along with plans to recreate JFK Boulevard as a treelined "shared street", would preclude continuing to use the area as a de facto bus depot. But a new intercity bus terminal planned for next to (or on top of) the Cira Centre's parking lot isn't scheduled until 2029.
Perhaps Megabus and Boltbus would relocate to Greyhound's bus terminal at 10th and Filbert in the interim, meaning even more buses weaving their way through Chinatown's pedestrian-packed streets?
(30th Street Station District Plan)

(30th Street Station District Plan)

(30th Street Station District Plan)

(30th Street Station District Plan)
Through the many stages of open houses and other feedback, the public also expressed skepticism over the plans designs for increasing the amount of public space around the station from 27,500 sq. ft. to 120,000, and for proposing new retail options inside the station, wondering whether there was enough foot traffic at 30th Street to justify either. 30th Street Station welcomed over 11 million regional rail and Amtrak passengers in 2014.
The plans and renderings were prepared by Skidmore, Owings & Merrill with collaboration from Parsons Brinckerhoff, OLIN and HR&A Advisors. Individuals who cannot attend the open house this Wednesday are encouraged to review the draft plan and submit comments online.
*CORRECTION: This article referred to the street directly west of 30th Street Station as 31st Street. It's 30th Street.
**CORRECTION: This article originally said the $4 million engineering study was separate from the planning study. That was incorrect: the engineering study is included in the plan.
WHYY is your source for fact-based, in-depth journalism and information. As a nonprofit organization, we rely on financial support from readers like you. Please give today.